A month in jail over 'fake' RT-PCR Covid test report
The women pleaded innocence, saying they had no idea why they were arrested in the first place since the reports had been given by a lab in Lucknow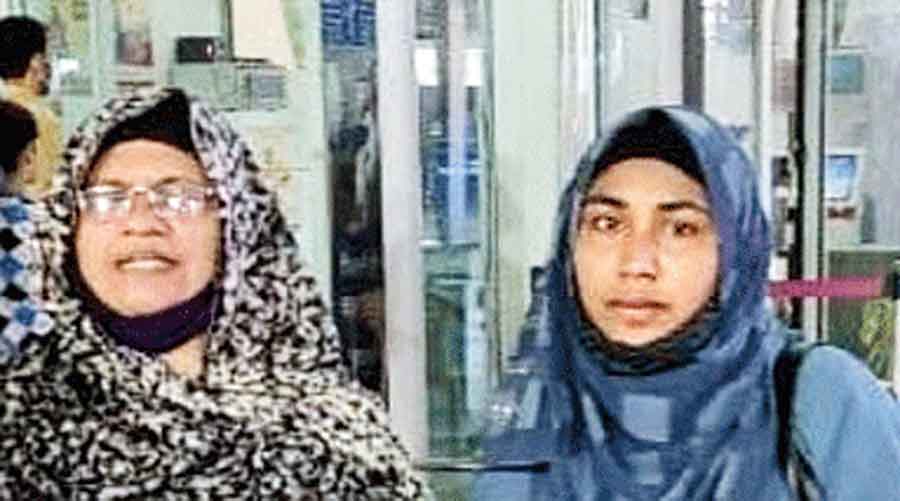 (From left) Naseema and Muhsina at Kochi airport on Monday.
Telegraph photo
---
Bangalore
|
Published 03.11.21, 01:50 AM
|
---
Naseema, 62, her daughter-in-law Muhsina, 31, and Haleema, 65, were preparing to return to Kerala after running from pillar to post in Uttar Pradesh in search of their jailed kin when 30 police personnel knocked on their hotel door in Lucknow.
What followed was over a month in jail on the charge of carrying fake RT-PCR Covid test reports in Uttar Pradesh, an ordeal made worse by the three Malayalam-speaking women's complete lack of understanding of Hindi.
The three women had travelled to Uttar Pradesh from Pathanamthitta and Kozhikode in Kerala in September to meet Naseema's son Anshad Badruddin and Haleema's son Firoz Khan who were arrested from a train on their way to Delhi from Kerala on February 11 on terror charges.
The three women, who were granted bail on October 23 by the Lucknow additional sessions court and released on October 31, landed at Kochi airport on Monday after having spent 36 days in jail since September 25.
The women pleaded innocence, saying they had no idea why they were arrested in the first place since the RT-PCR reports had been given by a lab in Lucknow.
They said they had to do the Covid test as a negative report was needed to enter Lucknow district jail, where Anshad and Firoz are lodged. The three women could not say from which lab they had got the tests done.
Upon landing at Kochi airport on Monday, Naseema narrated their ordeal. "We went to the court (in Lucknow on September 24) assuming that our children would be brought there. But they were not produced that day."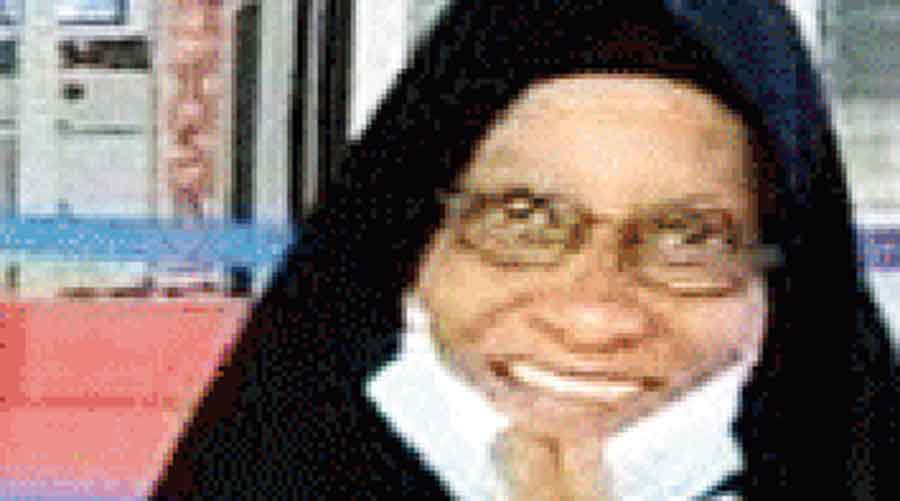 The following day they went to Lucknow district jail to meet Anshad and Firoz but were not allowed, Naseema said.
Eventually they made up their mind to return to Kerala when they were arrested over the allegedly fake Covid test reports.
"Some 30 armed police personnel came to our hotel and took us in their vehicle. We had no idea what was happening," Naseema recalled.
Azhar Badruddin, Anshad's brother, told The Telegraph on Tuesday that Naseema had told him that there were only two policewomen among the cops.
Naseema's daughter-in-law and Anshad's wife Muhsina said the policemen asked them to carry their Aadhaar cards with them. "We had no idea why we were being taken," Muhsina said.
The three women were taken to the Lucknow jail. During the time they were lodged there, the women were allowed to meet Anshad and Firoz. "We were allowed to meet and speak to our children. But they had no idea why they were arrested," Naseema said.
Muhsina kept her seven-year-old son with her during the judicial custody, Azhar said.
Shailendra Kumar, the officer in charge of Gosainganj police station in Lucknow who is probing the case of the women, said he was on leave when they were arrested. "We are looking into all angles," he said, refusing to go into the specifics of the case.
Police sources in Lucknow said the three women had been booked under the Pandemic Act.
Anshad and Firoz had reportedly been arrested with a cache of explosives, battery detonators, a bundle of red wire, a .32 bore pistol and seven live cartridges.
Uttar Pradesh police had said the two men were members of the Right-wing Popular Front of India (PFI). The PFI is not a banned organisation.
Anshad and Firoz were arrested by a special task force for plotting the assassination of Hindu leaders and terror attacks at sensitive spots in the BJP-ruled state, Uttar Pradesh police had said.