A Kamal to take on kamal
Congress circles are abuzz with speculation that senior politician Kamal Nath may be appointed chief of the party's near-defunct Madhya Pradesh unit, now headed by Arun Yadav.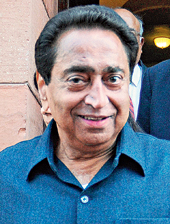 ---
Bhopal
|
Published 13.10.15, 12:00 AM
|
---
Bhopal, Oct. 11: Congress circles are abuzz with speculation that senior politician Kamal Nath may be appointed chief of the party's near-defunct Madhya Pradesh unit, now headed by Arun Yadav.
Although there's been no word yet from the high command, several district-level party officials have been lobbying Delhi on Nath's behalf with fax messages or personal calls.
Nath, a nine-time Lok Sabha MP from Chhindwara, told The Telegraph yesterday he was open to the idea.
"I've been requested by a large number of party men from almost all the districts to lead the party," said the 68-year-old, one of just two Congress winners from the state amid the rout in last year's general election.
"I'm a disciplined soldier of the Congress and will not shy away from taking responsibility assigned to me."
If he heads the state unit, Nath would be engaging himself in state politics for the first time ever. He seems to have already made a start.
Over the past few weeks, he has been working with Jyotiraditya Scindia, the other Congress MP from the state, to sideline rival factions headed by Digvijaya Singh, Suresh Pachauri, Ajay Singh and others.
Scindia is said to be keen to join Rahul Gandhi's team and serve as a party general secretary. Nath apparently feels that Rahul would be best served by young politicians like Scindia.
Many local Congress officials are unhappy at the party's failure to mount any challenge to the BJP in the state at all even after the Vyapam scam. The composition of the state committee after its latest reconstitution under Arun Yadav too has left many unhappy.
Nath's supporters say Digvijaya may stay out of state politics for personal reasons, which would suit Nath.
Nath is known as "Bada Bhai" (elder brother) within the state Congress, a tag earned during Digvijaya's chief ministership between 1993 and 2003, when the two of them had offset veterans like Arjun Singh, Madhavrao Scindia and the Shukla brothers. Digvijaya used to acknowledge Nath as his "bada bhai" and the real power behind the throne.
The son of a businessman from Meerut, Nath was a contemporary of Sanjay and Rajiv Gandhi at Doon School, where he was affectionately called "Roly". He later earned a BCom degree from St Xavier's, Calcutta.
Nath is known for his ready wit. He had once told this newspaper how, travelling from Paris to Brussels by train with then European Union trade commissioner Peter Mandelson, he had explained his stand against agricultural protectionism by the developed countries.
"Here are the fat cows living on subsidised food and they can't stand on their legs. That is my story and that is my argument," he had told Mandelson.
Nath has nursed his constituency well and visits it every month. It's part of local lore how he once got executives from the Japan Bank for International Cooperation to visit Chhindwara as his guests so he could persuade them to extend a loan for a central project that involved building a dam on the local Pench river.
In February 2007, he had got industry chamber CII to hold a conclave in Chhindwara. Two private jets carrying leading Indian industrialists had landed on the Nath family's airstrip. One of the upshots: a spice park in the constituency.
Nath has got sucked into a few controversies too. In 2011, party rivals accused him of inviting Baba Ramdev to Chhindwara to organise a campaign against the UPA II government.
A party member from Ujjain, Prem Chand Guddu, wrote to Sonia Gandhi alleging Nath had raised Rs 25 lakh for the campaign. Nath denied any involvement.
Earlier, during the last days of the P.V. Narasimha Rao government in the mid-1990s, Nath had been forced to quit the cabinet after being accused in the Jain hawala case.
His wife Alka won from Chhindwara as the Congress nominee in 1996 but a restless Nath prompted her to resign within a year.
During the by-election that followed, Nath tasted defeat for the first and only time. In 1998, he was back as MP from Chhindwara.