Uttarakhand calamity was a glacial lake outburst flood
Scientists say that many of these lakes that have grown in size in recent years represent a potential hazard to downstream regions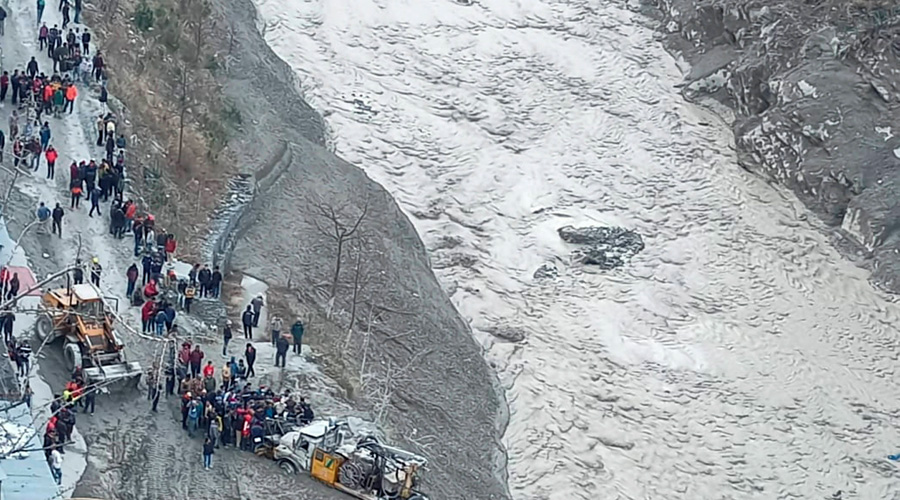 ---
New Delhi
|
Published 08.02.21, 02:20 AM
|
---
The flash flood of water, mud and rocks that swept through the Rishiganga and Dhauliganga river valleys in Uttarakhand on Sunday was a glacial lake outburst flood (GLOF), probably triggered by a gigantic chunk of ice separating from a glacier, scientists said.
The GLOF— an abrupt discharge from a natural reservoir of water that has formed along the side, in front, or on the surface of a glacier — occurred in the Alakananda basin, a region where scientists have identified over 20 glacial lakes.
Scientists say that many of these glacial lakes that have grown in size in recent years represent a potential hazard to downstream regions and have proposed short-term and long-term strategies to minimise the risk of catastrophic floods.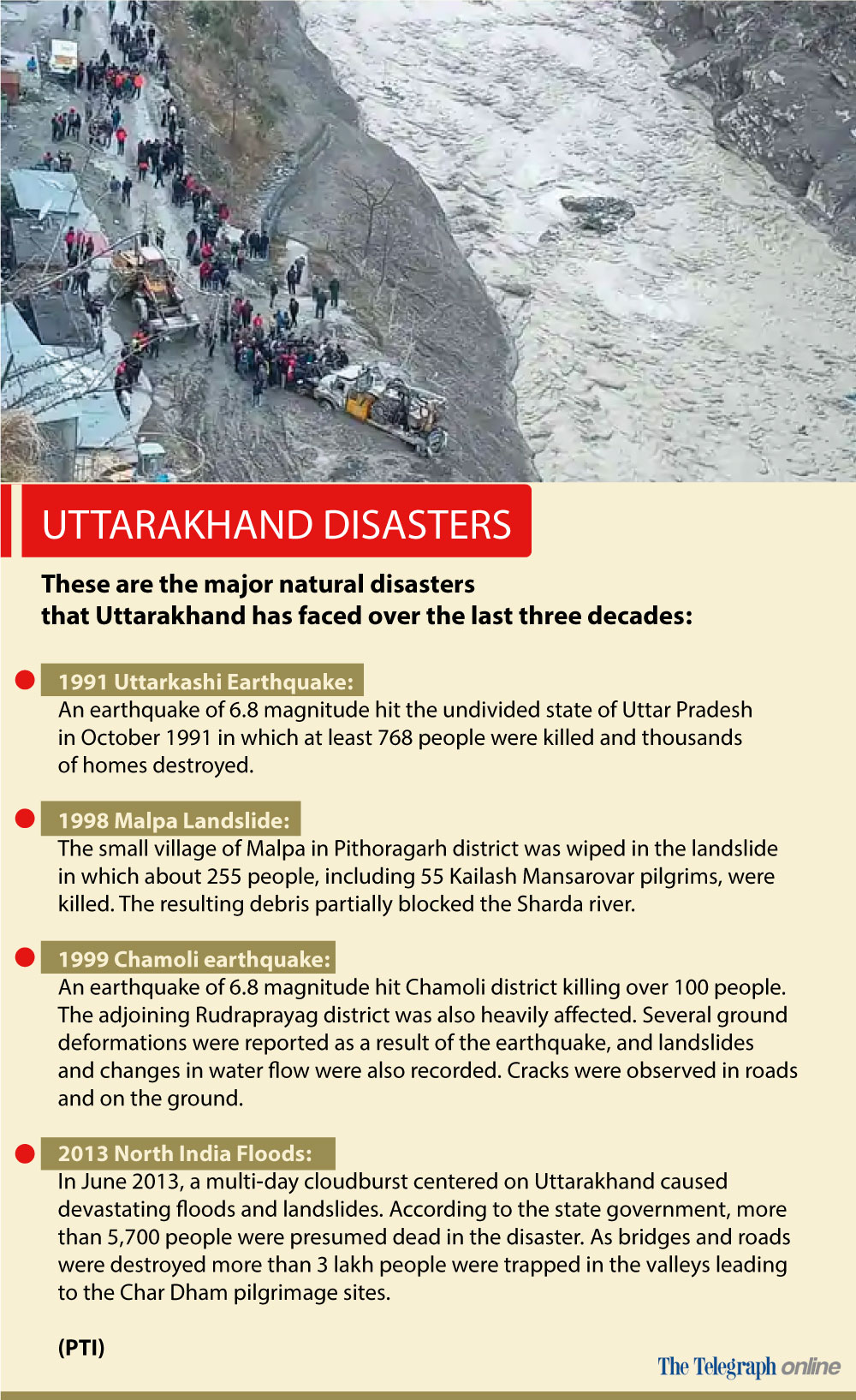 The question-answer section below is based on the results of scientific studies and an interview with Anil Kulkarni, a scientist at the Indian Institute of Science, Bangalore, who has studied Himalayan glaciers for more than 20 years.
Q: What caused the flash flood in Chamoli district?
A: Local authorities have described it as a glacial burst. Scientists say this probably means that a gigantic chunk of ice broke away from a glacier and caused the water level in the associated glacial lake to abruptly rise and possibly trigger a "moraine breach event" — the breach of a natural dam made from rock and debris that has been holding the water back.
Q: What mechanisms can lead to GLOFs?
A: High-intensity rainfall can cause a glacial lake to overflow and trigger a moraine breach.
This had happened in Kedarnath in 2013. But there was no rain in the Alakananda basin either on Saturday or Sunday, an Indian Meteorological Department official said. The immediate trigger for Sunday's GLOF therefore remains to be determined. Kulkarni says a breakaway of glacial ice or an avalanche of ice are possibilities.
Q: Was the event caused by climate change?
A: Scientists know for sure that global warming is causing glaciers across the world, including those along the Himalayas, to retreat. Along with this glacial retreat, the sizes of the glacial lakes at many sites are increasing.
Kulkarni and his colleagues have, for instance, calculated that another glacial lake in Uttarakhand, called the Safed Lake, has doubled in size over the past 50 years, from about 0.1sqkm to 0.23sqkm. As the number of glacial lakes and their sizes increase, so does the risk of potential catastrophic moraine breaches and flash floods.
Q: Could such GLOFs happen again?
A: A study by a group of Swiss researchers in 2013 had identified 251 glacial lakes in the Himalayan region of which they had labelled 104 as "potentially dangerous".
Another study by scientists from the Institute of Potsdam, Germany, had in 2019 identified the Central Himalayas as a "hotspot region" for GLOFs, compared with the Himalayan-Karakoram regions.
But the Potsdam scientists had also calculated that the number of glacial events had remained fairly constant since the 1980s: an annual average frequency of 1.3, or about 13 GLOFs every 10 years.
Q: Are there any possible mitigation strategies?
A: Kulkarni had in a brief for policymakers around two years ago proposed short-term and long-term strategies to mitigate the risks.
Among the short-term strategies are early warning systems and engineering interventions such as the siphoning of lake water and controlled widening of discharge channels.
The long-term strategies include identifying the locations vulnerable to GLOFs, monitoring lake expansions, and maintaining safe water levels in the lakes.