'A first in 60 years': Wall to hide slum during Donald Trump's Ahmedabad visit
When Modi has built a wall to hide us, then why should we go to see him and his special guest: Slum colony resident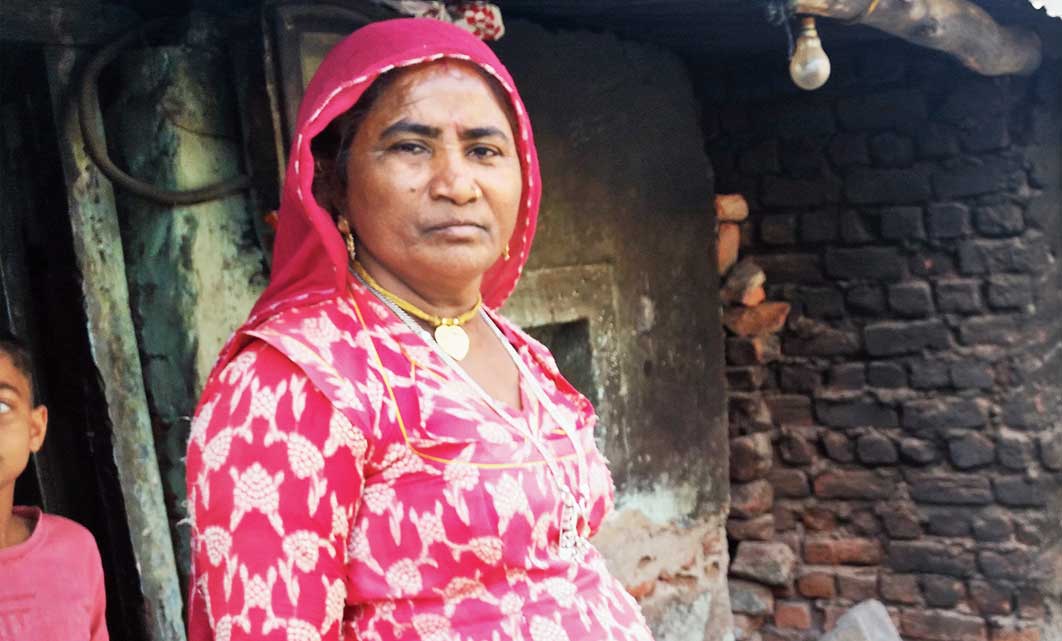 Kashi Ben at her home in the slum colony at Indra Bridge Saranga Vyas.
Picture by Sajeda Momin
---
Ahmedabad
|
Published 23.02.20, 07:44 PM
|
---
Donald Trump may be expecting seven million people to welcome him at Ahmedabad for the "Namaste Trump" extravaganza, but there is a community of around 5,000 people who have decided that they will not be standing on the roadside waving as the US President's cavalcade winds its way from the airport to Motera stadium.
"When Modi has built a wall to hide us, then why should we go to see him and his special guest," said Kashi Ben, resident of the slum colony at Indira Bridge Saranga Vyas.
"If he had wanted us to be a part of his mega event he would never have built this wall," she said, pointing to the six feet high brick wall that has sprung up between the colony and the main road in the last few days.
On one side of this now infamous wall is the picture of development that both Narendra Modi and Amit Shah projected as the "Gujarat Model" to India when asking for votes in 2014, with a swank international airport, roundabouts with artwork and large freshly painted roads, beautified in the last few days with palm trees, flowers and flags of India and the USA.
On the other side of the wall is the real face of Gujarat's development — a slum colony of over a 1,000 small mud huts criss-crossed by narrow filthy lanes with no proper sewage lines.
"We have been living here for the last 60 years, when there was nothing here except jungle and even as our colony grew, so many dignitaries have gone by, but this is the first time that we are being hidden like this. Is Modi ashamed of us? Instead of hiding us, why doesn't he make our living conditions better? Are we not a part of Gujarat too?" asked Bhikku Kaka, an elder of the Vanjara community who live in the cluster, even as the Gujarat government continued hectically putting final touches to the programme that would be witnessed by "Two dynamic personalities" on "one momentous occasion", as some of the hundreds of billboards all over the city declared.
As Ahmedabad airport expanded in the last 30 years and the roads around it built up, a wire fence was erected between the road and the colony. In the last six years as more and more international guests have been brought to Ahmedabad by the Prime Minister to show off his home state, the colony has become an eyesore on this VVIP route. This time a final solution has been implemented to hide the colony permanently.
"There were about 15 to 20 small shanties where the 600-metre wall now stands. They were all destroyed overnight without asking us and the families living there were given no compensation and are now homeless," said Kashi Ben, whose divorced daughter Reshma was one of the victims. The women of the colony eke out a living working as domestic help in the posh large bungalows in the surrounding area.
"Two sets of toilets were built about four years ago as part of the Prime Minister's sochalaya scheme, but they can't cater to 5,000 people. All the women have to go to the river to bathe and go to the toilet late at night," said Kashi Ben. "It is so embarrassing," she added. "Modi considers us to be animals," added a very angry Kashi Ben.
The colony has five sets of taps in which the local corporation supplies water for half an hour three times a day. "Only a trickle flows out of these taps, such that it can take 10 minutes to fill one bucket. It is not enough to provide even drinking water for everyone in the colony, forget washing and many fights take place here over water."
The local elders now fear the rains, apprehensive that without proper gutters and a new wall preventing drainage, their colony is very likely to flood.
A virtual lockdown has been imposed on the colony and the surrounding areas from Monday morning. "We are not allowed to go to work or move out of our colony except to go to the main road and see Modiji as he passes by. How will that feed our families? We are daily earners," said Gopal Bhai who sharpens knives for a living.
Gopal Bhai's concerns are shared by many in Ahmedabad whose homes fall along the roadshow route and have been put under virtual house arrest from 8am till 4pm on Monday. Their lives have been disrupted beyond measure and to what end they ask.