A family's long battle to bring back elephant
Despite winning a legal battle, Bihar resident Ramesh Rai is yet to receive the pet from Purushottam Tiwary whom Rai's father had loaned long back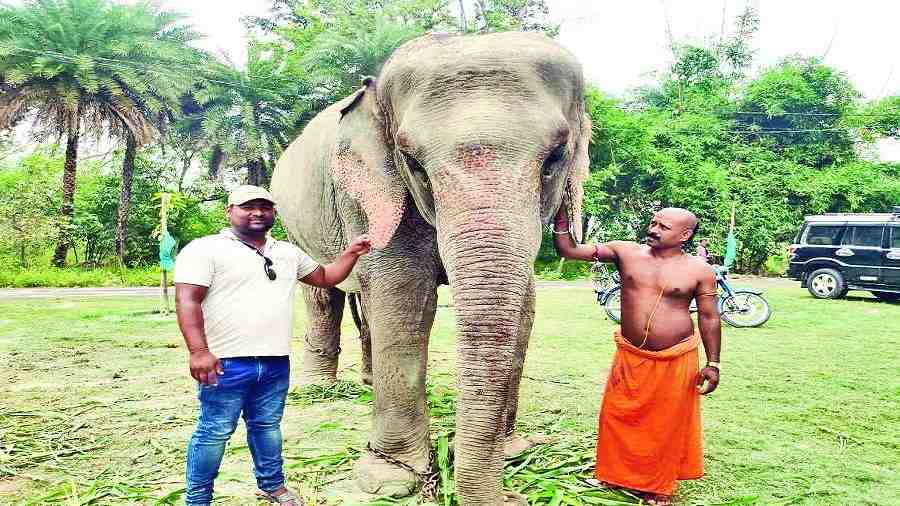 Ramesh Rai with elephant Ranjeeta outside their house in Saran district of Bihar on Monday.
Sanjay Choudhary
---
Patna
|
Published 24.05.22, 03:33 AM
|
---
Ramesh Rai has learnt his lesson: he will never lend anyone anything, small or big.
The resident of Anyaya village in Saran district holds his ears as he says this. It's a gesture indicating a vow, but he might well have been signalling "big ears".
Ramesh has just completed, with eventual success, a two-year battle to recover the pet elephant his father Nageshwar had loaned to a friend, Purushottam Tiwary of Buxar district.
But the pain of the long separation from his beloved Ranjeeta, a 23-year-old female, remains fresh in his mind.
Both Nageshwar and Tiwary owned elephants and displayed them on special occasions such as the famous Sonepur Cattle Fair.
Tiwary borrowed Ranjeeta in connection with a religious ceremony just before the Covid outbreak in March 2020, Ramesh said.
Ranjeeta stayed with the Tiwarys in Buxar, 150km from the Rais' home, through the lockdown and the subsequent floods. Nageshwar died of a cardiac arrest in August 2020. But Ranjeeta was not returned. Tiwary suffered a paralytic stroke in November 2020 and became bedridden.
"After we recovered somewhat from the shock of my father's death, we demanded our elephant back, but Tiwary's family claimed my father had gifted Ranjeeta to them," Ramesh told The Telegraph.
"Had this been so, he would definitely have told us. Besides, the law has since 2001 banned the buying, selling or gifting of elephants."
Ramesh added: "While borrowing the elephant, Tiwary had taken the ownership certificate from my father saying it would help facilitate Ranjeeta's movement. This made matters worse."
Ranjeeta was one of seven elephants the Rais owned when they had a thriving timber business in Assam. They wound up the business in 1999. A couple of the elephants died and the rest were given away to temples, except for the then infant Ranjeeta.
The baby elephant grew up with the family in Saran. It was well-behaved and was never chained.
"In her forced absence, none of us, even my mother, was even eating properly," Ramesh said. He registered an FIR at the local Parsa police station in April 2021. He alleged that the Tiwarys claimed the elephant to be theirs.
Ramesh said his persistence led the police to check the microchip the state forest department had implanted in Ranjeeta, as with every pet elephant. It confirmed the elephant's identity and ownership. On April 19, a Saran court ruled in Ramesh's favour.
However, the Tiwarys claimed that Ranjeeta had run away. Ramesh alleges the Tiwarys hid the elephant in a wooded area near the Bihar-Uttar Pradesh border.
Amarendra Kumar, station house officer of Parsa, confirmed a police team accompanying Ramesh and his friends went in search of the elephant and found it.
"We found her on May 7. She had been kept tied and hungry among the trees. She recognised us immediately. We fed her bananas and jaggery. We have brought her home and have decided never to lend anything to anyone," Ramesh said.
This newspaper's efforts to secure the Tiwarys' contact number were unsuccessful.
Prabhat Kumar Gupta, additional principal chief conservator of forests (wildlife), said Bihar had "around 70 domesticated elephants" according to a forest department survey, and that its officials were "alert to their safety and security".