8 bills introduced in 1 hour, one on lone-wolf terrorist
Unlawful Activities (Prevention) Amendment Bill introduced in LS, seen as a violation of fundamental rights by Opposition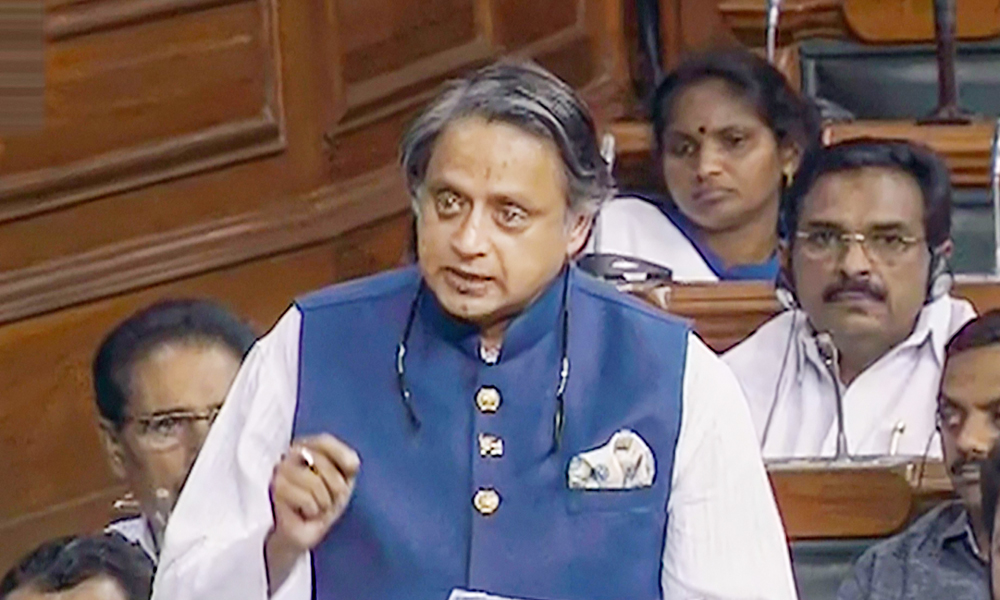 Congress MP Shashi Tharoor speaks in the Lok Sabha during the Budget Session of Parliament in New Delhi on Monday, July 8, 2019.
(PTI)
---
New Delhi
|
Published 09.07.19, 01:33 AM
|
---
The government introduced eight bills in the Lok Sabha within an hour on Monday, attracting protests from the Congress and other Opposition parties who described some of the provisions as "draconian" or "anti-people".
The strongest objections came against the Unlawful Activities (Prevention) Amendment Bill, brought in by home minister Amit Shah, which empowers the authorities to declare even individuals not associated with any outfit as terrorists. The Opposition condemned the provision as unconstitutional and tried to block its introduction, but without success.
Congress member Shashi Tharoor said the bill was "ill-considered and hasty", adding that the original intention behind the act was to use it against collectives and not against individuals.
"If there is a lone-wolf terrorist, you have ample powers to arrest him. You have plenty of ways to deal with these people. You can seize their properties also," Tharoor said.
"If it's a global terrorist recognised by the UN Security Council, then you can incorporate them under the 2007 UN Order. Why do you want to use the UAPA to declare an individual a terrorist?"
Tharoor added: "Let the minister give us examples of terrorists who are not members of banned organisations, due to which we need such a law. This really opens up a great deal of scope for misuse.
"Once a person is unilaterally declared a terrorist by the government, the burden is shifted on to the individual to prove his innocence. The organisation can do it; how can an individual do it? The minister did not undertake a public consultation as required under the Pre-legislative Consultation Policy, 2014."
Tharoor recalled how BJP veteran Atal Bihari Vajpayee had opposed the UAPA Bill in 1967.
"Vajpayee said, 'We cannot agree to this bill because any activity which is not tolerable to the government could be called to account by giving an inelastic definition of anti-national activity'," Tharoor said.
"This bill is really against the Constitution of India. This bill is tantamount to curbing the fundamental rights. This bill gives extra-constitutional powers to the government."
N.K. Premachandran, Revolutionary Socialist Party member from Kollam, too said the sole purpose behind the original act was to address unlawful actions by associations or organisations.
"Now the government is proposing to bring in the individuals. This amendment is a violation of the right to life and personal liberty, guaranteed (by) Article 21 of the Constitution. It is also against the directions of the Supreme Court in cases related to (erstwhile anti-terror laws) Tada and Pota," Premachandran said.
He asserted that everybody wanted terrorism to be curbed "but the basic fundamental rights of citizens can never be curtailed".
"We have the experience of harsh laws like Pota and Tada. There is a case of misuse and abuse of excessive power by the executive. With this amendment, any individual can be declared a terrorist," Premachandran said.
"What is the procedure? What are the criteria? It means unfettered discretionary authority is being provided to the government to take away the right of life and personal liberty…."
Indian Union Muslim League member P.K. Kunhalikutty too expressed fears of misuse of this provision.
Junior home minister G. Kishan Reddy, however, allayed such fears and argued that such a provision was needed to deal with certain terrorists, such as some Pakistani terrorists operating against India. He claimed that pre-legislative consultations had been done since 2016.
Another bill that evoked opposition was the DNA Technology (Use and Application) Regulation Bill.
Congress House leader Adhir Ranjan Chowdhury said that DNA testing of under-trial prisoners violated their fundamental rights.
"It's a mandatory provision which you have inserted into the bill. It is a flawed legislative document. It inadequately regulates the use of DNA (tests) in civil matters as it is silent on consent, storage and removal of profiles," he said.
"It does not assert individual rights such as the right to notification of storage… to appeal and (to) challenge the storage of DNA samples. It does little to address the capacity constraints of the law-enforcement agencies; neither does it provide a road map towards building capacity.
"The proposed regulatory board is too powerful and its functioning is too opaque. The proposed cost of the project is highly underestimated, forcing one to wonder if an adequate cost-benefit analysis was carried out."
Tharoor too opposed the bill. "There are risks, indeed, as Chowdhury has said… concerns of data profiling and the institution of a surveillance state against the ordinary person in this country," he said.
"But far more troubling, procedurally, is this. There is a Supreme Court judgment in the Puttuswamy case on privacy after which the government promised to bring in a data protection law which would guarantee the protection of all the data of citizens. DNA is also data. How can you pass the DNA bill first when you do not have a data protection law yet?"
However, health minister Harsh Vardhan, who introduced the bill, said: "All these concerns do not have any serious substance. When we discuss this bill, each and every concern will be addressed."
He said the bill had been conceived during Vajpayee's tenure. "The UPA government also discussed the bill. We got it scrutinised through all forums, including the parliamentary standing committee, law commission and the law department."
The other bills introduced on Monday were the National Investigation Agency (Amendment) Bill, 2019; Protection of Human Rights (Amendment) Bill, 2019; Consumer Protection Bill, 2019; Public Premises (Eviction of Unauthorised Occupants) Amendment Bill, 2019; Jallianwala Bagh National Memorial (Amendment) Bill, 2019; and the Central Universities (Amendment) Bill, 2019.