75% climate pledges fall short: Researchers
The report examined each of the 184 voluntary pledges under the Paris climate pact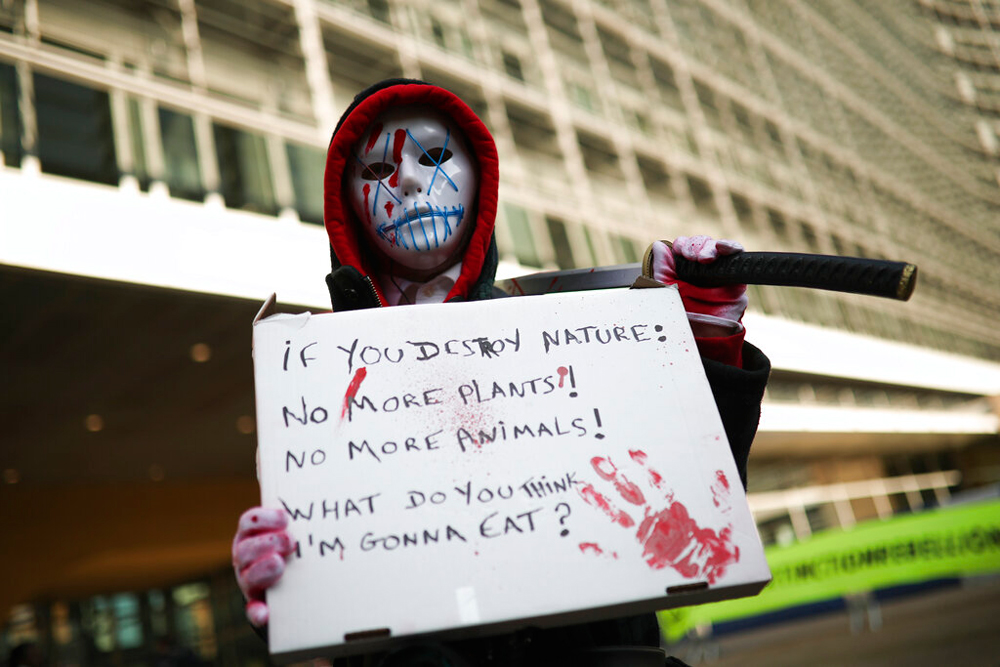 An protester outside the European Commission headquarters in Brussels on October 31
(AP photo)
---
New Delhi
|
Published 05.11.19, 09:21 PM
|
---
Nearly three-quarters of the climate pledges from 184 countries under the 2015 Paris climate pact are insufficient to adequately lower Earth-warming greenhouse gas emissions and cap global warming to below 1.5 degrees Celsius, researchers iterated on Tuesday.
India, China and the US are among the 136 countries (74 per cent) whose pledges to curb their emissions growth are insufficient to stop global warming from accelerating over the next decade, a five-member panel said in a report titled "The truth behind the climate pledges".
The report that examined each of the 184 voluntary pledges under the Paris climate pact found that with few exceptions, the pledges of rich, middle-income and poor nations are inadequate to combat climate change.
The pact envisages collective action to reduce emissions by 50 per cent by 2030 through voluntary actions to keep the average rise in global temperature below 1.5 degrees Celsius above the pre-industrial levels.
"The pledges are far too little, too late," said Robert Watson, former-chair of the Intergovernmental Panel on Climate Change and panel member. "Instead of a 1.5 to 2 degrees Celsius rise, we seem to be on a pathway to 3 to 4 degrees Celsius increase," Watson told The Telegraph over telephone from Washington DC.
The report is published by the Universal Ecological Fund, a non-profit organisation focused on sustainable development.
Climate scientists have predicted that if greenhouse gas emissions are not halved over the next decade, the world will experience increased numbers of extreme weather events, including droughts, severe storm, cyclones and the loss of land from sea level rise.
Over half of the world's greenhouse gas emissions come from four countries — China (27 per cent), the US (13 per cent), India (7 per cent) and Russia (4) per cent. The pledges by India, China and the US are insufficient and Russia has not even submitted its climate pledge, the report said.
The US pledge is insufficient because of the American administration's decision under President Donald Trump to pull out of the Paris pact, it said.
India and China, which have both pledged to reduce emissions intensity relative to their gross domestic product by 2030, are likely to meet these targets. But their emissions will continue to increase over the next decade under their requirements for economic growth.
Under current trends, India could produce 40 per cent of its electricity from renewable energy by 2030, but 57 per cent of electricity is still dependent on coal-fired plants, the report said. China too is expanding renewable energy but fossil fuels still account for 85 per cent of its primary energy.
"India and China need to be applauded for their efforts to reduce emissions intensity — but their emissions will continue to increase over the decade," Watson said.
Pledges from 35 countries were deemed sufficient to reduce the emissions by at least 40 per cent by 2030. These included the 28 member countries of the European Union and Iceland, Liechtenstein, Moldova, Monaco, Norway, Switzerland and Ukraine. Pledges from 12 countries, including Australia, Brazil, Canada, Israel, Japan and South Korea, were ranked as "partially sufficient".
The report also pointed out that many of the voluntary pledges hinge on financial and technical assistance from wealthy nations — the historical polluters — estimated at $100 billion per year for implementing actions to curb global warming.
But the promised $100 billion per year isn't available to expectant developing countries yet and both the US and Australia have even stopped making contributions, the report said.
Watson said industrialised countries with large historical emissions, such as the US, have a double responsibility. They need to reduce their own emissions and provide finance to support climate actions of countries that have had low levels of historical emissions.
"Climate change is already adversely affecting human health, livelihoods, food, water, oceans, biodiversity and economic growth," Pablo Canziani, a senior scientist at the National Scientific and Technical Research Council in Argentina and a co-author of the report, said in a media release.