5,000 more troops reveal Jammu and Kashmir's real status
Sources in the Union home ministry said the decision to deploy the additional companies was taken considering the present situation in the Valley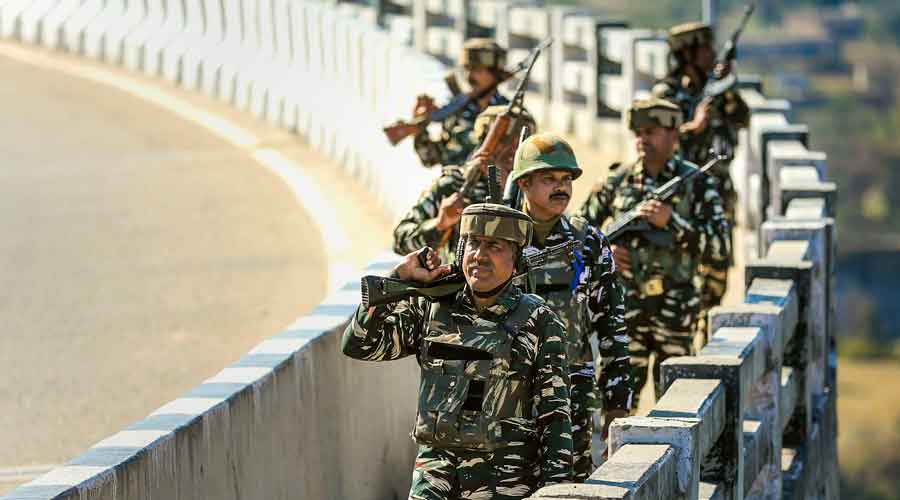 ---
New Delhi
|
Published 02.11.21, 02:19 AM
|
---
The Centre has ordered the deployment of an additional 5,000 troops of the central paramilitary forces in Jammu and Kashmir in the wake of the recent spate of killings of migrant workers.
The decision brings under stress the stated reason for stripping Jammu and Kashmir of its special status and the claims that law and order has improved after the constitutional changes and a prolonged clampdown.
Sources in the Union home ministry said the decision to deploy an additional 50 companies was taken considering the present situation in the Valley.
"The security situation in the wake of the latest civilian killings in Kashmir is very challenging. An additional 50 companies of the paramilitary forces are being deployed to help J&K police maintain law and order and undertake counter-terror operations," a ministry official said.
Of the 50 companies, 30 are being deployed in Srinagar alone, the official said.
About a dozen civilians, seven of them non-Muslim, were killed in October in the deadliest spurt in violence the Valley has witnessed in years. Five of the dead were migrant workers. One of the 12 civilians killed was a prominent Kashmiri Pandit businessman, Makhan Lal Bindroo.
The killings are being construed as a militant design to force religious minorities out of the Valley.
Dozens of Pandits have fled the Valley following these killings, prompting many to compare the situation with that in the 1990s.
Nearly 70,000 troops of the Central Reserve Police Force (CRPF) have already been deployed in Jammu and Kashmir for counter-terror operations.
Recently, the Jammu and Kashmir administration allotted land at eight places in south Kashmir to the CRPF to build permanent camps for personnel and their families.
On October 22, Union home minister Amit Shah had visited Jammu and Kashmir and reviewed the security situation.