5 unknown faces seek Kashmir Valley leadership
Five obscure men from a new political party emerged from nowhere to call for a new road map and new leadership for J&K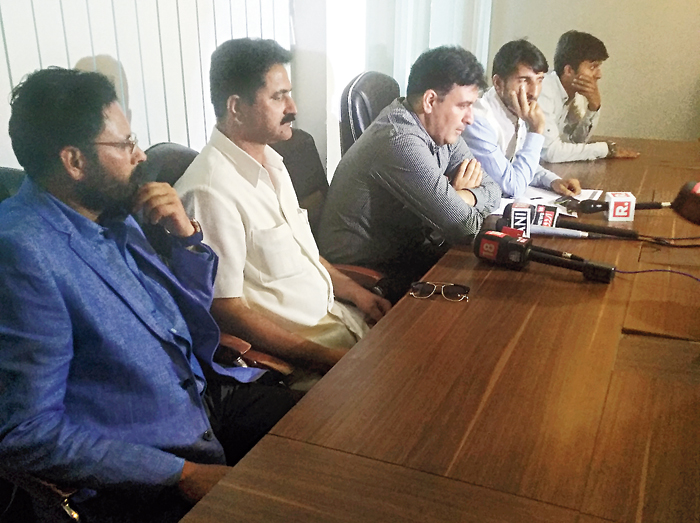 ---
|
Srinagar
|
Published 09.09.19, 09:45 PM
---
Five obscure men from a new political party emerged from nowhere on Monday to call for a new road map and new leadership for Jammu and Kashmir, their move seen as the first initiative to fish in troubled waters since the revocation of the Article 370-powered special status.
The five men identified their party as Jammu Kashmir Political Movement-I — the last apparently standing for "India"— and three among themselves as Shahid Khan, group spokesman, Raja Ashraf, advocate, and Mushtaq Tantary.
Addressing the first "non-official" media conference in the Valley since August 5, they claimed to have put their lives in the line of fire by daring to speak out at a time when "no other person does".
They denied having been parachuted in, claimed to possess a progressive bent of mind, called for a "post-370 solution" and urged the media to shun negativity and "bring up the positivity about Kashmir and play a positive role".
Khan said he was a former journalist and knew many of those attending the news conference, but none of the reporters present professed to know him.
A journalist identified one among the five as a militant turned counter-insurgent turned Congress activist.
The five had popped up at the media centre the administration had set up a week into the lockdown and which had so far hosted only government briefings.
They said the government had allowed them to hold Monday's briefing --- at a time when most of the Valley's mainstream and separatist leaders are in jail. Crews from several TV channels apparently broadcast the event live, underlining its importance.
The quintet urged New Delhi to restore Jammu and Kashmir's statehood, grant domicile rights and job reservations to residents similar to those available in the Northeast under Article 371, lift the clampdown and deal leniently with the detained Valley youth.
Repeatedly asked who they were, they gave the stock reply that they were "ordinary" and "common" men.
"You are asking who we are. That's why we didn't want to come forward. As of now, we are nothing…. There are not many who know us. We know that such questions will arise and that many people will say a lot of things about us," Khan said.
One question that dominated the briefing was whether the quintet supported the abrogation of the state's special status or demanded its restoration. There were no clear answers.
"It (special status) was with us for the past 60 to 70 years. Nobody demanded its removal. We live with a lot of things --- whether it's good or bad only time will tell," Khan said.
"We were very, very comfortable with Article 370 for 70 years. Now we want to know whether we are getting better or worse. We want a better solution."
Khan added: "The time has come to look for new strategies that go beyond bloodshed and violence. We too have heard that a war is coming… (but) violence and bloodshed should be out of the question."
The five claimed they had met several prominent political leaders before Monday's media conference but none of them had dared speak their mind. They did not identity those they claimed to have met.
They insisted they had not been "pushed" into the arena and that it had taken them 20 days to come out with a programme.
"It takes a lot of courage (to speak out) and it was a very, very difficult decision for us to come and talk to you --- because, somehow, nobody was speaking out," Khan said.
The five men urged New Delhi to talk to the "real people" and listen to the voices of the "children from all the schools and colleges".
They urged a larger participation by the people in the political process, which they said did not exist in the past. This appeared to suggest they wanted an alternative leadership for the pro-India camp that was till five weeks ago dominated by the National Conference and the People's Democratic Party.