Elgaar Parishad: Partner appeals to speak with Gautam Navlakha
Sahba Husain, 70, in her public appeal also mentioned that the human rights activist be allowed to walk in the open in his Navi Mumbai jail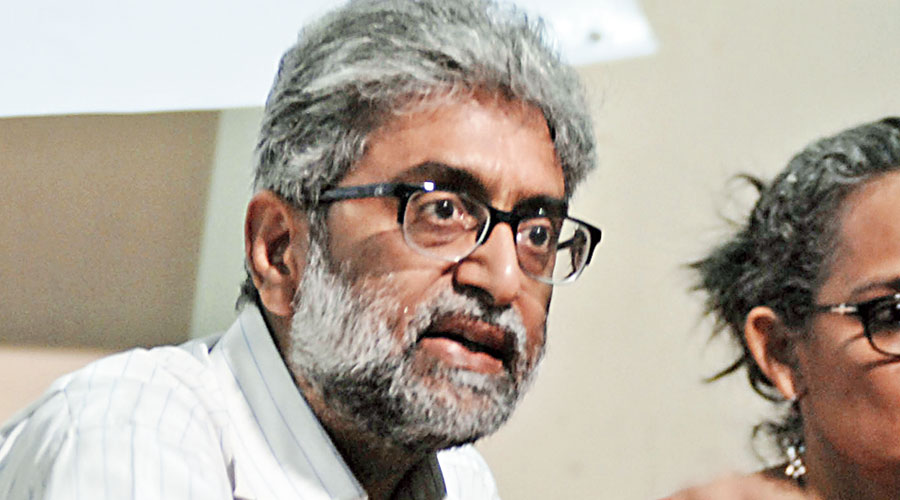 Gautam Navlakha
File picture
---
New Delhi
|
Published 25.10.21, 02:00 AM
|
---
The Delhi-based partner of human rights activist Gautam Navlakha, arrested in the Elgaar Parishad terrorism case, has issued a public appeal to be allowed to speak to him over the phone and for him to be allowed to walk in the open in his Navi Mumbai jail.
Sahba Husain said in a statement: "Gautam Navlakha, nearly 70, is one of the oldest of the Bhima Koregaon arrestees, who was shifted to the 'Anda Circle' (high security) from the barracks on October 12, 2021.
"Additionally, his telephone calls to me and his lawyers, his lifeline to the outside world, have been discontinued on the pretext that physical mulaquats have resumed in jail."
Husain added: "I, his partner, Sahba Husain, am over 70, and I live in Delhi. Travelling to Taloja Jail in Navi Mumbai frequently to meet him for the allotted ten minutes is difficult."
Husain said: "And Gautam's only contact with me is through the two calls he was allowed every week to me that enabled me to send him articles of need, including medicines, books etc. With discontinuance of phone calls, all this will now depend on letters that take a minimum of two weeks to reach me.
"Apart from the calls to me, regular access to lawyers through phone calls is an essential facility for undertrial prisoners. To deprive any undertrial prisoner of this effective and efficient mode of securing legal advice and help, or access to family, is the height of unfairness."
She added: "Gautam writes, 'confinement in Anda Circle means denial of fresh air/ oxygen as there is not a single tree or plant in the open space of the Circle. And we are forbidden to step outside of the Anda Circle…. In other words, we spend 16 hours out of 24 cooped inside our cell and the 8 hours we are let out we are confined to a corridor 71/2' x 72' for our daily walk on cemented floor surrounded by high walls all around.
Husain said: "These are prisoners of conscience, who have had to face indignities and humiliation for the smallest needs, and wage court battles for basic dignities in prison. In the past, when Navlakha's original pair of spectacles went missing, it was difficult for the replacement spectacles to reach him in time.
"It is not too much to ask for these simple facilities, phone access to his lawyers and family, and some fresh air to walk in once or twice a day."
Maharashtra's prisons department is yet to respond to Husain's appeal. She told The Telegraph she planned to send her request to the director-general (prisons) with endorsement from relatives of the other accused.
The state government has ignored civil society pleas to recommend to the high-powered committee, mandated by the Supreme Court to decongest prisons during the pandemic, the release of the Elgaar prisoners — most of whom are elderly and ailing -- on interim bail.
Despite demands from internationally renowned activists and human rights defenders every few weeks in the past three years, the National Investigation Agency (NIA) has consistently opposed bail pleas in the case.
Two of the accused have blamed then Taloja jail superintendent Kaustubh Kurlekar of ill-treating co-accused Father Stan Swamy, an 84-year-old Jesuit who suffered from Parkinson's disease. Father Stan died of post-Covid complications while in hospital under judicial custody in Mumbai on July 5.
Fifteen others, including Navlakha, had been arrested in the case which relates to an alleged Maoist conspiracy and caste violence at an Ambedkarite pilgrimage in 2018. The accused include rights activists, writers and lawyers.
Forensic analysis of devices of the accused by an American firm has indicated the planting of evidence on the computers of two of them.