Father Stan Lourduswamy: Jesuit priest devoted to tribal rights
He was best known for his championing of the Adivasi cause in Jharkhand and hailed from Tamil Nadu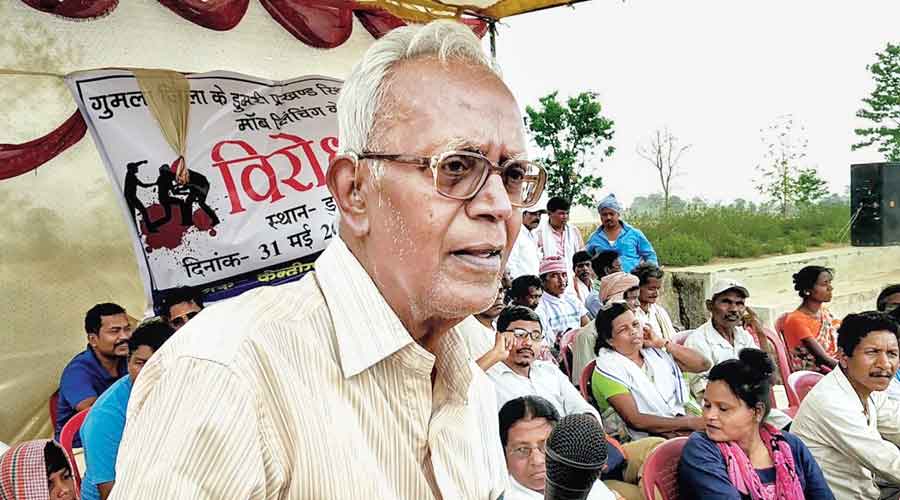 ---
Jamshedpur
|
Published 06.07.21, 01:35 AM
|
---
Father Stan Swamy, who died aged 84 in Mumbai on Monday, was a Jesuit priest with a Marxian understanding of society and its problems that he imparted to thousands of youths while campaigning for tribal rights for over five decades.
Stanislaus Lourduswamy, which was his real name, was best known for his championing of the Adivasi cause in Jharkhand but hailed from Tamil Nadu.
He was born on April 26, 1937, in Trichy and went to St Joseph's School, where he was so deeply inspired by the work of the Jesuit priests that he decided to join the order.
He began pursuing religious studies in May 1957 and committed himself to the cause of the poor and downtrodden.
In 1965, he was sent to St Xavier's High School in Lupungutu, Chaibasa, West Singhbhum, in present-day Jharkhand for his regency, the stage at which trainee Jesuits spend two years taking up assignments for the order.
"The real breakthrough with regard to his ideas about social action came when he began his regency," said Father Peter Martin, a Ranchi-based advocate who had been associated with Fr Stan for more than two decades.
"His experiences as a teacher and hostel prefect had a deep impact on him. He would visit the weekly bazaar in Chaibasa on Tuesdays with his students and saw for himself how the merchants and their agents cheated the Adivasis."
On holidays, Fr Stan visited his boys and their families in their villages. It gave him a sense of their culture. The values they held deeply impressed him.
"Another decisive turn came after his regency, when he went to Manila in the Philippines in 1967 to study theology. He did a master's in sociology. Some of the subjects dealing with indigenous peoples gave him a greater understanding of how indigenous peoples were exploited in various regions of the world, and of their struggles," Fr Martin said.
After Fr Stan returned to India and joined the Jesuit Jamshedpur Province in 1971, he was assigned the responsibility of director of the Catholic Relief Services charity for the area (Sundernagar on Jamshedpur's outskirts).
He spent 1971 and a part of 1972 setting up a warehouse for relief supplies and arranging for a vehicle and an office. He trained his ex-students to do office work and handle the distribution of relief materials.
During this period, he attended a three-month course on community development at the Indian Social Institute, Bangalore, and kept in touch with the director, Father Henry Volken.
"He told the then head of the Jamshedpur Jesuit Province, Father Bill Tome, that he wanted to live in an interior Ho (a tribe) village, learn their language and get to know their world," Father Tony PM, another Ranchi-based Jesuit, who had been associated with Fr Stan since 1993, said.
"Swamy moved to Badaibir village of West Singhbhum. One of the families readily offered him a room. He contacted youths within a radius of about 15km and helped them think critically about their lives in all its dimensions. Soon enough, some of his ex-students and some volunteers with backgrounds in the All India Catholic University Federation joined him."
The early and mid-1970s saw an upsurge of students and youths across the country as Jayaprakash Narayan called for civil disobedience. The Indian Social Institute in Bangalore became a hub for university students looking for an alternative vision of society. They asked the institute to teach them the fundamentals of Marxian analysis of society.
Fr Volken proposed that Fr Stan head the Indian Social Institute.
"But Father Swamy felt he needed to study more about social analysis. He got a scholarship to the Catholic University of Louvain in Belgium for a year (1974-1975)," Fr Tony said.
"Although he could have gone on to do a doctorate, he felt he should come back and take on the new role of (helping) youth from the exploited sections understand society and its dynamics scientifically and develop effective strategies of action to bring about change."
Fr Stan then had a fairly long stint — 1975 to 1990 — at the Indian Social Institute, where together with Dr Duarte Barreto and other committed colleagues he reached out to several hundred young men and women from the fringes of society through systematic training sessions. He followed it up with field action.
Participants from various parts of India and neighbouring Sri Lanka, Bangladesh and Nepal began to attend his three-month course on social analysis and community organisation. The Indian Social Institute also published a series of booklets on social analysis.
"Some members of the Catholic hierarchy were upset by the institution's 'Marxist leaning'. But the Jesuit superiors stood by the team. Father Swamy's efforts to train people in scientific social analysis and his lived example of taking the side of the oppressed has inspired many social activists in South Asia and beyond," Fr Martin said.
In 1991, Fr Stan decided to return to his "first love", the Adivasis of Jharkhand. Returning from Bangalore, he put up with the Jesuit community of St Xavier's High School in Lupungutu while working to revive the Jharkhandi Organisation for Human Rights (Johar).
He later moved into the office of the organisation, which began championing popular causes and reviving the traditional self-governance (Munda-Manki) system of Ho society. Simultaneously, Fr Stan began contacting social activists and socially committed people.
"Towards the end of the 1990s, the phenomenon of Adivasis and moolvasis being displaced from their land became rampant. Other Jesuits also became involved in mass struggles," Fr Tony said.
"The Netarhat Field Firing Range project in the Palamu and Gumla districts and the Koel-Karo Dam in Ranchi
and West Singhbhum were threatening large-scale displacements. Jesuits involved in social action felt the need to establish a centre in Ranchi to coordinate the efforts of (social) organisations and movements fighting the processes of marginalised communities becoming pauperised. Stan Swamy was given the responsibility of creating this centre."
In June 2001, Fr Stan moved to Ranchi from Chaibasa and took up residence at Gharana Apartment, Purulia Road. He contacted various organisations and movements to coordinate their struggles against displacement.
The Ranchi Jesuit Province agreed to give an acre of land on the campus of the Agriculture Training Centre, Namkum, on Ranchi's outskirts for the proposed social action centre, Bagaicha.
Fr Stan began looking for an Adivasi architect to design the structure, and the central zone of the Jesuits took on the responsibility of financing the construction. Work began in 2004 and was completed in 2006. Fr Stan lived in Bagaicha since then till the NIA took him away on October 8 last year.
In the mid-2010s, the Munda Adivasis of Jharkhand's Khunti district began erecting in their villages stone slabs inscribed with the provisions of Schedule Five of the Indian Constitution which grants special autonomy to tribal areas. This came to be known as the Pathalgadi movement and was a nod to the age-old tradition of demarcating ancestral plots by erecting stone slabs that commemorated the ancestors' contributions.
However, the then BJP government of Raghubar Das termed the movement "anti-development and anti-national" and deployed police and paramilitary troops to suppress it, triggering a social media furore.
The state government filed sedition cases against 20 activists, including Fr Stan, on the basis of their Facebook posts stating the government should engage in peaceful dialogue with the Adivasis engaged in the Pathalgadi movement rather than repress it.
In January 2021, three months after Fr Stan had been arrested and lodged in a Mumbai jail, he was awarded the Mukundan C. Menon Award 2020 for human rights activism.