Elgaar Parishaad case: Hany Babu in hospital, family in the dark
The DU professor apparently tested positive for Covid-19 when he went to the Mumbai hospital for a second opinion on an acute eye infection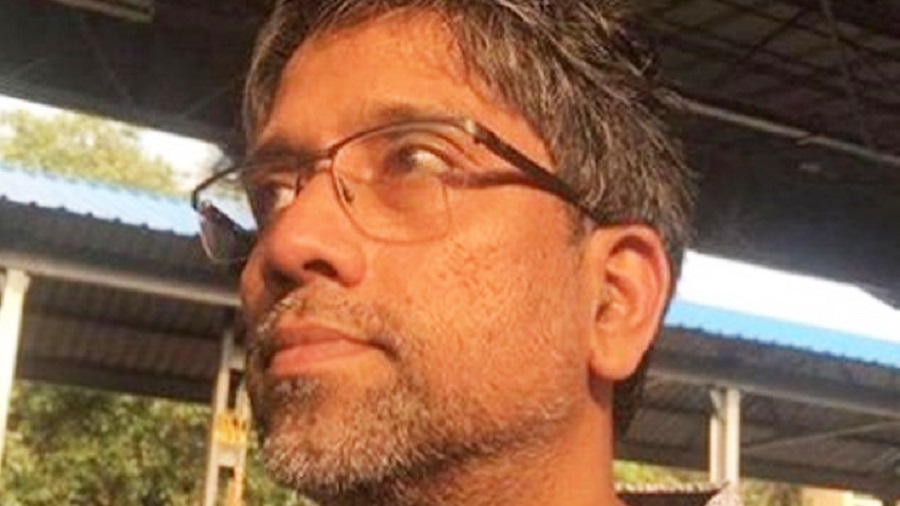 Delhi University associate professor Hany Babu
File picture
---
New Delhi
|
Published 15.05.21, 12:58 AM
|
---
Jailed Delhi University associate professor Hany Babu M.T. has been admitted to a Mumbai hospital after he apparently tested positive for Covid-19 when he went there for a second opinion on an acute eye infection that had been festering for some time.
Babu has been an undertrial at Navi Mumbai's Taloja Central Prison since last year for an alleged Elgaar Parishad-Maoist plot to incite violence at an Ambedkarite event in Bhima-Koregaon in 2018.
His wife Jenny Rowena, who too teaches at DU, said in a statement: "It was only after Hany's lawyer, Ms Payoshi Roy, made over 8 calls to the prison and sent another email dated 10.5.2021 emphasising the gravity of the situation that Hany was taken to J.J. Hospital, Mumbai, on 12.5.2021. On 13.5.2021, Jenny, Hany Babu's wife, received a phone call from Taloja prison and was informed that Hany had been admitted to J.J. Hospital. She was not informed of either his diagnosis, nor the treatment being administered, and not even the time of his admission.
"Now at about 7.30pm (on Thursday), when Hany's mother arrived at J.J. Hospital to meet her son, she was informed by a nurse that Hany has tested Covid-positive. We are yet to receive any official information either from the prison or from the NIA. Despite requests we have not received any information regarding his CT count, his vital statistics and the results of any tests conducted."
CT, cycle threshold, is a marker of the viral load.
Jenny said: "We do not want to leave him at the mercy of a system that treats undertrial prisoners with such cruel indignity and does not believe that it owes us the courtesy of even informing us of Hany's condition and treatment or that Hany and his family have a right to know and participate in his treatment.
"I appeal to the state government to immediately shift Hany to a multi-speciality hospital with the required expertise and facilities, such that Hany can get the best possible treatment in his present condition. I also request that we be given a complete copy of Hany's medical documents and be updated in real time on a contemporaneous basis on every development regarding Hany's health so that we can take all necessary decisions in order to protect his life and ensure his safety and well-being."
In a letter to Maharashtra chief minister Uddhav Thackeray on Wednesday, relatives of the 15 undertrials in the Bhima-Koregaon case had appealed for interim bail, reasoning that many of them had comorbidities that increased their vulnerability to Covid-19.
The letter said: "The Supreme Court of India has empowered state governments to form high-power committees which could then decide upon the release of prisoners in each state. We urge you to recommend to the committee to release the BK (Bhima-Koregaon) undertrials on interim bail at least."
Folk artiste Jyoti Jagtap is in isolation for Covid-19 at Mumbai's Byculla District Prison. Telugu litterateur Varavara Rao, now on bail, had to be hospitalised while in prison after he tested positive for the virus, which aggravated his other health issues.