14-year-old threatens against non-inclusion of eggs in mid-day meal
Influential Lingayat and Hindu seers say they will brook no deviation from a purely vegetarian diet for children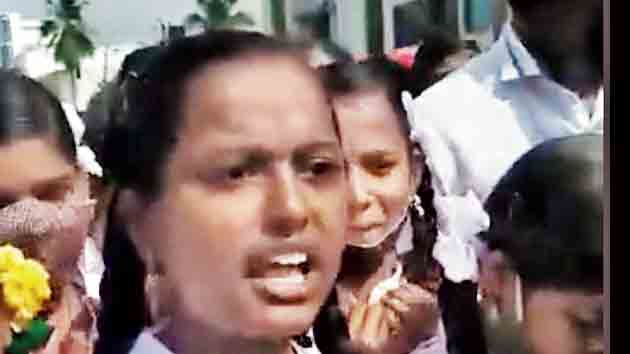 Anjali
The Telegraph Picture
---
Bangalore
|
Published 15.12.21, 02:49 AM
|
---
A 14-year-old Karnataka schoolgirl has told powerful seers opposing boiled eggs in midday meals they don't understand the problems of the poor and have no business telling them what they should eat.
In a video clip widely shared on social media, Anjali, a Class VIII student of MNM Government Girls School at Gangavati in Koppal district, asks: "Don't we pay obeisance to you after eating eggs and taking a bath? Haven't we made cash offerings to your mutts?"
"Why are you eating with our money? You throw away that money, or give it to us. We will eat (with that money)," she adds.
If the seers have no qualms accepting money offered by those like her who eat eggs, they should not object to children having the nutritious food item, Anjali suggests.
"You do not know the plight of the poor. We go to government schools because our families are poor.
"We need eggs and bananas. If not, we will come to your mutts and eat eggs. Do you want that? You don't, right?… Who are you to tell us (what to eat)?" Anjali, whose father is a day labourer, says amid cheers from her schoolmates.
A school unit member of the CPM-affiliated SFI, Anjali made the speech in Gangavati on Saturday.
Influential Lingayat and Hindu seers have said they will brook no deviation from a purely vegetarian diet in government schools and have threatened protests.
The Karnataka primary and secondary education department recently decided to introduce eggs for 14.44 lakh students in government and aided schools in seven districts to tackle malnutrition. Students from Classes I to VIII will get 12 eggs, or bananas for vegetarians, every month.
The programme is designed for the rest of the academic year ending March 30, 2022, in Bidar, Raichur, Gulbarga, Yadgir, Koppal, Bellary and Bijapur as anaemia and malnutrition are high in children in these districts. More than 80 per cent of the students' parents had opted for eggs when the respective schools had sought their consent.
"We will come and squat at your mutts. We are not scared. I am not alone. Your mutts won't survive if we bring all the girls from Gangavati taluk. You won't even have space to sit, we are so many children. What do you think of yourselves? We are not what we appear to be," Anjali cautions.
"Don't assume we don't have anyone. We have an organisation backing us, that is the SFI," she says.
Anjali told The Telegraph on Tuesday that it was her first protest after joining the SFI two years ago. "I got the courage to speak like this since I am part of the SFI," she said.
"Right now we are getting eggs. But if the government stops it, we will stage protests since it is our right to eat what we want," she added.
Karnataka SFI president Amaresh Kadgad told this newspaper on Tuesday that Anjali has been an active member of the organisation from Class VI. "She is among those SFI unit members of the school who regularly participate in our programmes," Kadgad said.
Sri Vishwaprasanna Theertha Swamiji of the Pejavar Mutt in Udupi, Channabasavananda Swami of the Lingayat Dharma Mahasabha and Sadhguru Mate Satyadevi are among the seers who have demanded the immediate withdrawal of eggs from the midday menu.
The Pejavar seer claimed that the inclusion of eggs would force-change eating habits of vegetarians. "The government should not include eggs as there will be kids from other communities. Schools are not places to change the lifestyle and customs of children," he said.
Channabasavananda Swami warned of protests if eggs were not pulled out of the menu. "Schools will turn into military hotels when eggs are served. There will be strong protests if this is not withdrawn immediately," he told reporters.
"Military hotels" are Hindu-run non-vegetarian eateries that originally catered to soldiers, hence the name.
Bengal, Kerala, Andhra Pradesh, Tamil Nadu, Telangana, Odisha and Jharkhand are already providing eggs in schools.