102-year-old freedom fighter tells anti-Citizenship Act rally: Save nation
Around 50,000 people gather to ensure that the momentum of the protests against the CAA-NRC is not lost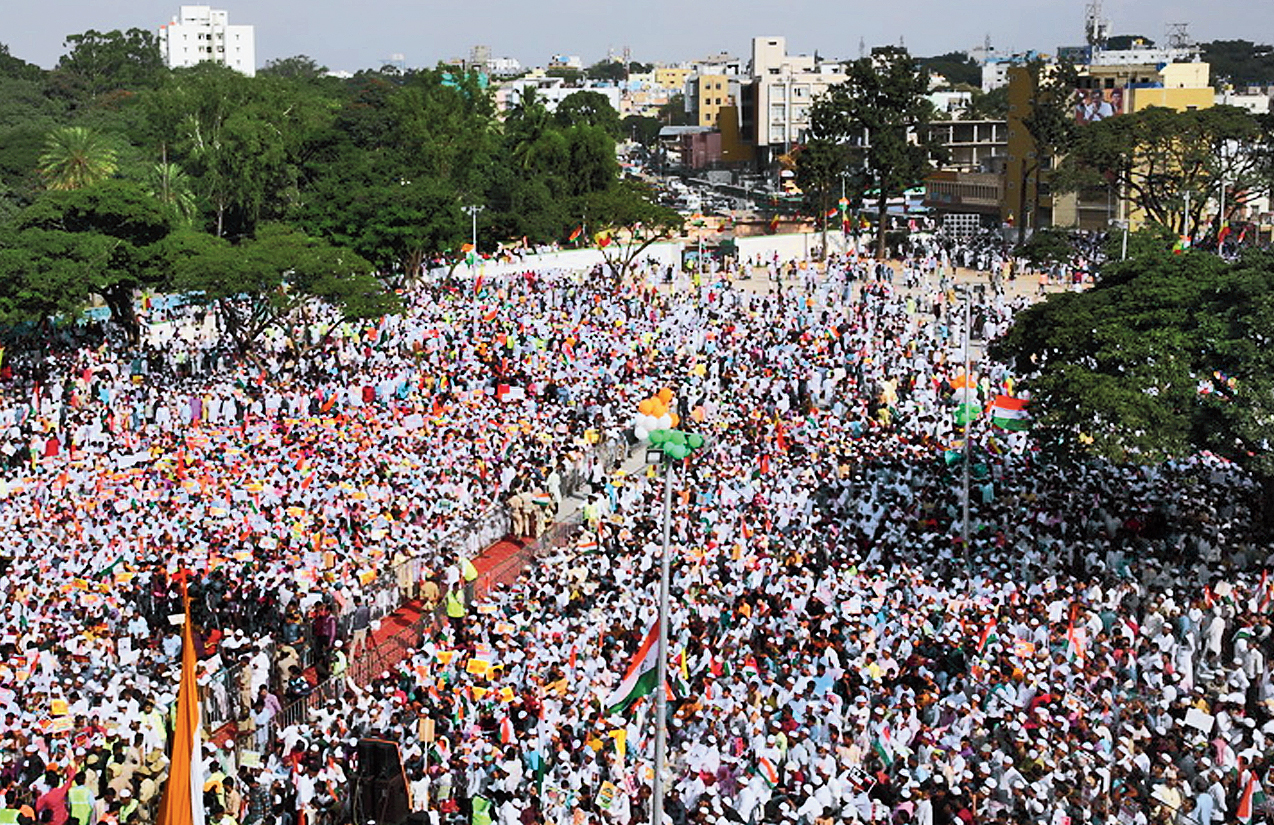 The protest at the Eidgah Jadeed in Bangalore on Friday.
(Picture sourced by correspondent)
---
Bangalore
|
Published 03.01.20, 10:34 PM
|
---
The feeble voice of 102-year-old freedom fighter H.S. Doreswamy elicited a thunderous applause in Bangalore on Friday as he exhorted people to protest against the new citizenship regime irrespective of religion and caste and not yield till it is withdrawn.
"You are not Muslims, I am not Hindu, we are Indians," Doreswamy said at the Eidgah Jadeed in the busy City Market area, addressing around 50,000 people who had gathered to ensure that the momentum of the protests against the amended citizenship law and the NRC is not lost.
"This country was divided into Pakistan and India. Pakistan became theocratic, India became secular," said Doreswamy, who had been imprisoned during the freedom movement.
Thousands had skipped lunch to flock to the ground soon after Friday prayers. In the blazing sun, they raised their voice in unison against the Citizenship (Amendment) Act, the National Register of Citizens and the National Population Register.
Organised by Congress lawmaker and former minister B.Z. Zameer Ahmed Khan, the gathering saw a collective pledge to continue the protest against the citizenship law.
During his 10-minute speech, Doreswamy spoke about detention camps.
"But (Prime Minister Narendra) Modi is now on a mission to send everyone to jail. He is readying concentration camps. He is out to send you to the concentration camps. But we will fight together," he said, adding that the government's steps showed how India had changed for the worse.
Doreswamy said the ulterior motive behind stoking the controversy over citizenship was to prepare the BJP for the next general election.
"So we need to get ready to carry on this agitation till the next Lok Sabha polls so as to save this nation," he said.
Congress youth leader Bhavya Narasimhamurthy, who shot to fame with her solo protests to circumvent prohibitory orders in Bangalore two weeks ago, told the gathering how India had been a secular country for 72 years since Independence.
"All of you have come here after namaz. I came here after doing Satyanarayana puja at home. This is India," she said."The Preamble to our Constitution says, 'socialist, secular, sovereign, democratic'. It doesn't say Hindu or Muslim. It also says 'justice, equality and fraternity'," Bhavya said.
"When (B.R.) Ambedkar wrote the Constitution, he clearly wanted a secular nation. (The founder of the Lingayat dharma) Basavanna had said the society should be built on equality and going beyond religion and caste," she said.
Sardar Vallabhbhai Patel wouldn't have liked what is happening now, Bhavya added. "He was the one who united India. When we won freedom, we were 566 princely states. Patel brought all of them together. He did not see them as Muslims and Hindus. His statue is named Statue of Unity. But had he been here, he would have worried a lot."
Maulana Akhtar Saheb, a city-based cleric, refused to speak on the CAA. "Whenever we speak on the CAA, they (the BJP) say we are anti-nationals. Instead, I want to tell Modi and Amit Shah to bring all the Hindu refugees from all over the world and we will take care of them…. But you should at least make sure there are onions in every kitchen," he said.
Maulana Mohammed Muzzammil called on all Muslims to tear up any citizenship forms they are given. "If someone gives you a form, tear it up," he said. "There's this story of a man who examined a camel and said there was nothing straight in the camel's body. Not the body, not the neck, not the back, nothing. Even after five years in power, Modi has not passed a single law that is straight," the cleric added.