Who's next?
There is an urgent need to prioritise Covid-19 jabs for people with mental illness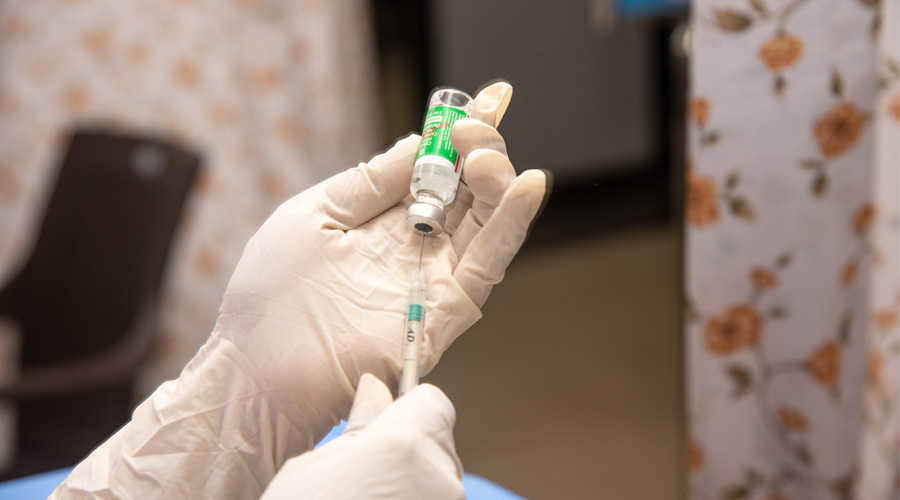 ---
Published 24.11.21, 01:22 AM
|
---
For the third time Neena had to take leave for her brother's Covid-19 vaccination. All three local vaccination centres had long, impatient queues and Sumant, her brother, had problems waiting. The crowds triggered restlessness and agitation in him, paranoia kicked in and Neena was forced to bring him home for emergency medications. Once again, Sumant, diagnosed with schizophrenia, missed his jab.
Santanu lived in persistent fear. His mother, 72 years of age, had Alzheimer's disease and uncontrolled diabetes. Her behavioural problems due to dementia had worsened, which led to wandering away from home. Being at high risk of Covid-19, Santanu tried his best for her vaccination but it was a real challenge to get her to the booth. Eventually, his worst fear turning true, Malati, his mother, was hospitalised with Covid pneumonia.
India started its Covid-19 vaccination from January 16, 2021. Being one of the largest global vaccination drives, it recently crossed the "one billion" mark of beneficiaries. However, certain sections of people, such as individuals living with severe mental illness (SMI), are still deprived of this effective, protective strategy against Covid-19.
Health and social inequalities are not new in our country. Aptly, this year the World Mental Health Day (October 10) was themed "Mental Health in an Unequal World". Health inequity in terms of Covid-19 care and vaccination among people living with mental illness is reflective of the same. There can be several reasons — stigma, discrimination, vulnerability to misinformation, behaviour problems, systemic failures and so on.
Since vaccination started, psychiatrists have received numerous calls from friends and family of individuals with SMI as to whether they can take the shot. For all practical purposes, the rules of vaccination are no different for people who are on psychiatric medication or have mental health complaints. Nevertheless, a lack of empathy, age-old stigma and inadequate understanding among all levels of stakeholders have led to reduced access to vaccination among these people.
What is the need to prioritise vaccination among people with SMI? Large, nationwide studies, published in the journal Lancet Psychiatry in early 2021, have clearly shown that individuals with mental illness are just as vulnerable to Covid-19. Those with schizophrenia, severe depression, bipolar disorder and dementia are more likely to get affected with the Sars-CoV-2 virus and develop complications, with an increased risk of death. In fact, this is true for other preventable diseases as well.
People with mental illness and substance use disorder have been missing out on access to other vaccines such as influenza, tuberculosis and hepatitis for decades. They are five times at risk of being hospitalised and four times at risk of premature death due to vaccine-preventable conditions. Many of the causes of early death are entirely preventable through early screening and preventive health measures such as vaccination.
Also, people with SMI have a high likelihood of medical conditions, mostly neglected and untreated, which further increase the risk of Covid-19. The 2015-16 National Mental Health Survey shows one in six people suffers from a mental health condition and only 15 per cent of them receive help.
According to the recommendations by the National Expert Group on Vaccine Administration for Covid-19, or Negvac, constituted in India, the vaccine was offered on a priority basis to healthcare workers and various other frontline workers and, later, to persons above 60 years, followed by individuals older than 45 years with associated conditions. The last criterion of this list, namely "individuals with disabilities having high support needs" may include people with SMI. But since there is no clear mention, they will have difficulty in availing this benefit.
A public interest litigation was filed to fight for the cause. However, the Negvac felt that the decision regarding prioritisation is based on scientific evidence, principles of equity, the World Health Organization guidelines and, hence, there was no need to change or alter or modify the criteria for the present. It is high time we re-think these policies.
In October, an international alliance of people living with mental illness, scientists, public health and community leaders called for urgent action towards vaccine equity for people living with mental illness. This led to a Global Call for Action, co-led by Equally Well Australia, Equally Well UK and Equally Well New Zealand with support from alliance members in 12 countries through Europe, Asia and the US.
The Indian Psychiatric Society — the largest and oldest association of psychiatrists in India — has strongly supported this cause and is an endorsing partner of this international alliance.
The real power, however, lies with the general public. Let us all come together to enable vulnerable groups in accessing Covid-19 vaccination for an equal and dignified future.
The writer is a consultant geriatric psychiatrist based in Calcutta and a member of the International Psychogeriatric Association