The Black Fungus
Explaining it all: What is mucormycosis? What causes it? How is it treated?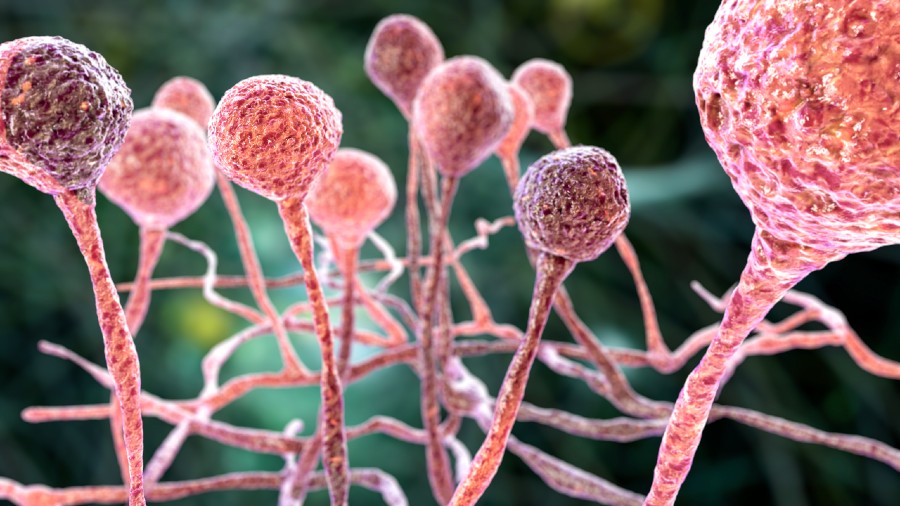 Mucor mold, black fungus, bread mold fungi, found in soil, digestive systems.
Shutterstock
---
Published 26.05.21, 03:21 AM
|
---
Over the past week, Dr Arunaloke Chakrabarti has diagnosed 52 cases of a rare but life-threatening fungal infection called mucormycosis [often termed black fungus] — a count exceeding the 50 patients he would typically see over a year.
Like others across the medical community, Dr Chakrabarti is surprised by the speed and surge in the fungal infection among coronavirus patients nationwide not seen in other countries yet, but he knows the triad of factors driving the surge.
"What we're seeing is unprecedented — but many things have converged for this surge to happen," says Dr Chakrabarti, professor of medical microbiology at the Postgraduate Institute of Medical Education and Research (PGIMER), Chandigarh.
States across India have reported hundreds of mucormycosis cases among Covid-19 patients over the past four weeks. Mucormycosis is caused by so-called saprophytic fungi — organisms that usually live and feed on dead or decaying organic matter.
The fungi are found in soil and air. They infect when a person inhales fungal spores or when the fungi enter the skin through cuts, scrapes or other types of skin trauma. In otherwise healthy people, the body's immune system is able to fight and eradicate the fungal invasion. But in people who are ill or have taken medicines that suppress their immune responses, the fungi can grow and colonise the body's tissues or organs.
At PGIMER, Dr Chakrabarti and his colleagues have studied mucormycosis for three decades, documenting the tissues and organs affected, analysing which patients are most susceptible and recording a rise in infections — long before the current surge.
Multiple studies have suggested that the most common type of mucormycosis is one called rhino-orbital-cerebral mucormycosis that affects the nose, the sinuses and the brain and accounts for 45-75 per cent of the cases.
But doctors in the past have also encountered other sites of infection — pulmonary (3 to 22 per cent), gastrointestinal (2 to 8 per cent) and renal (less than 1 per cent) — in smaller proportions of patients.
Earlier studies have establish-ed diabetes as the most common predisposing factor for rhino-orbital-cerebral mucormycosis. A study of 465 patients from eight cities across India had found 77 per cent of mucormycosis among diabetes patients.
The fungal infection had also earlier been observed among patients with certain blood cancers and in a small proportion of patients who had undergone unhygienic dental procedures during tooth extractions. Earlier studies in Europe had suggested that blood cancers and diabetes were the most common risk factors for pulmonary mucormycosis.
Two months ago, Dr Chakrabarti and his colleague Dr Hariprasath Prakash, outlining the findings of multiple earlier studies, estimated that the prevalence of mucormycosis in India is nearly 70 times higher than documented in global data that put it at 0.02 to 9.5 cases per 1,00,000 persons.
Dr Chakrabarti and Dr Prakash believe Covid-19, diabetes and steroids made up a triad of factors that has given rise to the unprecedented surge in mucormycosis against the background of the sharp surge in Covid-19 that has overwhelmed hospitals and healthcare staff.
The coronavirus itself can lead to biochemical changes such as an increase in a substance called ferritin, which in turn can raise free iron levels in the blood, says Dr Chakrabarti. "Free iron in the circulation is food for the fungus," he explains.
But this physiological change would be happening worldwide. Why then has the mucormycosis surge been observed only in India?
The microbiologists attribute this to uncontrolled blood sugar, steroid-induced diabetes and overdose of steroids.
While the standard prescribed dose of steroid in Covid-19 is 6mg per day, some doctors say they have encountered patients who have received 30mg in a day. In certain cases, Dr Chakrabarti says, doctors appear to have overprescribed steroids in efforts to compensate for the shortage of oxygen — even though standard clinical treatment protocols do not recommend this.
But not all doctors are convinced that these are the only factors. Dr Rajeev Jayadevan, a senior gastrointestinal specialist in Cochin, has cited data from an Indore hospital where a doctor analysing 210 cases found that 14 per cent had not received steroids and 21 per cent did not have diabetes.
Dr Jayadevan, in a tweet on Sunday, said two other possible "offenders" — the use of zinc supplements and steam inhalation — may need to be examined. "Fungi thrive in zinc-rich environments... steam in excess can damage the delicate mucus layer and even cause burns along the mucosa, making it easy for fungus to breach our natural defence," he wrote.
Dr Prakash says studies have established that the best treatment is a mix of surgical debridement — physically scraping off the fungus from the infected tissues — and treatment with an anti-fungal agent called amphotericin B. "Surgery to scrape off infected tissue and some amount of healthy tissues surrounding the infected zone is needed," Dr Prakash says. "This helps improve the impact of the medicines."
Don't panic if you suspect someone has mucormycosis, just get to a doctor immediately. Timely treatment is the key to a cure.