Price cap set on 42 cancer drugs
Patients' rights activists say the move would have limited impact on expenses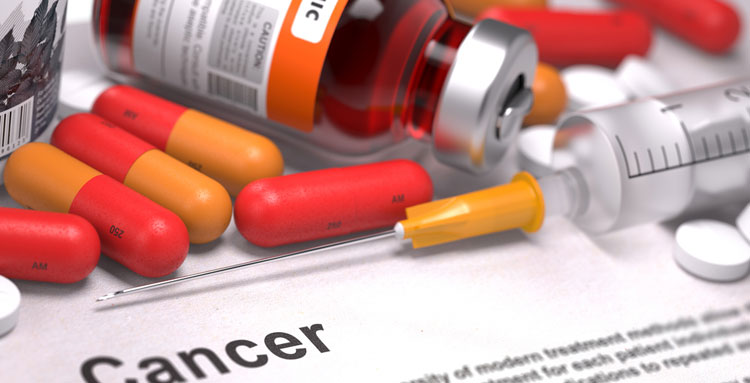 The restrictions that place a 30 per cent cap on margins would cover 72 formulations and 355 brands of drugs
Picture by Shutterstock
---
New Delhi
|
Published 27.02.19, 08:14 PM
|
---
India's drug pricing authority on Wednesday imposed profit-margin caps on 42 anti-cancer medicines, but drew criticism from sections of patients' rights activists who said the move would have limited impact on expenses.
The National Pharmaceutical Pricing Authority (NPPA) said the restrictions that place a 30 per cent cap on margins would cover 72 formulations and 355 brands of drugs used to treat cervical cancer, breast cancer, lung cancer and leukaemia, among others. The revised prices will be effective from March 8.
The NPPA said its move to restrict profit margins follows long-standing demands by consumers for enhanced price regulation to protect them from arbitrary pricing by drug manufacturers.
Relying on market data, the NPPA said the percentage wise reduction in the prices of 105 brands would range from up to 25% to above 70%. It said prices of 45 brands would reduce by up to 25%, prices of 43 brands would reduce by 25% to 50%, prices of 12 brands would reduce by 50% to 70% and prices of 5 brands would reduce by 70% or higher.
A study by health researchers in Mumbai had found last year that about 42 per cent of households in India seeking treatment for cancer are forced into "distress financing," meaning borrowing from relatives or friends or selling ornaments or property.
Patients' groups expressed concern that the NPPA move will have only a limited impact because it does not cover all anti-cancer drugs and the reductions in prices are limited. "We expect this move to have only a limited impact on the expenses patients incur," said Malini Aisola of the All India Drug Action Network (AIDAN), a consortium of physicians and patients' rights activists campaigning for effective price regulation.
The NPPA's own data suggest that for 45 out of 105 brands, the price reductions will be 25% or lower, Aisola said. "Many of these drugs are expensive and for any meaningful impact, the reductions should be substantial," she said.
AIDAN member Sourirajan Srinivasan said the price to the stockist from the manufacturer is taken as a given "without interrogating the costing" of the manufacture or the margins made by the manufacturers. "For all we know, manufacturers could be making a 100 percent margin or more."
Another patients' rights advocate said the rationale through which the NPPA imposes caps on trade margins of specific drugs is still unclear. "We don't see any transparency," said Leena Menghaney, a senior campaigner with Medecins Sans Frontieres in New Delhi.
Menghaney said a drug called trastuzumab used to treat breast cancer has an MRP of Rs 58,000 but is available to hospitals at much lower prices. "For every vial, the hospital can make about Rs 25,000," Menghaney said.