The bill for the Narendra Modi government's flagship programme that provides up to Rs 5 lakh hospitalisation cover yearly to poor households could balloon to unforeseen levels and threaten other health services, economists have told government officials in closed-door presentations.
The presentations, outlining the findings of an exercise to estimate costs of the Pradhan Mantri Jan Arogya Yojana, have suggested that the scheme with current funding levels can provide hospitalisation to only 30 per cent of its target beneficiaries.
India's Finance Commission, a body tasked with guiding financial relations between the Centre and states, had last year asked researchers at the Institute of Economic Growth (IEG), New Delhi, to assess costs of the scheme launched by Modi in September 2018.
The scheme pledges cashless hospitalisation to treat over 1,350 illnesses or health disorders to about 100 million poor households — or 500 million people, an estimated 40 per cent of the country's population. Since its launch, it has paid for the hospitalisation of over 1.2 million patients.
But the IEG exercise indicates that at current funding levels, the scheme cannot support the hospitalisation needs of more than 30 million households, according to people familiar with the presentations who do not necessarily agree with all its findings.
The Union health ministry has estimated the scheme requires an investment of Rs 1,100 per household per year. But the presentations suggest that to provide hospitalisation to all who need it across 100 million households, this number would surge to Rs 2,400 crore or more.
The Union health ministry has for 2019-20 earmarked Rs 6,400 crore — or 10 per cent of Rs 61,398 crore of its annual health budget. But to support hospitalisation needs of all 10 crore households, the bill could precipitously rise to levels where it will consume much more than half of the Centre's health budget.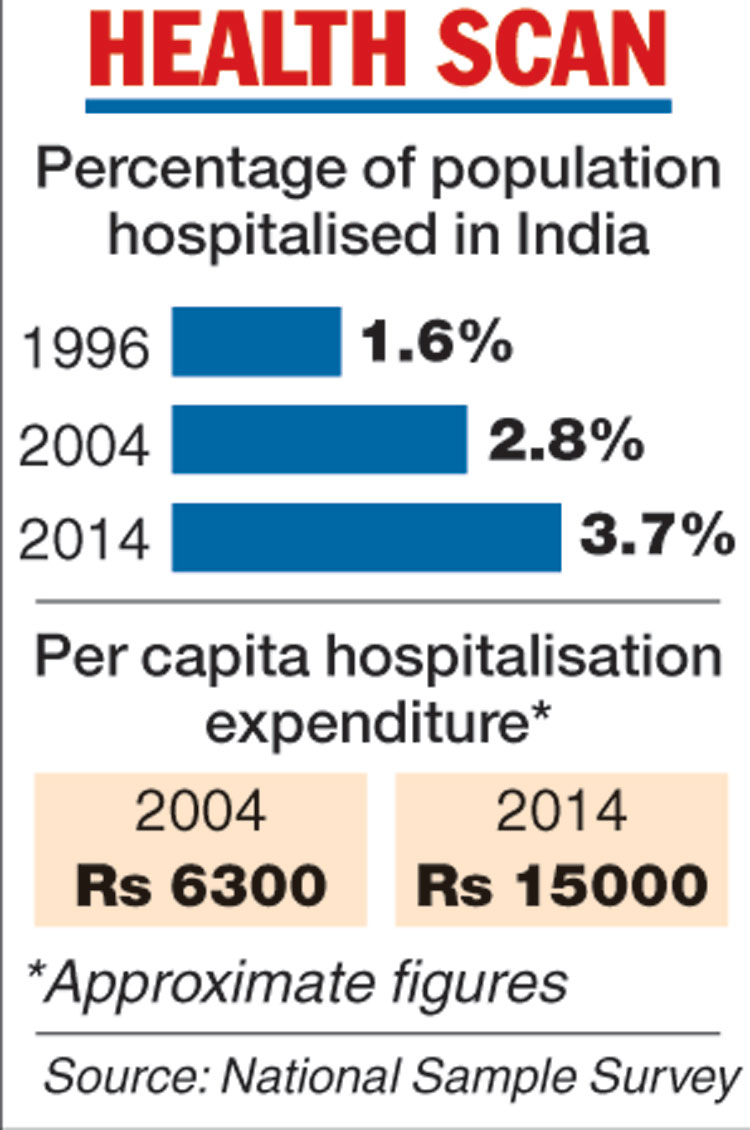 The Telegraph
Health economists fear that such a rise could also strain states' resources and prompt some states to draw funds away from other health programmes.
Three factors — an increase in hospitalisation rates per unit population, an increase in per capita expenditure on hospital services in an unregulated healthcare environment, and a rise in hospitalisation needs for non-communicable diseases — are expected to drive the rise in the scheme's bill.
National sample survey statistics show that hospitalisation rates in India have increased from 1.6 per cent in 1996 to 2.8 per cent in 2004 and further to 3.7 per cent in 2014. Per capita hospital expenditure rose from Rs 6,300 to Rs 15,000, and hospitalisation for non-communicable diseases rose from 38 per cent in 1996 to 62 per cent in 2014.
Health economists point out that hospitalisation rates in countries with robust health coverage are higher – 13 per cent in the UK and 15 per cent in China. Even within India, some states have higher hospitalisation rates than the national average – 13 per cent in Kerala and 7 per cent in Tamil Nadu.
Finance Commission officials and IEG researchers declined to comment on the details of the presentation before a final report is submitted to the commission. But the findings appear consistent with concerns long articulated by sections of health economists.
"The PMJAY scheme itself will make more and more people seek hospitalisation," said Sanjay Mohanty, a health researcher at the International Institute of Population Sciences, Mumbai, who was not associated with the costing exercise. "Government investment will have to increase over time."
A senior health official pointed out that the IEG numbers are based on assumptions.
The official said "available evidence" suggests the scheme's hospitalisation expenditure is about Rs 15 crore a day. Even at Rs 20 crore a day, the annual cost would be Rs 7,300 crore and an allocation of about Rs 10,000 crore and Rs 12,000 crore would be sufficient for additional operating costs, the official said.
However, the official conceded that if hospitalisation rates across India approach those of Kerala, the scheme's cost would go "sky high."