Of weddings and the coronavirus
The coronavirus is wreaking havoc in the wedding market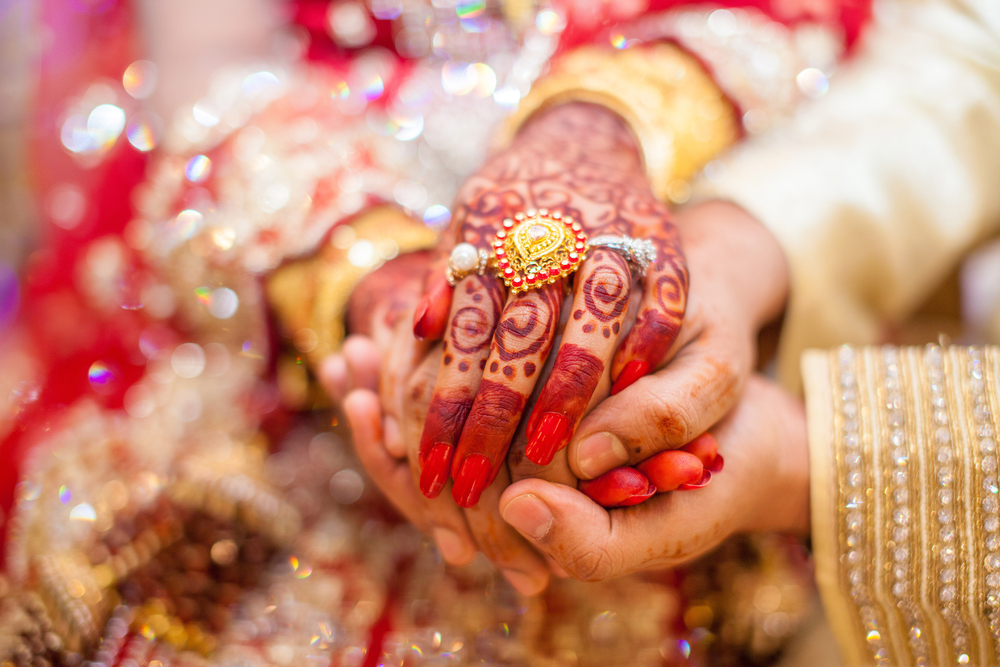 Textile dyes, the raw materials of which are sourced from China, have seen a seven per cent hike in prices since the epidemic broke out in China
Shutterstock
---
Published 27.02.20, 02:30 PM
|
---
Before you say 'I do', know what you're in for. Because you're in for a very expensive wedding.
Labour MP Chris Bryant warns there could be a wedding dress shortage as factories in China stay closed due to the coronavirus outbreak

— Kate Ferguson (@kateferguson4) February 26, 2020
Coronavirus outbreak slows down production of wedding and prom dresses https://t.co/ipGN85mcIc

— ABC7 Eyewitness News (@ABC7) February 26, 2020
The coronavirus is wreaking havoc in India's wedding market. Supplies and prices of textiles have been affected. Textile dyes, the raw materials of which are sourced from China, have seen a seven per cent hike in prices since the epidemic broke out in China. As a result, textile producers are forced to hike up processing rates to absorb rising prices, according to an earlier report.
How #coronavirus could impact British manufacturing, schools, wedding dresses, Primark stock and Gemma Collins' new TV show. https://t.co/YiqaldxgBj

— Twitter Moments UK & Ireland (@UKMoments) February 26, 2020
Dress orders are no longer being taken by several local businesses, as the coronavirus has impacted factories in China where the dresses get made. That means, for weddings happening before the year's end, brides may need to look elsewhere, reports ABC News.
Wedding industry takes hit as coronavirus spreads: EMBARK Beyond founder https://t.co/uCPt0TMr28 #ClamanCountdown

— Liz Claman (@LizClaman) February 21, 2020
Chinese bride's family misses wedding in India due to #coronavirus travel ban https://t.co/1Q779rEgjZ pic.twitter.com/hbDM2rXP2a

— NDTV (@ndtv) February 6, 2020
In India, the prices of colour dyes have reportedly gone up by 7% since the outbreak, hiking up the production cost of textile.
Fabric wholesalers in the country are also looking for alternatives to Chinese silk, the fabric that is one of the most in demand in boutiques and design studios. But traders in China have paused importing Chinese products, including fabrics, due to the coronavirus.
Chinese fabric is preferred by retailers and designers because of its quality and price. Crepe, georgette, tulle, chiffon and net come from China as well. 
A shortage of wedding dresses in the UK could be one of the effects of the #coronavirus outbreak, MPs have heard 👰 https://t.co/X5BhKCwlRg

— Sky News (@SkyNews) February 26, 2020
Adding to the 'very time sensitive' nature of wedding garb, Labour's Chris Bryant told the House of Commons how 'many wedding dresses in this country are designed in this country but made in China'. A shortage of wedding dresses in the United Kingdom could be one of the effects of the coronavirus outbreak, MPs have heard, Sky News reports. 
https://twitter.com/PDChina/status/1230683164835581953?s=20
One doctor who died, Xia Sisi, a gastroenterologist, was 29. Another physician the same age who died, Peng Yinhua, had delayed his Feb. 1 wedding, promising his pregnant fiancee they'd have the ceremony after the outbreak had passed. Via @aliceysu @latimes #coronavirus

— David Beard (@dabeard) February 26, 2020
For the second day in a row on Thursday, the number of new coronavirus cases reported outside of China was larger than those reported inside China, said the CNN.

29-year-old Dr. Peng Yinhua has died on Wednesday after postponing his February 1 wedding to fight the coronavirus in Wuhan, China's state media reports. He leaves his pregnant wife behind.
Gastroenterologist  Xia Sisi, also 29, passed away due to the virus.