Lipid profile, decoded
Cholesterol, a waxy substance found in cells, is attached to proteins called lipoproteins when it is carried through the blood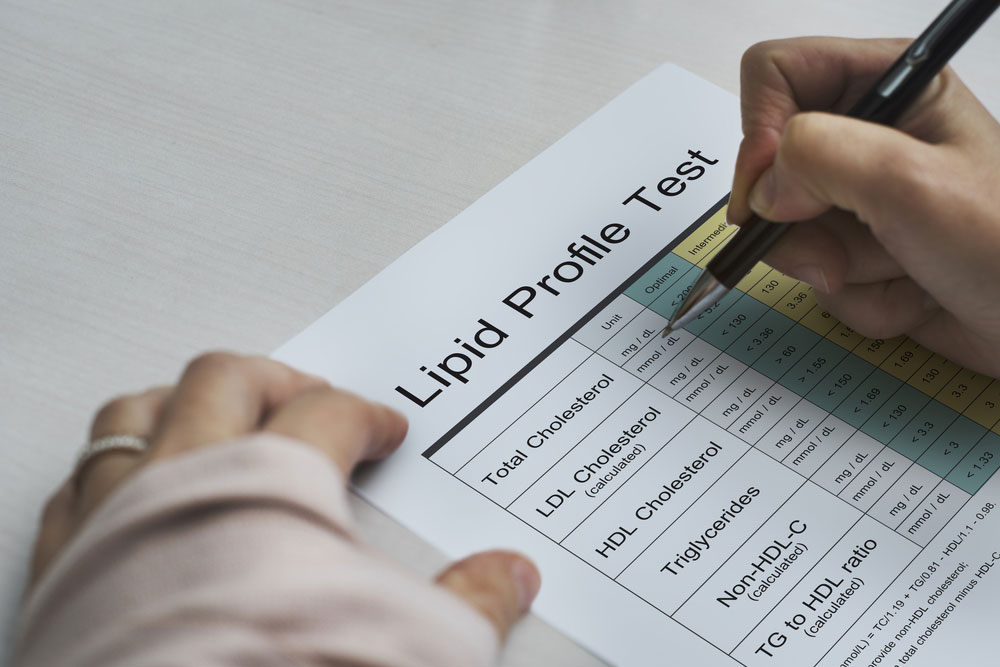 ---
---
Many people go for "master health check-ups" from which they receive detailed but puzzling results, especially as far as "lipid profile" is concerned. This report shows total cholesterol, triglycerides (TGL), LDL, HDL and, sometimes, a VLDL value. While people understand cholesterol, the rest of the values are Greek to them.
Cholesterol, a waxy substance found in cells, is attached to proteins called lipoproteins when it is carried through the blood. This is made up of cholesterol, TGL, LDL, HDL and VLDL.
Only 25 per cent of cholesterol comes from the diet. The other 75 per cent is manufactured by the liver and other organs. Cholesterol is essential for bile and for hormones such as estrogen, progesterone, testosterone, cortisol and aldosterone. Unfortunately, not everyone produces cholesterol at the same rate. Some people have genes that make their liver produce it faster.
Normal values:
It is desirable that the value of total cholesterol should be below 200 mg/dL (5.2 mmol/L). A value of 200-239 mg/dL (5.2-6.2 mmol/L) is considered borderline high and 240 mg/dL (above 6.2 6.2 mmol/L) as high.
The TGL levels should stay below 150 mg/dL (1.7 mmol/L). A value of 150-199 mg/dL (1.7-2.2 mmol/L) is considered borderline high and 200-499 mg/dL (2.3-5.6 mmol/L) as high.
LDL values should be 100-129 mg/dL (2.6-3.3 mmol/L).
HDL works in reverse so low values are bad. A value of 60 mg/dL (1.5 mmol/L) is considered good in both sexes. VLDL cholesterol is difficult to measure directly and is sometimes not mentioned.
High cholesterol is harmful as the extra fat gets deposited in blood vessels, blocking them and cutting off blood supply to essential organs such as the heart and brain. Sometimes, these plaques can become dislodged and travel to various sites in the body.
Until this occurs, the deranged lipid profile is asymptomatic and discovered incidentally with a blood test. Everyone needs to be tested once between the ages of 9 and 11 and again just before turning 20. After that, blood tests should be repeated every five years.
Cholesterol values become high :
If diet includes lots of snacks and fast food with a high content of trans fats or red meat and full-fat dairy products
In obese people with a BMI (weight divided by height in metre squared) over 30
In sedentary people who do not exercise regularly
In smokers. The harmful chemicals in tobacco damage the blood vessels, making them more likely to attract fat deposits
With age, the liver may become less efficient at removing extra cholesterol
In uncontrolled diabetes.
Try lowering cholesterol naturally with a diet low in trans fats and red meat. Exercise too is effective. As little as 30 minutes of activity five days a week can give results. Walking, jogging, running, swimming or cycling should raise the heart rate to about 75 per cent of its maximum. (Maximum heart rate can be calculated by subtracting age from 220). The longer the duration and intensity of exercise, the greater the benefits.
If that fails, medication needs to be started. Statins are usually tried first. They have the additional advantage of re-absorbing cholesterol from the plaques. Ezetimibe can be added as it limits the absorption of dietary cholesterol. The fibrate group of drugs reduces the liver's cholesterol production. Omega 3 fatty acids and niacin can also be tried but they are not as efficient.