Inveda's founder emphasizes on the importance of natural products for healthy skin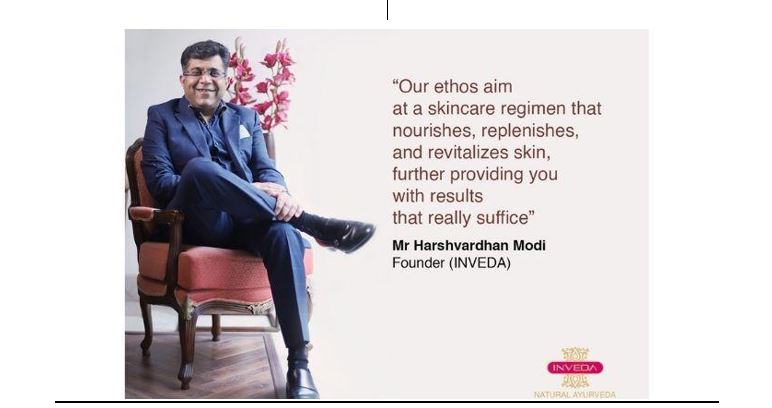 ---
Published 30.11.21, 07:47 PM
|
---
Authentic Indian natural skincare products have risen to the forefront of the skincare world. Amid the growing popularity of Ayurveda in our lifestyle, the skincare industry has seen a rising customer-preference for all-natural skincare products. Inveda, emerging as one of the most phenomenal & innovative skincare brands, ensures to provide customers with long-term sustenance of healthy and radiant skin. The brand 'Inveda' is dedicated to redefine the standards of the beauty industry, with products that transform the lifestyle of people into healthy ones. Provided below is an insightful interview of the founder, Mr. Harshvardhan Modi, on how he started the inspiring journey of launching a soulful skincare.
1. What was your moment of epiphany to start this venture?
Nowadays, more people are inclined towards Ayurvedic skin care products owing to the benefits and advantages they offer. This made us think about launching our own brand that manufactures treatment products formulated with natural ingredients, and with the beauty secrets of the Vedas. We want to introduce a unique range of "healthy beauty" products that will help you regain natural balance on your skin. To create the optimum moderation and get the essence of true beauty, we decided to launch the brand that never compromises on providing timeless and natural charm.
2. How is Inveda taking care of the modern-day requirements of the advancing world of skincare and wellness?
Spending money on any kind of skin care product requires careful consideration and knowledge. The brand 'Inveda' has grown tremendously in the market because of its revolutionary blend of modern technology and rejuvenating essence of nature, along with the inclusion of ancient beauty secrets as well. We have a plethora of skincare products that are highly enriched with organic nutrients, suiting all skin types and are effective against common skin problems. Our ethos aim at a skincare regimen that nourishes, replenishes, and revitalises skin, further providing you with results that really suffice.
3. What is your firm USP and how are you doing something different from other players in the domain?
The brand 'Inveda' is inspired by traditional Ayurvedic treatment methods, a system of medicine but also a way of life for complete positive health and spiritual attainment. With unique therapeutic properties & passion towards skincare, such types of treatments take Inveda above and beyond. Having product ranges that are result-oriented and organic, we believe that we are transforming the skincare realm with the best naturally curated products. Ancient herbal concepts are the biggest strength of the brand as it provides effective results in a shorter period of time. With specialization upon treatment ranges, result-oriented and organically composed product ranges, the brand is doing remarkably well in the skincare realm.
4. What has been the success mantra that leads you to effectively bring new products to the table?
The way Inveda infuses an age-old wisdom derived straight from the Vedas, with therapeutic and regenerative qualities intrinsic in natural extracts, is what makes the brand revolutionary and distinct from others existing in the market. With the blend of modern technology and the healing essence of traditional natural treatment practices, Inveda establishes its firm place in the hearts of people. From bringing new formulations such as Korean, Egyptian, & French skincare methods to the market, we are certain that the brand, Inveda, will do much more in the upcoming future.
5. Since you are scouting the field of skincare and wellness, are there any specific prerequisites that a person needs to hold before entering the domain?
Before entering any domain it's mandatory to stay updated with the latest trends and innovations that have been taking place. Being wary of your competitors and the prevalent technological advancement helps your business reach new heights in a shorter period of time. Entrepreneurs should make sure that they bring something extraordinary to the table, that no one has invented before and that could help their audiences attain results that previously seemed unattainable. Talking about the skincare industry, we can see that the demand for natural products is booming high, leaving the audiences with a plethora of options to choose from. Thus, in order to establish your place as a reputed skin care brand in the market, you need to curate products that take care of your audiences and provide them with miraculous results, or something out of the ordinary.
6. What are your future plans to expand and grow your network and take Inveda to new heights?
Inveda's prime focus is to promote a healthy society, through the fusion of technology's convenience with the enriched healing essence of natural Ayurveda. By promoting healthy skincare & better well-being we envision a mentally satisfied society where there is less hassle & more happiness spread throughout. We also believe in the spiritual aspects of traditional Indian skin care methods & by promoting Authentic Indian Natural Skincare, we are taking a step further in improving our living conditions as a whole & making life easier for people in an ever-transitioning world.