How to not get sick during festive season
The Telegraph brings you a rough guide to get through the Puja excesses unscathed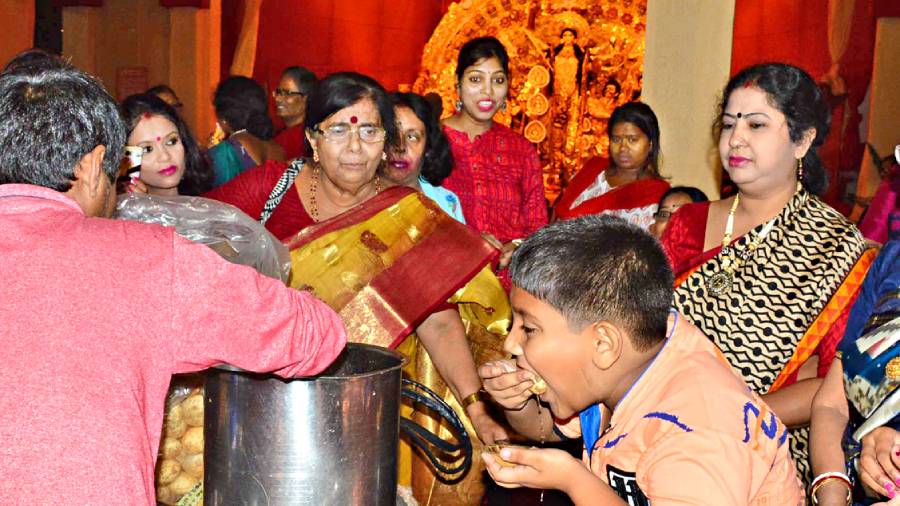 ---
Published 28.09.22, 04:16 AM
|
---
After a year of waiting (two actually, given the pandemic blackhole) and months of preparations — outfits planned, accessories matched, menus finalised, itineraries prepared —  the Pujas are finally here. This is a time of celebrations, of family and friends, food and fun, new clothes and, possibly, new love. Life becomes chaotic and every rule is thrown out the window — the fitness fanatic can't find time to exercise, the calorie counter starts relishing food, the person obsessed with his sleep hours stays up all night and the strictest parents lift curfew.  
But rules are made for a reason and breaking them may well lead to varying degrees of discomfort that would put a damper on Lakshmi Puja and Diwali. So here are some pointers on how to have your bhog and eat it too.
Pandal Hopping
The next time you notice a bickering couple in a Puja pandal, check out the woman's shoes. Nine times out of ten, no matter what the fight is about, the reason behind it is the same. The higher the heels, the deeper the grimace on the woman's face. In other words, ladies, no matter how many pandemic pairs you are dying to flaunt, remember this — the key to fruitful pandal hopping is happy shoes. Keeping your feet happy is even more essential for those above 60 and those with a bad back or achy knees. Even if you are going to the one or two pandals closeby, think of the crowds, the shoving and pushing, the uneven ground and make sure you wear shoes that support you. For the elderly, it is a also good idea to carry a walking stick, preferably one of those quadripods, and a small bottle of water given the humidity.   
Fasting, Feasting
No matter how much Unesco makes this autumn festival about art and the faithful about the goddess, have no illusions, Durga Puja in Calcutta is about food, food and more food. Hing kachori and jilipi mornings melt into mutton kosha and bhetki fry afternoons, which dissolve into chow chow and chilli chicken nights; all of it punctuated by endless cups of sweet milky tea or some impossibly named coffee at the countless para cafes. Gorge by all means, but do not expect Ma Durga to put on pause your sugar or pressure levels, perilous uric acid count, IBS, allergies and whatnot, that is for you to work around. One idea is to mind the portion. Have the hing kachori, but maybe stick to one instead of four? Have a few sips of dudh cha and do not gulp down countless bhnaars. After one day of excess, please do not starve yourself the next day or half day in the mistaken belief that it is good for your health. It is not advisable if you have low BP, low sugar, colitis, acid reflux or are still weak from yet another bout of Covid-19 or dengue. Remember, the family physician is also most likely on a break.
 Drink Doozy
When eating takes centre stage, can drinking be far behind? Black or green, white or orange bottles dangle from the hands of those queued outside the pandal or sprawled within. Still others worship at the altar of Bacchus — at a respectable distance from Ma Durga, of course. But whether it is soft drinks you are having or hard, remember everything is better in moderation and with a side of snacks. Also, alternate every glass of drink with one of water. It will keep you hydrated and less prone to exhaustion.
Sleep Cycle
Sleep is a luxury during the Pujas. There is no time — too much to see, too many people to meet, too much primping to do — and there is too much noise. So do yourself a favour and do not overload on chai, coffee or cola during the long adda sessions. Too much caffeine makes you jumpy, anxious and makes falling asleep even more difficult. And parents, if you are trying to catch up on some couple time, keep sugary, fizzy drinks out of the little brats' reach, especially in the evening. Don't give up on sleep just because a full eight hours is impossible to achieve; try to get a minimum of four hours to get by. And take a nap in the afternoon. Remember, there is a reason it is called beauty sleep. 
The drums are beating and the autumnal sky beckoning. The time for gyan is over. Eat well. Drink merry.
Eat, pray, love
 If you are having street food, always choose the piping hot variety 
 Discard the salad served with your fish fry, cutlet and deemer devil
 Chutneys are breeding grounds for bacteria. Go for the ketchup instead
 If you have a tendency towards low BP or blood sugar, always carry an energy bar/biscuits on your person
 Carry your own bottle of water. In an emergency, drink hot tea or coffee to quench thirst