Meet Shivoham the transformer
The fitness coach to Bollywood stars, gets candid on what fitness is for him, why it's okay to be lazy at times, and his drastic change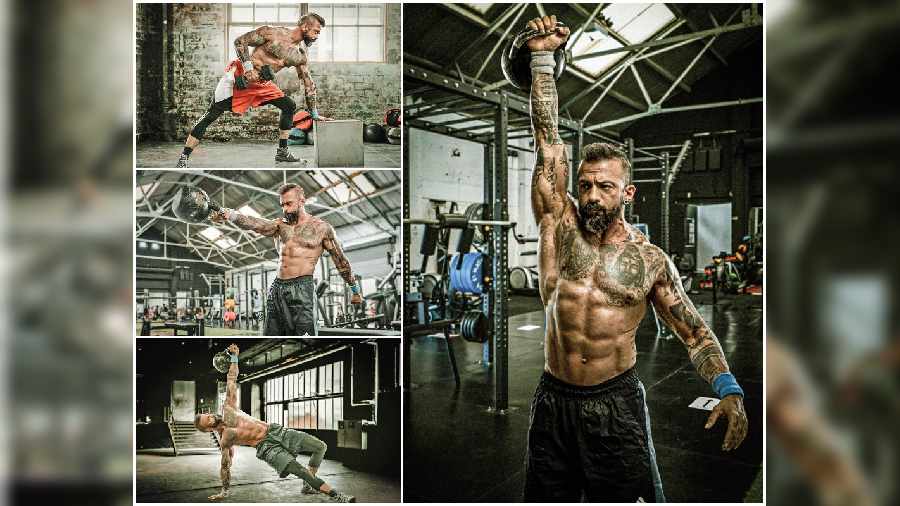 Sourced by the correspondent
---
Published 22.05.22, 01:32 AM
|
---
When an opportunity to chat with fitness coach Shivoham came our way, we Googled him to prep for the interview. The search engine threw up a nugget that made our jaws drop. He is the same guy who played Frankie in Kal Ho Naa Ho! That was 2003 and since then Dheepesh Bhatt has become Shivoham. His physical transformation reiterates 'impossible in nothing'. And, his take on death revealed a deep spiritual side to his personality. Excerpts from the chat. You've had quite an interesting journey...
When I was five years old, I started swimming. My dad introduced me to the pool and I started swimming and started competing at the age of five. I was pretty good at swimming. So, that was a sport I pursued. At the age of 11, I swam at the nationals and then at a lot of different competitions and won a lot of competitions. I was the water polo captain in college and have won tournaments for college as well. So, somewhere, sports was a part of my life to a very big extent.
Waking up at 4.30 in the morning and going for practice, coming back from school and then again going swimming in the evening, not being able to go out on the weekends and not being able to attend other kids' birthday parties... we had competitions all year round. I would say at the age of five, life was disciplined... I feel somewhere that discipline has transferred into who I am today and what my beliefs are when it comes to fitness.
In a way, I am grateful to my parents for putting me into swimming and, luckily, me, enjoying the sport as well. At that time nobody even knew the word 'fitness'. The first company that introduced the word 'wellness' more than a decade ago was I think Technogym. It was just basic gym and we as kids didn't know any better. We'd basically play whatever sport our parents put us in and because of no Instagram or Internet or cable TV, we were by default always in the building, playing. We all led an active life.
When I was in the ninth standard, I was introduced to Rocky. That kind of got me into the aspect of working out. When I was a kid, I used to go sit in a gym with my dad. He used to train and I used to just go sit in the gym. I still remember, it was a tiny gym and all these people lifting weights. It was a comfortable place for me to be in. I knew moving on, this was something I'd basically do. That's where it all began. One situation led to another situation and here we are today.
Nobody would believe you are the same Frankie from Kal Ho Naa Ho! You have worked so much on yourself!
Oh absolutely! Even 10 years back, when I became a fitness coach, I was still a guy who partied three to four nights a week, alcohol, smoking... all that was a part of my life. The change actually started happening when I met my wife Vrindda. She was always into spirituality and a big believer in Shiva. I had a connection with Shiva, but I never had anyone to speak to about it. I still remember, I was in the seventh standard when a panditji came home and said you've got something called the pitra dosh and your father and you both have to go to the temple every Monday and pour milk on a Shivling.
I was doing that since the seventh standard, but it never intrigued me who is Shiva and why are we doing all this? When I met Vrindda, she used to speak about this and that's when it all kind of started unfolding slowly and it reached a point when the phase became intense for me where I stopped going out, drinking, partying. I would just sit at home and listen to chants. It was one of the most beautiful phases of my life and I started to figure out what this is.
At that time, when someone used to speak about death, I used to tell them, don't talk about death. Today, you ask me and I would tell you death is probably one of the most beautiful subjects to talk about.
You have overcome your fear...
I don't think it was a fear. It was just that growing up, death was always seen as a sad aspect of life. It symbolises the loss of a loved one or pain and suffering. If you understand death and what it is and go deeper into it from a spiritual aspect, I would say it is one of the most beautiful subjects. There was a phase when I would actually go and sit down at the cemetery, go and sit in front of a funeral pyre and just watch it. People would think I had lost the plot (laughs). There is nothing more real and certain than death.
There is a lot of work that has gone into me becoming who I am and understanding a little bit more about life in general and what is the purpose of life. Live life with ambition and desire, but, at the same time, try not to be really affected by it. It's a process, still work in progress. It's probably going to take hopefully not one more life. Hopefully we realise it at the end of this life.
You also changed your name...
I changed my name from Dheepesh to Shivoham almost eight-nine years ago. It took a while for people to move from Dheepesh to Shivoham. At least the ones who know me now, don't know Dheepesh....
I was the first one who started CrossFit in India in 2009. I had a small little gym in Juhu where all the top celebrities would come and train, from Aamir Khan to Ranveer Singh, Jacqueline (Fernandez), Abhishek Bachchan, Arjun Kapoor, Sonakshi Sinha, Parineeti (Chopra). We shut it after Covid and I still do my online classes. I have this programme on Instagram where people from all across the world are part of it... from Australia to Canada to Singapore and Dubai. There are also other kinds of programmes available online, like fat loss or muscle gain. I have three personal clients right now... Ranbir (Kapoor), Jacqueline (Fernandez), Sushmita Sen.
How do you view fitness?
Fitness is not just about the physical body but also about the mind. A person who is able to calm himself down in a stressful situation, figure out a solution and act on it, without giving into the impulse of anxiety, fear or anger, I would say that person is truly fit.
Have you tweaked your training over the years?
I would say how I approach exercise has also evolved a lot. It has transformed a lot to the point that to make someone work out, I need to make them work out according to their temperament, who they are and what they like. There are different ways to get to the goals. Not just CrossFit or weight training, but a mix of different things. The ability to understand your client and give them what they like rather than impose something upon them (is my style).
What is your personal regimen like?
I do a mix of everything. I start with a little bit of a CrossFit session and even in that it'll probably be gymnastics or kettlebells or freehand. I love weight training. It depends completely on my mood, but I know every session I do, still has a purpose, but how I do that session is completely different from every other day.
The pandemic was a proof that you can work out anywhere given you have the will. What are your tips for beginners who want to start at home?
First thing, it is absolutely normal and okay to be lazy. The body can't always be active and fired up. There has to be moments when your body needs to relax and if once a week or once in a while, you feel like putting your feet up and relaxing and watching Netflix, it is absolutely fine.
Going for a walk, swimming, yoga, Pilates or playing a sport, will keep you physically active, but they will not keep your body in an optimal condition, the reason being, you need to do specific forms of weight training or resistance training to train the joints and muscles because as we grow older, the risk of us falling and hurting ourselves and getting injured increases even more. If your joints are strong, your muscles are capable of holding your body together, you will be able to walk properly and will be able to sit and stand without assistance. If you are doing yoga, it's great. Your body will be flexible and you won't end up with joint issues and a lot of physio sessions as you grow older, but there has to be some resistance training even if it is for 10 minutes, with the lightest weight possible. And basic stretching, which moves your joints around and gets muscles working and gets the blood flowing. At the end of the day, as long as blood is flowing through the joints and muscles, you will be fine. Blood carries all the nutrients. Injuries, inflammations and pain start when a certain muscle group is not getting enough blood. It has to be a mix of everything. Again, you don't need to train like a bodybuilder. One day you do 30 minutes and finish off with 10 minutes of weight training and 10 minutes stretching. That's enough.
You have your chest, back, shoulders, legs, arms and abs. I would say probably start with the pushing movements... chest, shoulder and triceps. Then one day you do your lower body and legs and the third day, do pulling... biceps and back. Do a bit of abs and cardio every single day. Initially do the weights that make you feel comfortable. Once you get the movement right and you have understood your body, then you can start pushing on the weights a little bit more.
Star talk Jacqueline Fernandez (top): Loves doing gymnastics and lower body.
Ranbir Kapoor: Loves doing a mix of CrossFit and weights.
Aamir Khan: Loves doing legs. His legs are super strong.
Sushmita Sen (below): Loves doing the Olympic rings and core. Pictures: Courtesy Shivoham