Questions cloud study on HCQ
ICMR accused of papering over 'conflict of interest'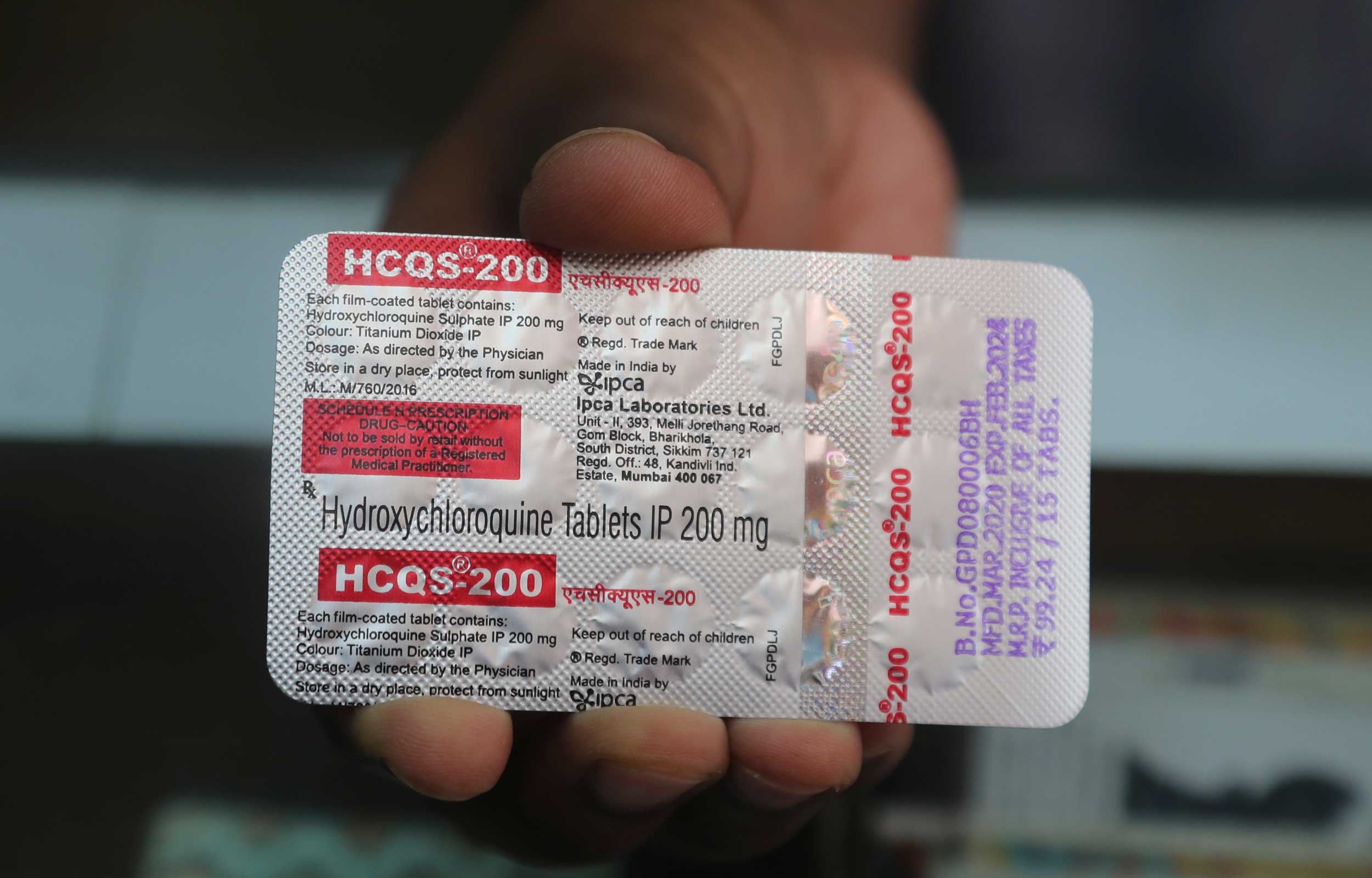 A chemist displays hydroxychloroquine tablets in Mumbai on May 19, 2020.
(AP)
---
New Delhi
|
Published 31.05.20, 07:44 PM
|
---
Healthcare workers who take six or more doses of hydroxychloroquine (HCQ) enjoy "high" protection against the coronavirus infection, India's health research agency claimed in a study published on Sunday that also underscores the need for other safety precautions.
The study by the Indian Council of Medical Research (ICMR) surprisingly found that healthcare workers who took one to three hydroxychloroquine doses were at greater risk of the infection than those who did not take any dose. Those who consumed six or more doses were the best protected.
The ICMR has been under flak from segments of doctors who have argued that its recommendation of hydroxychloroquine as a shield against Covid-19 has been made without adequate evidence.
Now the agency's study has drawn fresh criticism. Clinician-researchers referred to "a conflict of interest" and "inconsistency in results".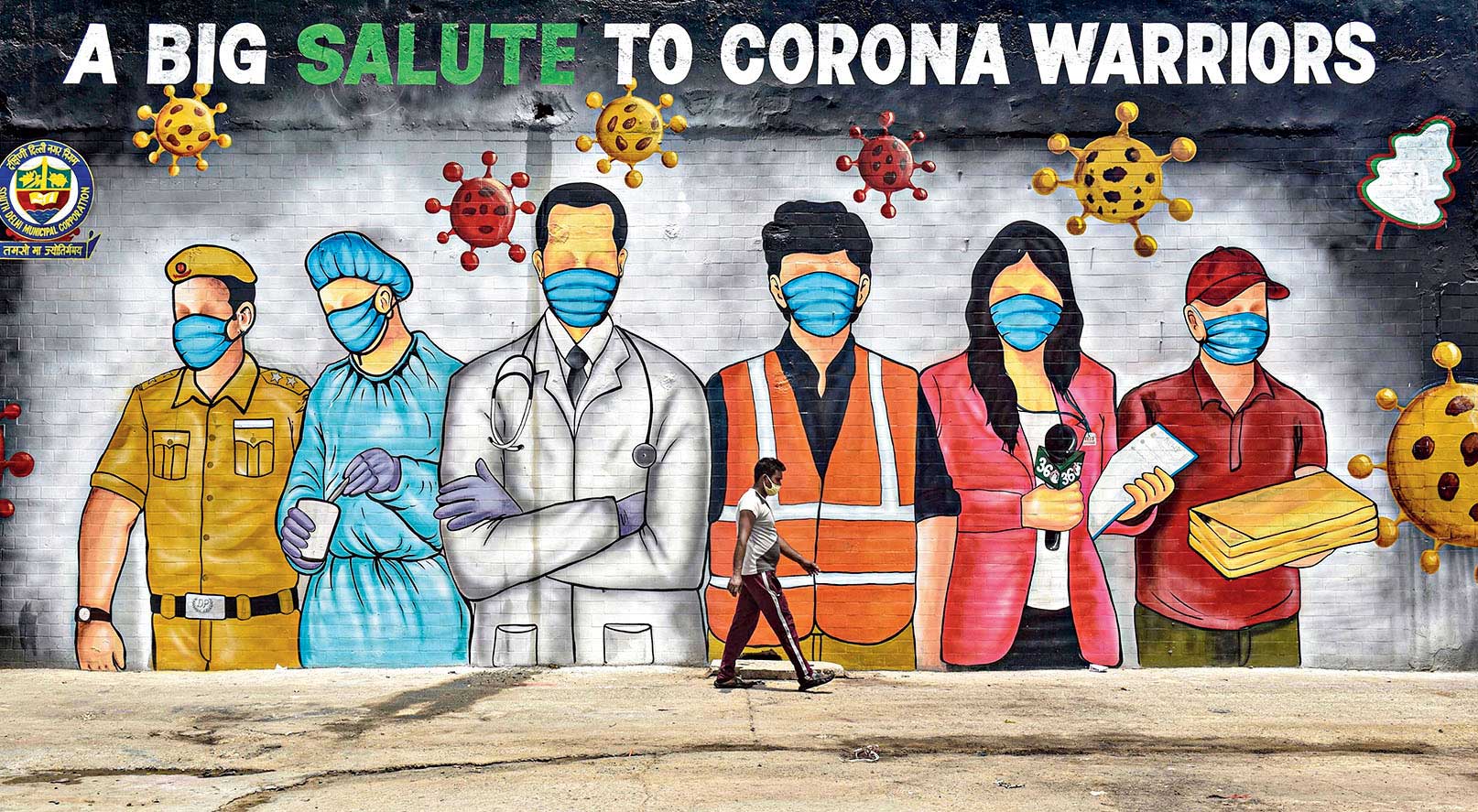 Amar Jesani, a physician-researcher and editor of the Indian Journal of Medical Ethics, said he was surprised that the study's authors included senior ICMR officials who had themselves been involved in recommending hydroxychloroquine as a prophylactic against the novel coronavirus.
The study, published in the Indian Journal of Medical Research, declares no conflict of interest. Among its co-authors are Balram Bhargava, ICMR director-general, and Raman Gangakhedkar, the head of ICMR's communicable diseases division.
"I was surprised to read they have no conflict of interest," Jesani told The Telegraph. "How can researchers who are involved at the highest level of advocacy and policy-making on the use of hydroxychloroquine claim they have no conflict of interest?"
The ICMR had in two advisories — in March and May — recommended that healthy healthcare workers, household contacts of Covid-19 patients and police and paramilitary personnel on Covid-19 duty take hydroxychloroquine to shield themselves from the infection.
The agency had cited laboratory and observational studies in three government hospitals. But many researchers had cited evidence against hydroxychloroquine from other countries and questioned the absence of any published study from the ICMR.
Much of the concern centres on the wisdom of recommending a drug that can have adverse effects on the heart in healthy people and comes without strong evidence of benefit.
Now, in their first paper on the topic, ICMR researchers have said that six or more doses of hydroxychloroquine had a "remarkably high (more than 80 per cent) protective effect against the coronavirus infection".
The researchers examined hydroxychloroquine intake retrospectively in a sample of 378 healthcare workers among 1,073 who had developed Covid-19 over the past two months, and 373 control healthcare workers who were not infected.
They found that healthcare workers who took one to three doses of hydroxychloroquine faced a higher risk of infection than those who had not taken the drug. But healthcare workers who took six or more doses were better protected than the others.
"We believe this reflects behaviour -– the healthcare workers who took two or three doses possibly neglected other precautions such as frequent hand-washing or appropriate use of personal protective equipment," said Samiran Panda, director of the ICMR's National AIDS Research Institute, Pune, who led the study.
"There is an analogy in seatbelts. Without a seatbelt someone might drive below 80kmph, but with a seatbelt on that person might drive at 100 or 110kmph. The safety device alters behaviour."
Panda added: "Our study highlights the critical need to adhere to all precautions along with hydroxychloroquine."
The study noted nausea, headache and diarrhoea as possible side effects and observed palpitation in only one of the healthcare workers who had taken hydroxychloroquine. The ICMR has said its recommendation is based on the known safety profile of the drug.
Panda said the study's findings should be viewed as preliminary and would need to be validated through larger and randomised control trials.
A senior public health researcher who requested not to be named said the study had failed to detect significant differences in the risk of the coronavirus infection among healthcare workers who had taken hydroxychloroquine and those who had not.
"There is inconsistency in the results -- there is no dose response," the researcher said.
"If there was true protection, it should consistently increase with increasing doses of the medicine. This study shows an increased risk of infection with one to three doses and a fall in risk with six doses."
8,000-plus count
India on Sunday recorded 8,380 new coronavirus infections --- another highest-yet overnight spike -- raising the number of confirmed cases to 182,143. Of these, 89,995 are under medical supervision, 86,984 have recovered, and 5,164 have died.
Mumbai alone accounts for 24,513, or over 27 per cent, of the country's active patients. Mumbai and four other cities -- Delhi, Chennai, Ahmedabad and Thane – are home to 53 per cent of the country's active patients.