'Are we doing enough to be fit from inside?'
Malaika Arora, Drashti Dhami and Kavita Devgan shone the spotlight on building holistic health and inner well-being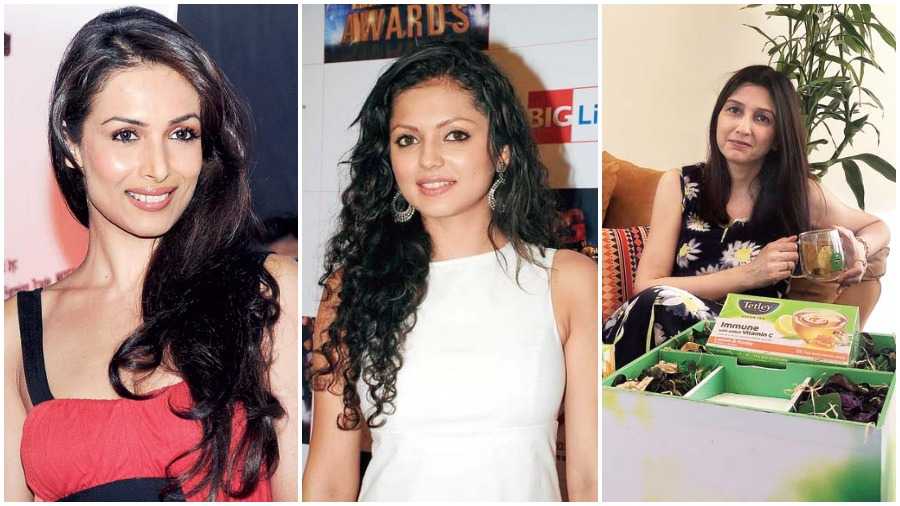 (L-R) Malaika Arora, Drashti Dhami, Kavita Devgan
---
Published 07.10.21, 12:34 AM
|
---
Tetley Green Tea Immune brought together actor and fitness enthusiast Malaika Arora, actor Drashti Dhami, author and nutritionist Kavita Devgan and Puneet Das, the president, Packaged Beverages (India and South Asia), Tata Consumer Products, for a virtual discussion on need to feel #LagoBaaharSeFitAur
AndarSeBhi. The session, streamed on Zoom, on September 29, was titled 'Are we doing enough to be fit from inside?'.
Consumer focus on health and wellness has grown exponentially as the need to look fit has become aspirational among many people. But all the buzz around external appearance of fitness may have led us to lose focus on inner well-being. As the world settles into the new normal, it's time to bring the discussion back to internal health and well-being to the centre stage.
Malaika Arora said: "For me, internal fitness weighs over external appearance. The step towards a healthier you will always be one at a time. I always urge people to opt for healthier choices and watch what you consume as part of your daily diet. Tetley Green Tea Immune is my go-to drink between shoots or my meetings. I think it helps me detoxify my body from within and now with added Vitamin C it could be an enabler in feeling fit from the inside. Time to change our fitness goals to inner fitness goals because ab lago bahar se fit aur andar se bhi."
Drashti Dhami, a lover of all things green, said: "In a world that focuses just on external appearance, it's time we all change the focal lens towards feeling internally fit as well. Inner fitness should be well understood, accessible and actionable as physical fitness. We all have a tough lifestyle, accompanied with stress and strains, the requirement is not to look fit but actually feel fit from within. I often reach out to Tetley Green Tea Immune for my go-to drink right after my meals, it's my everyday 4pm cup of well-being! High time we change the tide of trend towards inner fitness feels."
"Inner wellness is far more important than our external appearance. The pandemic has taught us this lesson well. For this, we need to include the right foods and nutrients in our diet on a daily basis. Vitamin C is known to support immunity, and antioxidant-rich foods help scavenge free radicals. That is why Tetley Green Tea Immune, rich in antioxidants and with added vitamin C, is such a winning combination," said Kavita Devgan.
Puneet Das said: "We are seeing an acceleration of the health and wellness trend among consumers. Our campaign on Tetley Green Tea Immune uses a visual device of 'bubble' to highlight the feeling of doubt/anxiousness that people are feeling regarding their fitness. With a holistic view of fitness, we wanted to burst this bubble of doubt in the consumer's mind as we highlight that being fit is not just on the outside but being fit on the inside too. Through this #LagoBaaharSeFitAur-AndarSeBhi discussion with the best of fitness enthusiasts, we aim to encourage consumers to give equal importance to inner well-being, instead of just focusing on physical appearance and the outward aspects of fitness."