All about living healthy inside out at Ladies Study Group
The adage 'health is wealth' found resonance in an engaging session— Redefining Aesthetics & Nutrition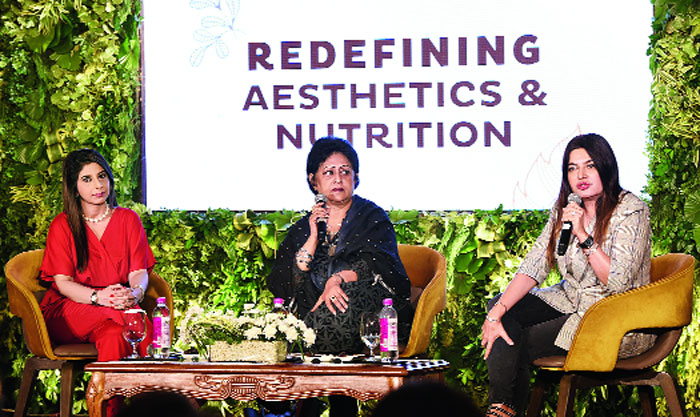 (L-R) Karishma Chawla, Oindrilla Dutt and Malavika Kohli at the panel discussion
Pictures: B. Halder
---
Published 18.11.19, 03:50 PM
|
---
The adage 'health is wealth' found resonance in an engaging session — Redefining Aesthetics & Nutrition — by Ladies Study Group in association with The Telegraph that was recently held at the Crystall Hall in Taj Bengal. The session saw Oindrilla Dutt in conversation with Malavika Kohli, aesthetic surgery and cosmetic dermatologist, and Karishma Chawla, nutritionist and counsellor, who talked at length on health, nutrition and wellness. Touching upon issues such as blood pressure, PCOS, botox and ageing, the session laid out eye-opening facts about keeping ourselves in the pink of health through holistic lifestyle management. Excerpts from the session...
On gut health: The most common inflammatory foods are gluten, corn, soy and the worst oil we can have is soyabean as it is highly processed, leading to a lot of inflammation in the body. Olive oil and mustard oil are good for the body. Ghee is good as is coconut oil, which is anti-inflammatory.
On microdermabrasion: It is exfoliation of the skin and can be done with a machine called microdermabrader. It can also be done with products that can exfoliate and are granular in texture like scrubs. Exfoliation is good and one should do it not more than once every three-four weeks. Too much of it will cause excessive dryness and irritation of the skin.
On chemical peels: One should use sunscreen daily when you undergo procedures like chemical peels. Hydration is the key when you start the procedure. Hyaluronic acid in various forms, like serums and creams, are good for your skin. Ensure you do your peels under supervision.
On Botox: Have a good discussion and consultation, find your comfort level. A pro tip: It is always best to underdo the process than overdo it. On the non-aesthetic uses of Botox, it helps in migraines that start from the temporal muscles. It also helps for squint, acid reflux and usage in the bladder.
On Polycystic Ovary Syndrome (PCOS): PCOS can actually be rectified with food and lifestyle changes rather than giving young girls medicines. Today the genesis of the disease is inflammation, so one should outline all the foods that not only reduce inflammation, but also help with fat burn and other skin and hair-related issues.
On blood pressure and thyroid: Blood pressure fluctuation and thyroid are both oft-occuring problems. For thyroid, one must drop sugar and cut down on soy. Cruciferous vegetables like broccoli, bok choy, kale, cabbage, cauliflower when cooked and steamed, really help. Seaweed is rich in iodine, which is good for thyroid. An important trick for blood pressure is replacing salt with seaweed wherever possible. Use herbs and spices and probiotics for gut health.
On anti-cancer diet for women: Anti-cancer diet for every woman is two-three cups of green tea every day. You can add a little lime in it to increase the antioxidants by five times. Have a good amount of broccoli and mushroom for lunch and dinner. The mantra is to correct, protect, enhance.
On sagging skin: The rate at which you lose collagen is dependent on how much sun your skin is exposed to, a lot of weight gain or loss, and your skin genetics. Take one tablespoon of turmeric, coconut oil and black pepper first thing in the morning.