Hint of Messi rethink
Deadlock extends over star's immediate Barcelona exit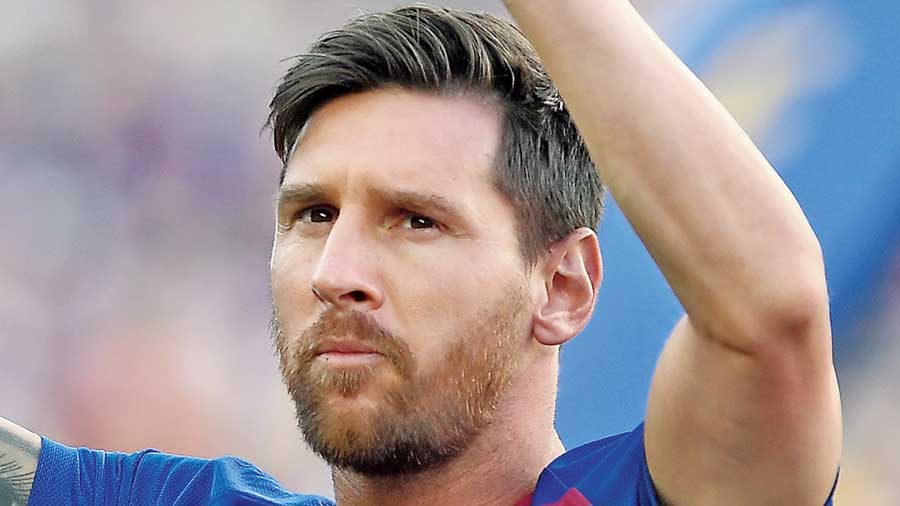 ---
---
Lionel Messi could end up staying at Barcelona and see out the final year of his contract, reports in the Spanish media suggested on Thursday, a day after talks between the player's father and club officials ended without an agreement.
The Spanish TV channel Deportes Cuatro reported that Messi's lawyers are studying the possibility of his continuing at the Camp Nou rather than forcing a move immediately.
Asked if that was an option before them, Messi's father and manager Jorge Messi told the channel, "Yes."
Sources in the know said that club president Josep Bartomeu on Wednesday met for more than 90 minutes with Jorge Messi to discuss the Argentina star's request to leave the club, but that neither part made any concessions.
The source spoke on condition of anonymity because the person was not authorised to speak publicly about the private meeting.
Lionel Messi last week told Barcelona he wanted to leave the club and invoked a contract clause that allowed him to depart for free at the end of the season. But Barcelona claimed the clause expired in June and said he must see out his contract until June 2021, unless the buyout clause of 700 million euros (USD 837 million) is paid.
Also in the meeting were Barcelona official Javier Bordas and Messi's brother, Rodrigo. A lawyer for the Messi family too was present.
In what was described as a cordial meeting, all parts made their positions clear — Jorge Messi said the player wants to leave and Barcelona said it will not accept his transfer request. No other meeting was immediately scheduled, and the next steps were unclear. Barcelona has said it still hopes Lionel Messi could change his mind about leaving.
However, other sources familiar with his attempt to quit the Camp Nou told The Daily Telegraph that Messi's transfer fee to leave Barcelona could be as low as euros 100 million.
In spite of the impasse, all sides are aware that he could talk to other clubs in just four months' time and sign a pre-contract allowing him to leave for nothing when his current deal expires next summer.
It is, therefore, understood that the Messi camp is "benchmarking" a possible fee against the euros 100 million paid by Juventus to sign Cristiano Ronaldo from Real Madrid two years ago. A similar price is regarded as realistic, given Barcelona's financial predicament and the Covid crisis, plus the savings that can be made on Messi's salary.
Manchester City, who have always believed they would have a strong chance if Messi came on the market, would be among a small clutch of clubs who could afford a package for his transfer and wages. Paris Saint-Germain have privately distanced themselves from making a bid, with their priority being to renew the contracts of Neymar and Kylian Mbappe.
Sources believe City would be firm favourites to sign Messi, although the club have remained cautious until there is greater clarity over the prospects of a deal. It is hoped that may become apparent within the next two weeks.
Clubs looking to sign Messi are aware his wages are euros 5.6 lakh per week, which makes the buyout fee unrealistic.