Varun the teen throb
Teen throb Varun Sood talks Calcutta & Pokemon Go, Martina & Rannvijay, basketball and youtube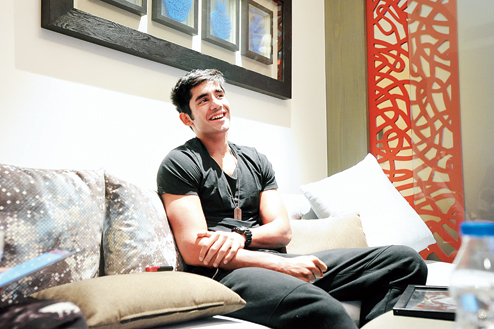 ---
Published 26.08.16, 12:00 AM
|
---
Calcutta is second home for TV heart-throb Varun Sood because he was born here and has spent many of his vacations in the city with family. With two youth shows on MTV — Roadies X2 and Splitsvilla 9 — catapulting him to overnight stardom, the 21-year-old Delhi boy has dived straight into our hearts with his smile and his simplicity. On a recent visit to the city, t2 caught up for a chat with Varun.
What's your Calcutta connect?
My twin sister (Vedika) and I were born at the Belle Vue Clinic. Six months after our birth, we left the city. But then my father got posted in Calcutta again for two years and I studied at Army Public School. I was seven or eight then. My nana-nani, mama-mami and cousin brother stay here and so I have come here many times. Calcutta feels like home (smiles). It's always amazing to be back.
Do you have some favourite hangout spots in the city?
Oh yeah! Victoria Memorial, Park Street, Nicco Park... and I love the food at Bhojohori Manna. I love food in general... main kuch bhi kha leta hoon! Chaat, ice cream, sweets… main sab khata hoon aur main rukta nahin hoon! I am such a foodie that I even learnt how to bake.
A foodie with fab abs... what's the secret?!
(Smiles) I play basketball a lot, but I don't go to the gym. I do freehand exercises. I am into athletics.
Is it your Calcutta connection that made you choose this city for your first public appearance after Splitsvilla 9?
The people here give me a homely feeling. I didn't expect so much love. It's been insane! People waited for me when I entered the hotel (Aauris, on Robinson Street). It was a great feeling that people want to become like me and they want to meet me. They love me for who I am.
My life changed after Roadies X2. I am slowly getting used to it. I am 21 and just graduated this year. I have many things to learn. I was studying BCom at Sri Venkateswara College, Delhi University, when I was selected for Roadies X2. I was supposed to join the Indian Army like my father and my grandfather. When I was in third year of college, Splitsvilla 9 happened.
Roadies and Splitsvilla are shows different in format and spirit.What have been your biggest takeaways from each?
Roadies was a childhood dream. I grew up watching Rannvijay (Singh Singha, who won Season I and is now an integral part of the show). I wanted the journey and the bike (as prize). Roadies the journey is very different from what happens in real life. You don't know what's happening outside and you go through situations that don't happen in reality. All these things test you to the limit.
In Splitsvilla, there's a misconception that you have to give gaalis and fight to stay in the competition and survive on the show. I wanted to change the misconception... I wanted to show that I could be who I am and yet survive. My motive was to win with my love (smiles).
So have you won Splitsvilla 9?
That you have to watch! (Smiles)
Were you comfortable doing all the tasks?
Yeah I was. After Roadies X2 auditions, woh sharam chali gayi thi because I had to strip down! (Laughs)
Are you and your Splitsvilla co-contestant Martina Thariyan more than friends or was the connection only for the camera?
Martina and I are close since Roadies X2. We are very good friends, but I won't say that we are dating. Our bond is obviously more than that of friends. The level at which we connect is very different. I don't want to restrict it to just "dating". We have a connection and I won't let that go (smiles).
What do you like about Martina?
She is very confident and opinionated. Woh jo hai mooh pe hai, kuch chhupati nahin hai. That's the best part. She always helps me.
How are you as a boyfriend?
I am an okayish boyfriend! (Laughs) Last time I had dated somebody was in Class XII. At that time, I used to manage something from here and there and give it to her. I can bake so I used to make cakes for her. I try to keep my girl happy. I haven't dated in the last four years. I have learnt a lot from my past relationships. I tend to get very serious about my relationships. That's why I am avoiding it at this point of my career.
What's your reaction to this sudden female fan frenzy?
I can't get over it, ya... I didn't expect this. Before Roadies X2, girls used to tell me, 'Shakal dekhi hai apni?' (laughs). Now my Instagram followers are increasing every day... it's just crazy. I love to talk to people and do live chats. Often people ask me why am I so cute! Rannvijay has always told me not to let success go to my head. He has told me to remember the person I was and not the person I am. And this is just the beginning for me (smiles).
What's next for you?
I am with MTV now. I will be working as a VJ. I will soon start Campus Diaries, where I will travel to colleges across the country. I want to stay in the youth show category. Then, let's see, I want to try for movies too.
SNAPCHAT
♦ Hooked to: WhatsApp. And, since I am a kid at heart, I was hooked to Pokemon Go. I couldn't get over it. I was on it all day and all night. It had taken over my life!
♦ Loves to watch: Friends. I love Joey (Tribbiani) because he loves to eat and he doesn't share his food!
♦ Inspired by: Michael Jordan (basketball legend) and Usain Bolt (sprinting great)
♦ Loves to listen to: Classic rock. The Beatles. Norwegian Wood and Love Me Do are my fave tracks.
♦ Nom nom: Ghar ka khana! Chicken tikka and butter naan.
♦ Loves to wear: Whatever I am comfortable in. Black is my colour.
♦ Chill zone: I don't party. I am more of a house party guy because kabhi bhi bahar gaya nahin utna main. Mere jo bhi dost thhe woh bhi lukkhe thhe aur ghar aate thhe!
♦ Loves reading: Paranormal stuff. Right now, I am reading The Laws of the Spirit World (by Khorshed Bhavnagri). I watch a lot of science fiction documentaries too.
♦ I am a virtual buff of: YouTube. I learnt playing the guitar from YouTube. I have recently started playing the flute. I even learnt how to drive a car and bike on YouTube.
I should be a YouTube ambassador!
Ratnalekha Mazumdar
If I met Varun I would.... Tell t2@abp.in
Pictures: Arnab Mondal