Umrao Jaan director Muzaffar Ali looks back at his life and works
The filmmaker recently published his autobiography called Zikr: In the Light and Shade of Time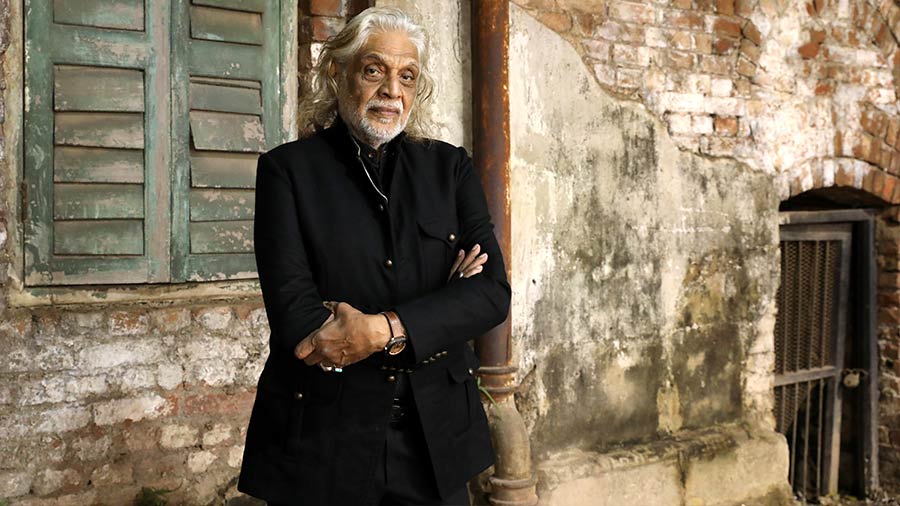 ---
Calcutta
|
Published 28.01.23, 02:47 PM
|
---
No matter whether it's a minute or an hour, talking to Muzzafar Ali, best known for making the 1981 classic period musical drama Umrao Jaan, is like walking into Wajid Ali Shah's lost world replete with the famous Lucknow tehzeeb. 
In a heartfelt chat with us, the veteran filmmaker, who was recently in town at the Apeejay Kolkata Literary Festival, talked about growing up in the lap of local aristocracy in Awadh, developing an interest in films in Kolkata and his plans for the future.
You have been working as a filmmaker for almost four decades. How would you describe your journey along the way? 
Muzaffar Ali: I think every journey can be broken into two dimensions that are often at war with each other. In my case, the first dimension would be the world of filmmaking and the second would be my own world — what I'm trying to see, feel, explore and express. There's always a conflict between the outer journey and the inner journey. Now film is a very complicated and expensive medium that needs the involvement of a lot of people, while the inner journey is all about solitude and thinking. So, it's not always easy to balance the two dimensions of my journey.
How did you actually become interested in films? 
Muzaffar Ali: Kolkata has a lot to do with my interest in films! After coming out of college, I thought the best place for any creative job would be in the field of advertisement and that brought me to this city. Here I joined Clarion McCann and at that time Satyajit Ray was on the board of the company. I got the chance to watch the master at work from very close quarters and learned how one needs to appreciate and share culture —  that was how I got attracted to films and recognised the true value of artistic expressions.
Could you share with us your experience directing Rekha and Farooq Shaikh in Umrao Jaan, which has become a milestone of Indian cinema because of its period storyline and music.
Muzaffar Ali: I think the whole experience was very organic and smooth. Both Rekha and Farooq grasped what I wanted to convey through the lens. Farooq had previously worked with me in Gaman (1978) and knew how we were going to deal with the culture and the character. It was all about putting a character in that culture. Rekha also strived to achieve that level of immersion. I think she was immensely helped by the lyrics, scenes, choreography, settings and costume. All these little details helped Rekha to get into the character of Umrao Jaan with so much confidence. 
All the songs of Umrao Jaan, including In Ankhon Ki Masti Ke by Asha Bhonsle, became superhits when they came out. What do you think clicked?
 Muzaffar Ali: Music, which can connect souls, has always been a very important part of my journey. Music ke saath saath poetry is also very important. Lyrics coming out of human situations can increase the richness and variety of music. I think the songs of Umrao Jaan combine fantastic words with great music. That's what made a big difference to the journey of music in Umrao Jaan. 
Penguin Random House has recently published your autobiography Zikr: In the Light and Shade of Time. What inspired you to put pen to paper and document your journey?
Muzaffar Ali: Interaction with people from different walks of life has enriched me over the years. One day it struck me that these people and how they have been enriching must be acknowledged and put in context. I have actually tried to record my interaction with the most ordinary person to the most extraordinary person, which is my father, in the form of a journey. Zikr: In the Light and Shade of Time is a documentation of my journey through places, people and projects. I have tried to make it as interesting as I could. 
Coming from a princely ancestry, do you think the ways of the old world can influence one's artistic pursuit in any way?
Muzaffar Ali: Well, you know, I saw the fag end of feudalim in India and it was very painful to watch its gradual death. Some people never accepted its ultimate fate and perished along with the old order. However, I was fortunate to somehow wiggle my way out of it. My father never let the lineage hangover settle on my brows and inspired me to face the world as a creative thinker. 
I must admit that I appreciate the feudal order in some ways.  There's a lot of innocence, humour and composite culture in its very fabric. But there's always a dark theme — the feudal order teaches you to feel superior to others and tower over them. The whole thing of feeling superior is not a very conducive state of mind for an artist. 
In your book, you have mentioned that you are an automobile aficionado. How did you develop the interest?
Muzaffar Ali: I have enjoyed and appreciated automobiles all my life. That is one feudal thing I was born with (chuckles). My father also owned some very nice automobiles and inherited some of them. On a serious note, I'm a painter and always see an automobile from a designer's perspective. Now that you ask me this question, let me tell you that automobiles actually come to people with a lot of money and leave them with no money. It's just one of those youth passions (chuckles again).
Can we see you directing any new projects in future? What would be your most favoured topic ?
Muzaffar Ali: I have a lot of films on my mind. Something has to be done with the Persian poet Rumi, who is a very important part of my spiritual journey. But how does it become a film? I have tried many ways. I have reached certain points and again came back to where I had started from. I need a lot of support to make a film now. There's no point in dreaming small, na? You can do so much with so many details. You can create a whole world for a lot of young people. It can become a training ground for people to work with me on a feature film. Maybe I'll make this film someday.