Tribute from a fan who attended KK's final concert at Nazrul Mancha
The singer wove his magic in the sweltering heat inside an overcrowded auditorium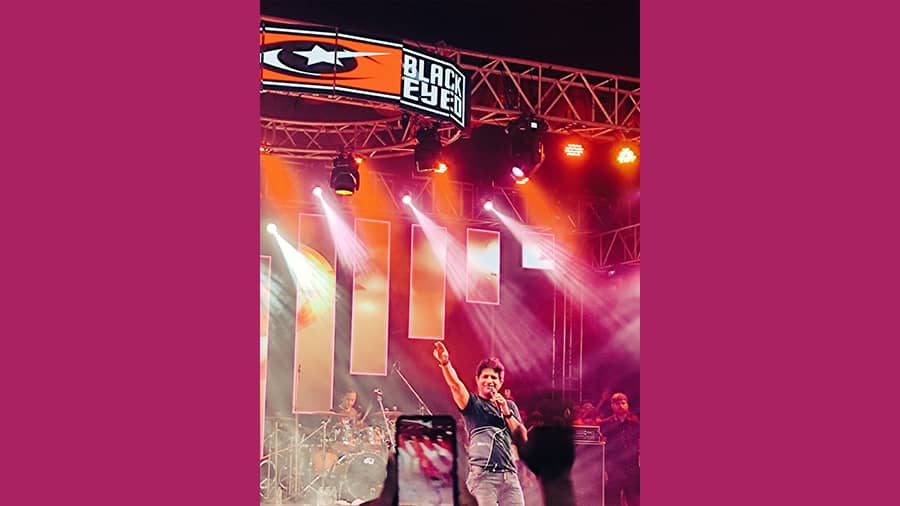 There was no assuming, ambitious air about KK's songs
Pictures: Sohinee Basu
---
Published 02.06.22, 05:46 PM
|
---
Perhaps it was the pregnant pause of grief and longing contained in the notes after he had heaved Hum rahe ya na rahe kal, yaad aayenge ye pal or maybe the pathos in Abhi abhi zindagi shuru hai, abhi abhi tham jaane ki baat that tugged at the heartstrings of the crowd at Nazrul Mancha as one man and his velvety voice took centre stage to make the audience fall truly, madly, irrevocably in love… for one last time.
It has always been difficult to pinpoint what exactly drew everyone to an otherwise nondescript man called Krishnakumar Kunnath, whose extraordinary musical talents had made him the phenomenon that was KK.  But when the opportunity of getting to see this legend perform live came along on the last evening of May, it was difficult to resist hearing the magic we have grown up with, up close and in person.
The voice that wrapped itself protectively around our lives
From teary-eyed school and college farewells where 'Yaaron dosti badi hi haseen hai' was routine to echoing the anguish of a broken heart in Tadap Tadap and finding hope in Aashayein to begin again – KK's cocooning, playful voice had always wrapped itself protectively around our lives.
What made him so special was how there was no assuming, ambitious air about his songs. Instead, his emotions were raw and relatable, and his voice felt tangible, pulsating in every song, as if by laying a finger you could feel it throb with the feeling of each word, every phrase. KK was the voice of every man, swearing by Sach Keh Raha Hai Deewana.
But little did six thousand of us, attending the college social of Sir Gurudas Mahavidyalaya's annual fest on Tuesday evening, imagine that this would be the last time we were witnessing the magic of KK.
Hale and hearty in an ominous atmosphere After an impatient wait, KK sprang onto the stage in a black T-shirt and faded grey jeans, singing Tu Aashiqui Hai in front of a bellowing crowd hungry for his music. Scrambling for a place to stand amidst the sweltering heat, it made little sense for most of us to be where we were. That was until the goosebumps started animating our skin, giving us a feeling of a dream come true, of watching a generational talent do what he did best.
Mid-performance, KK made jokes about his obvious discomfort in an over-saturated stadium with an ill-functioning air conditioner, all the while remembering his Pehla Pehla Pyaar and chipping in with anecdotes about his song recordings. Swinging between moods, KK left us convinced that he was hale and hearty at 53.
Yet, there was something ominous about the atmosphere at Nazrul Mancha, one that music could not override. Even before KK had taken to the stage, there was utter chaos all around, with the sound of doors on the verge of being knocked down by students yearning to enter an already overflowing space. People were feeling sick and nauseous and near-stampedes were averted at the last moment.
Inside a closed auditorium with extremely humid conditions, inefficient management and little consideration for performers were slowly turning a potentially magnificent evening into a melting pot of disaster – one that even KK's music failed to put a balm on, eventually leading to a haunting loss moments after the show got over.
The price of an artist Amidst the hustle-bustle of making art consumer-friendly, there happens little to no conversation on the price artists have to pay. Sweating profusely, downing bottles of water and wiping his face with the towel only to turn back to the crowd's roars as he sang, Tu jo mila, lo ho gaya main kabil, one could not have possibly imagined that KK was paying the ultimate price, singing his classics for one final time in what would be his final few hours.
As numbing as KK's premature loss is, it is also a glaring reminder of the fickleness of life, of how we live with a delusion of control over that which is uncontrollable.
For musicians, the stage is their life and as much as they would like to, they do not know what their final entrances or final exits are supposed to be. Tragically, neither did KK. What he knew, however, and believed in, was that he was born to perform, come what may. And so he did, like a true artiste, till the last echoes of his easy-flowing voice hung heavy in the stuffy Nazrul Mancha air.
Perhaps it was poetic justice that KK's last song had him crooning "Hum rahe ya na rahe kal, yaad aayenge ye pal', but what is neither poetic nor just is how we have to resort to saying Alvida so soon to a man whose life's tune was hastily unplugged and will never play again.
They say that art lives on, even if the artist does not, and how the show must go on. But they forget that a certain vacuum can never be filled, certain music can never be remade. Similarly, the KK magic can never be conjured anew.
What remains with us now is a pile of memories to fiddle with, ones that will surface every time our playlist automatically plays Beete Lamhein or pauses at In Dino, as we try spinning a web of magic from a healing voice who sang till his last breath for us, quite literally.
Rest in music, KK.