This campy flick is an unabashed and unapologetic ode to the movies
The title itself is a homage to a film that best exemplifies the Bolly masala movie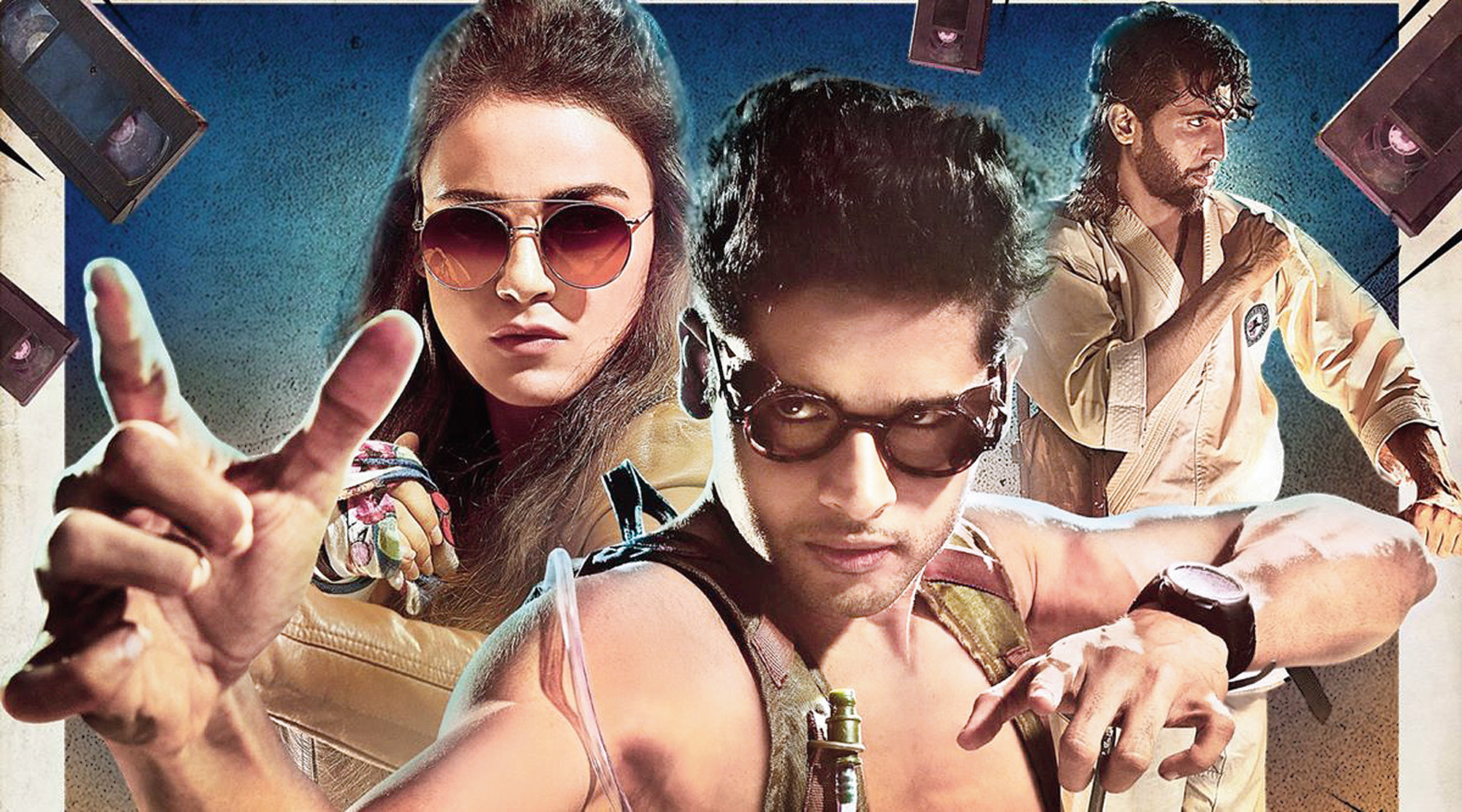 A still from the film, Mard Ko Dard Nahi Hota.
Mard Ko Dard Nahi Hota
---
Published 24.03.19, 02:52 PM
|
---
Nod and tribute, subtext and reference abound in every frame of Mard Ko Dard Nahi Hota, a campy — and often crazy — outing, the kind of film that Bollywood has rarely seen before, if at all. It's a movie inspired by the love for movies and draws its inspiration from everything that we've grown up on — the glorious era of VHS to kitschy Bolly of the '80s to the martial arts movies of yore, from here, there, everywhere.
Directed by Vasan Bala — a self-confessed fan of camp — the title itself is a homage to a film that best exemplifies the Bolly masala movie. The 1985 film Mard, the iconic line — "Mard ko dard nahi hota" — spouted by Dara Singh and boasting one of Hindi cinema's most WTF moments… an infant has 'mard' etched on his chest and decades later has the 'tattoo' at the exact same spot. Well, it hardly matters that he grows up to be 6-ft-plus Amitabh Bachchan.
Mard Ko Dard Nahi Hota exists in a similar hyper-real world. Every beat is exaggerated, every emotion magnified. It's a film unabashed and unapologetic in tone. There's a lot of silliness, but also a lot of heart and dollops and dollops of nostalgia. It's cheesy fun and yet packs in enough emotion to keep you invested; it will make you guffaw out loud and yet make you feel for its characters.
The 'mard' in the middle of the madness is Surya (Abhimanyu Dassani pulls off an off-centre debut with elan). Afflicted with a condition called 'Congenital Insensitivity to Pain' ("Baad mein Google kar lena," Surya cheekily tells the viewer at the beginning of the film), he's the boy who feels no pain. He jumps off rooftops and escapes without a scratch, laughs out loud when bullies in class jab geometry compasses into his thigh and though there's no pain — and consequently no emotion — his grandfather Ajoba (Mahesh Manjrekar is pure gold here) conditions him to say "Ouch", just to keep up a pretence in front of the world. However, dehydration is Surya's kryptonite and he constantly needs to keep sipping from a water pack to keep himself alive. He's more than game to do it because water for Surya is akin to "Drunken Master ka wine aur Bruce Lee ka nunchaku".
This is the kind of world that Ajoba makes Surya grow up in. Brought up on a steady diet of Bruce Lee, the boy watches everything from Gymkata to Geraftaar in the family's rundown VCR. He stays awake devouring the likes of Return of the Street Fighter and Game of Death and his only passion is to become 'Karate Man' and participate in a 100-Man Kumite tournament some day, inspired as he is by his one-legged idol Karate Mani (Gulshan Devaiah). The wind beneath Surya's wings is his childhood sweetheart Supri (Radhika Madan, crackling in every frame) who he's separated from as a kid and who comes back years later to help Surya move one step towards his dream.
A touch of whimsy punctuates every mood and moment of Mard Ko Dard Nahi Hota, the look and feel drawing quite a bit of inspiration from films like the delightfully crazed Kung Fu Hustle. Surya is the 'boy superhero' who refuses to grow up and that powers the film's humour, as do his interactions with his granddad and his father (a super fun Jimit Trivedi).
Bala uses every possible Bolly trope — separated lovers to cliched villain to even a family locket that propels the action — but turns everything on its head. Mard Ko Dard Nahi Hota is a pastiche of pop-culture references and you will find yourself nodding through many and LOL-ing through some — like the one about twin brothers turning out to be as different as chalk and cheese because one is a Kamal Haasan follower and the other a Rajinikanth fan. That comes courtesy Gulshan Devaiah who has a blast playing the good-evil twins and owns the film in the last 20 minutes.
Even as he goes all out with the references, Bala shows quite a bit of flair for technique. There are scenes filmed in splendid slo-mo and Surya often breaks the fourth wall to speak to the audience, his commentary peppered with film quotes and movie titles. Supri's entry scene, a superb action set piece filmed to Kishore Kumar's Nakhrewali playing in the background (almost as good as Khoya khoya chand in Shaitan), is one of the standout scenes; so is the action scene in an office highrise, where an old man and his oddities bring the house down. The young leads also share good chemistry, capping it off with that fun scene where Supri tries in vain to explain what an itch means to Surya who, like pain, has never felt it.
Mard Ko Dard Nahi Hota is not without its faults, though. Once the novelty wears off, the scenes become a tad repetitive and its runtime needed to be well under two hours.
But this is a film that needs to be watched just for being so unabashedly original. I'd pay to catch a show one more time, and even though both Surya and Supri are shown to settle into a 'regular' life at the end of the film, the hint of a sequel has us excited already. Yes, even superheroes need jobs. Bas paani peete rehna chahiye….