The layers in Rules of the Game
A well-crafted film, which has the finger on the pulse of changing rules in contemporary marriages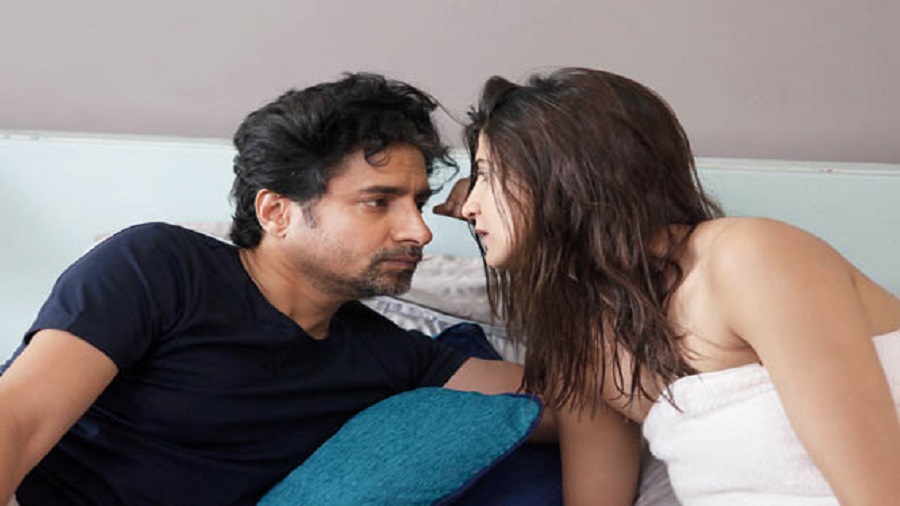 ---
---
They are the opposite of a 'happening couple'. They appear blissfully domesticated with only the noise from a malfunctioning fridge in their house indicating perhaps all is not well in their marriage. Aniruddha Roy Chowdhury's (Tony) crisp psychological thriller, Rules Of The Game navigates the mind of a woman who clearly wants to bend the rules of her marriage. Boredom in marriages is a reality which is not often brought out of the closet. A woman once told me hers is a 'practical marriage'. She had been married for 15 years and there was no physical intimacy after her son was born, who was then 11 years old. A lasting marriage does not necessarily have to be happy, was how she viewed the institution of marriage.
Like Tony's other films, this captivating film also has a woman protagonist. In a break from his past, the female protagonist — Aahana Kumra's character — has a sinister darkness underneath her superficial poise. It is a wonderfully shot film, pleasing to the eye, which is Tony's signature in all his films. However, there are quite a few plot twists, which are new to his oeuvre.
They jolt you with their unpredictability. There are leads of what is going to come but it feels too unreal initially. In one scene, she tells her friend who is regularly beaten up by her husband, 'Let us send our husbands to prison', and the film then masterfully navigates her mission.
But there are false leads also, where Tony plays with his audience. Aahana gets hooked on to the gambling game on the road side. There is a man who is there observing her each time and I kept anticipating this man to appear in the climax but he doesn't. It is an ode to many transient fellow passengers in our lives, whom we remember for no specific reason.
The layers in the film reflect the stark, unspoken but very contemporary truth of how rules in marriages have changed in our times.
Infidelity, violence, lack of communication and sexless marriages are far too common than what our 'sanskari' and hyper-connected society would like us to believe. Tony, who is fascinated with relationships, captures the mood of many marriages where the spark has vanished but couples stay put for the sake of habit.
Sudhir Kakkar, the noted psychoanalyst, once wrote that 'many Indian couples are divorced but they don't know it' — a pithy one-line description of marriages where there is absolutely no connection or bond but couples stay with each other for the sake of familiarity/habit.
However, the 'Rules of the Game' have changed. Marriage indeed for many couples I see, is nothing but an experimental adventure. The dynamics of many marriages now often become difficult for old timers like me, to wrap our heads around them. A surprising number of married young women seek our help, because their lovers have grown tired of the demands of an extramarital relationship.
What possibly is more reassuring is that in many situations, it is their husbands who accompany them, facilitating the process of healing and recovery. This challenges the traditional concept of patriarchy and acceptance of bending the rules in marriage. I remember a phone call from a harried husband couple of years ago informing me that his wife has eloped with a person with whom she was having a long-distance relationship, after getting to know him through social media. I was expecting a rage-filled rant but instead he said, can you please ensure that she continues to take her medicines, as otherwise she will again have a relapse! The woman came back home after three months of staying with her lover and they now live amicably and peacefully with each other.
I had later asked the man how does he explain his own behaviour. He said, 'I know I am much older to her and not much fun to be with, hence it was perhaps natural for her to act like this.'
The strength of the film is that it breaks the stereotype through the protagonist's character. A woman who is calm in her manner, compassionate to her friend, has an inexplicable thrill-seeking behaviour. The pathology in her character is introduced through the gambling game which she participates in, and it reaches a crescendo in the end. Like all pathological thrill seekers, there is an irresistible urge to do something which you know is dangerous and it is that doing which gives the high, supposedly mediated by a chemical called Dopamine in our brain. What follows is a low, sinking feeling until we chase the next thrill. The film ends poignantly in asking an important question, which all pathological thrill seekers like Aahana ask themselves and weep.
Tony's film — with an intelligent script by Shyamal Sengupta — resonated with me because it acts as mirror to the changing norms of our society. It is a well-crafted film, which has the finger on the pulse of changing rules in contemporary marriages. Do watch it, but don't get too inspired to change the established rules of your relationship too suddenly!

Dr Jai Ranjan Ram is a senior consultant psychiatrist