The Crown stirs and staggers but still shines on the head of… Diana
In Season 5 of Netflix's prestige drama, the Queen and Prince Charles are overshadowed by the People's Princess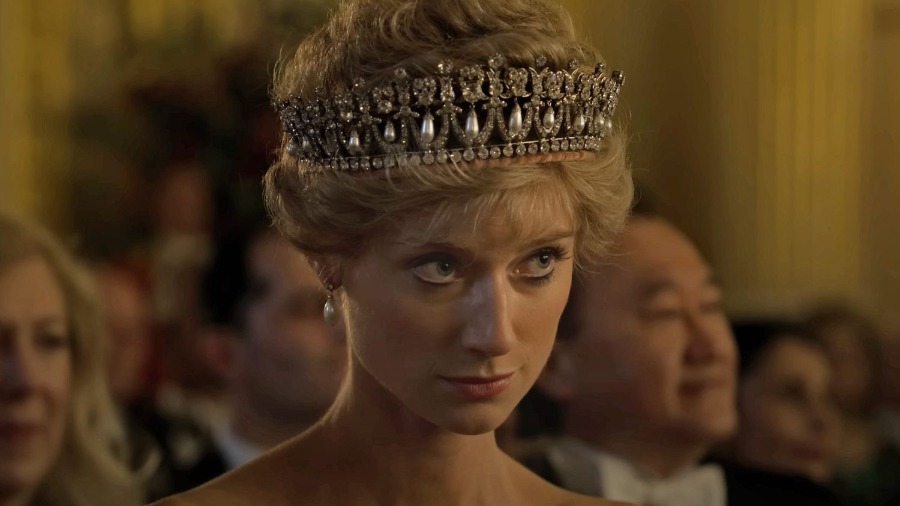 Elizabeth Debicki excels as Princess Diana in The Crown Season 5
Netflix
---
Calcutta
|
Published 11.11.22, 11:00 AM
|
---
Princess Diana is among those select historical figures who exist in people's imagination far more meticulously than they ever did in reality. Everything from her furtive glances to her hushed tones to her steely jaw have been refashioned so often on page and screen, both as documentation and fiction, that one of the most complex royals of the past century has endured largely as a compelling caricature.
Season 5 of Netflix's The Crown, back after a two-year hiatus for what is supposed to be its most explosive instalment yet, celebrates the Diana caricature in all its tragic potential. In what is the most disjointed season of the show so far, set in the most turbulent decade of the 1990s for Britain's royals, showrunner Peter Morgan does not quite provide the sensational slow burners of years past. Burdened by the balance between "truth and accuracy" (a binary Morgan had coined himself), the show never reaches the dramatic tension of seasons 3 and 4. The story lacks coherence, tempo, and above all, The Crown's characteristic quality of letting the viewer sympathise with the silly acts of sullen elites. But, thanks mainly to Diana, it is hard to look away.
Debicki brings a haunting combination of insecurity and defiance to Diana Morgan has never been one to follow the Shakespearean advice of letting a couple of centuries pass before attempting to fictionalise kings and queens. In his portrayal of the Princess of Wales, who died in the most infamous accident of her era in 1997 (to feature in season 6), Morgan lets the classic tropes surrounding Diana take command. As a result, the People's Princess is a vengeful glamazon at one moment and a doting mother the next, a cheeky lover for a few minutes followed by an arresting victim for slightly longer.
It is to Elizabeth Debicki's credit that she goes from one trope to another without tripping up. Apart from nailing the Diana brief for the eyes and the ears, Debicki brings a haunting combination of insecurity and defiance in every scene. Watched by all, but understood by none, Debicki's Diana is not a fragile angel. Her quietly fierce quest for independence reaches its acme with the tell-all interview with BBC's Martin Bashir (played by a suave Prasanna Puwanarajah). As the centrepiece of the season, the interview that sent the royals into meltdown and served as the final nail in the coffin of Diana's marriage is handled deftly and remains impressively understated, with a greater focus (rightly so) on the context than the actual words that rocked viewers back in the day.
While Diana's iridescent personality is best projected when alone, Debicki is unmissable in her confrontation scenes with Prince Charles (Dominic West) and Queen Elizabeth II (Imelda Staunton). In the former, the pathos of a woman adored by the world but alienated by her husband emerges beautifully, while in the latter — almost replicating what Shah Rukh Khan's Raj Aryan Malhotra does to Amitabh Bachchan's Narayan Shankar in Mohabbatein (wonder if Morgan ever saw it!) — a modern outsider upstages the outdated epitome of an institution, using the sheer moral force of facts.
A stunted Staunton more reminiscent of Umbridge than Elizabeth II That Staunton's Queen is the most underwhelming of any in The Crown's six-year history is hardly Staunton's fault. In season 5, Elizabeth II, so used to being the cynosure of the series, is increasingly sidelined, worried more about gaining weight than losing gravitas. Instead of making headlines, the headlines happen to her. More stoic, curt and passive than ever before, the Queen, to use one of the endless metaphors in the season, is more like "the furniture rather than the architecture". Unlike previous seasons, she can be moved around to fit whichever theme Morgan wants to concentrate on in each episode.
For her role, Staunton extends the auditory continuity of Claire Foy and Olivia Colman in perfecting the Queen's voice, but what she says using it leaves a lot to be desired. In scenes of conflict with her husband Prince Philip, a gentler and more likeable version in season 5 in the masterful hands of Jonathan Pryce, the Queen sounds cliched, borderline boring. Even though her brief interaction with her husband's new favourite secretary, Penny Knatchbull (Natascha McElhone), allows Staunton's poise to come through, she is too often reduced to a lecturing grandmother, with everyone in the family as well as Prime Minister John Major (a soft-smiling Jonny Lee Miller) admonished frequently for breaking with convention. In this sense, Staunton seems less like Elizabeth II and more like the perpetually irked Dolores Umbridge from Harry Potter (whom Stauton herself had projected with such aplomb).
Charles is miscast, yet far from forgettable Dominic West looks nothing like Prince Charles. He does not move and speak like the present King, either. And yet, after a few episodes, the need for verisimilitude fades away, as West, closer in age to his on-screen mother than his on-screen wife, makes Charles far more interesting than Buckingham Palace managed to in reality. Shown as a man of fortitude, be it in his love or his duty, Charles grows out of his shell from the past two seasons and develops an intelligence that is applicable beyond the theatre and his daily soirees. His manoeuvring of Major to insinuate an early abdication from the Queen (which never materialises, of course!) is conniving but entirely understandable (though hardly true). His topsy-turvy rapport with Diana elicits a similar sympathy, more so after one is let in more deeply on the natural intimacy he shares with Camilla Parker Bowles (Olivia Williams). Even though he is no scene stealer like Diana, Charles adds some much-needed verve and vitality to the show, not unlike what he would have wanted to bring to the monarchy in the '90s.
Subtle, powerful side acts and… Britannia In a season that rarely sustains the dramatic momentum it builds, the visual alchemy of The Crown nonetheless retains its elegance. Pause at any point of any episode, and everything from the setting to the props to the hues that filter in and out, seem immaculate. Even though Morgan dazzles with artifice, he is short on substance this time around, with an inability to create enough sparkling chemistry between the people who inhabit his magnificent universe. This is not to take away from the subtle, powerful side acts that delight in isolation, none more than Lesley Manville as Princess Margaret, whose laissez faire approach to royalty has survived a jump in reel timeline as well as the pandemic in real time. Margaret's heartbreaking relationship with Peter Townsend (Timothy Dalton) is rekindled, even if temporarily, to remind us that some passions are best suited for moments, not stories. Given the best part of an episode (and some more) to narrate their journey into rarefied society, Mohamed Al-Fayed (Salim Daw) and his son Dodi (Khalid Abdalla) infuse their parts with an intensity and decisiveness that eludes most of the British upper crust the former so hopelessly admires.
Lastly, a special mention for the grand-old royal yacht, Britannia, that looms large over most of the season as an obvious analogy to the Queen, moving the emotional needle somewhat in the final episode when its vitals are exhibited one last time. Much like the large vessel that is robbed of its full potential, season 5 invites a lot of curiosity, even care, but ultimately, ceases to inspire.