Swastika Mukherjee on the praise that's coming her way for Dil Bechara
The tag that I got after Paatal Lok... 'national street dog mom'... has got transferred to 'national mom!'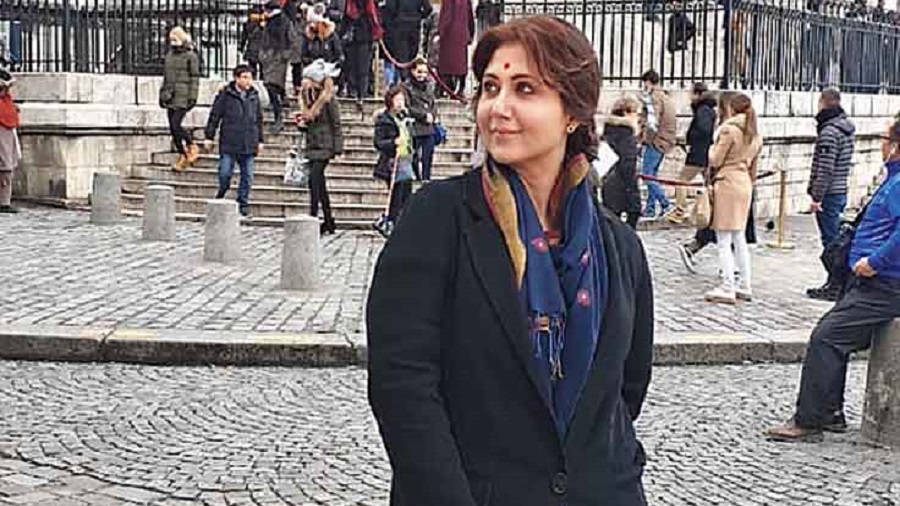 Swastika Mukherjee in Dil Bechara
Sourced by the Telegraph
---
Published 03.08.20, 06:21 PM
|
---
Swastika Mukherjee is earning plaudits for playing an overprotective yet doting mother to perfection in Dil Bechara. The film, which is the late Sushant Singh Rajput's swan song, comes on the back of Swastika's huge leap forward as an actor outside the Bengali film industry, in the smash-hit Paatal Lok. The Telegraph chatted with Swastika on being Mrs Basu in Dil Bechara, not feeding into ageist and sexist cliches and her memories of Sushant.

It's been a little over a week since Dil Bechara dropped to an overwhelming response. What are people telling you?
The tag that I got after Paatal Lok... 'national street dog mom'... has got transferred to 'national mom!' (Laughs) People across generations, even someone of my age, have written to me saying, 'You are just like my mother'. I was laughing that how can I be like a mother to someone of my age! But I think that people have really, really connected with the parents (played by Swastika and Saswata Chatterjee) in the film. It's come across as very raw and real... very authentic... it didn't feel like the parents were placed in the film.
They are picking up things like, 'My mother tells me the exact same thing' or 'My mother gives me this exact look' or 'This is how we get caught when we lie'. They are picking up specific scenes and conversations and silences from the film and saying this is how it happens in their families. So that's been pretty overwhelming.

Unlike Mrs Basu, you are quite the bindaas mom in real life. What went into playing this overprotective mother?
(Laughs) I think my natural maternal instincts kicked in for this... I didn't really need to work very hard. Honestly, a lot of things kicked in that don't kick in with Mani (Swastika's daughter). Mani and I have literally grown up together, and it's more of a friendship that we have. With her, I don't really get into the 'mother mode'... it's only on during exams, but now she's in college and I can't even play the mom card any more and tell her, 'Porte bosho'. In Dil Bechara, the dormant mother-in-waiting went into full-on active mode (laughs).

You had obviously watched the original. What were your other triggers to sign on?
Thanks to Mani, I watched the original (The Fault in our Stars) and loved it. But I couldn't really cry because Mani was crying so much that I had to control her! (Laughs) Everywhere we looked in the theatre, people of her age group were howling their eyes out! So I had to control my emotions to control my daughter's emotions! I told her that I would watch this film in shanti later.
I have done Bengali films that were being made a second time... like Jaatishwar or Shah Jahan Regency. But I don't ever really feel the pressure that this has been done before because I know that I will bring in my thoughts to the film, which is going to be a very, very different take from whoever the actors were in the original film. I try not to see the original when I am doing a Bengali or a Hindi adaptation.
If it's an English film and you are making it in the desi context, then everything will change because our society and lives and our mindsets are very different from theirs. In The Fault in our Stars, the father didn't have much of a role, unlike what Apuda's (Saswata) character has in Dil Bechara. And, of course, our entire household situation is so different. In Indian households, even when you are 40 and you are going out, your parents will ask you if you will come back home and eat. And they will call you at least twice to ask, 'Baari phirte aar koto deri hobe?' (Laughs) I remember telling my father so many times, 'You cannot ask me this question... look at my age!' (Laughs) But our parents still do that.
Outside India, kids move out after the age of 18. I've stayed with my parents forever in my life... so I can't connect with that on a personal level. People have connected with Dil Bechara on a personal level because that's a depiction of how Indian households are.

As an actor, how secure do you have to be to play a mother figure to an actor, in this case Sushant Singh Rajput, that you played leading lady to in Detective Byomkesh Bakshy! only five years ago?
I can play a diva, a seductress, glamorous, hot, sexy bold, whatever tags one may want to add... and I can also play the supposed mother-in-law of the same man (laughs). I think it's a great opportunity to show to the world what my range as an actor is. I am also coming fresh off people seeing me in Paatal Lok. A lot of people are also watching Detective Byomkesh Bakshy! now. So right now, people are watching me as Angoori Devi (in Detective Byomkesh Bakshy!), as Dolly Mehra (in Paatal Lok) and also Mrs Basu (in Dil Bechara). What greater opportunity can there be for an actor?
Also, people who offer me work as well as those in the audience who watch me, their mindsets have changed. Nobody is telling me, 'You didn't look the part' or 'You did better as a mother and you didn't fit the part of Angoori Devi'. That cliched headspace is no longer there, whether it's the film reviewers or the audience. So if you want to move out of your comfort space and do something that you haven't done before, then this is the best time to do it. So I am experimenting as much as possible, I am trying out as varied characters as possible, and putting it out there to the world saying, 'This is me... this is the whole package'.

So are you saying that the struggle is now less in an industry that is traditionally ageist and is notorious for wanting to put female actors in a box?
It depends a lot on the actor. I know a hell lot of people in my film industry who may be 40, but they don't want to play a 40-year-old on screen... people who are mothers still don't want to play mothers on screen. People don't want to play elder sisters to a hero who is of a certain age (laughs). So, as an actor, you have to break the cliches... you can't constantly depend on other people to break it for you. No one told me, 'You should do this or you shouldn't do this'. These are things I have to decide for myself.
In my first film, I played the mother of a 10-year-old boy when I was just 21. But did that stop me from playing Kamalini in Shah Jahan Regency or an Angoori Devi? Even the audience never told me that after playing a mother in 20 films, they couldn't see me sitting in a bathtub and seducing the hero. I will master my craft and play my characters with such elan that the audience should think that I am that when they are watching the film. I have to work hard, I have to do everything possible to make those characters breathe on screen. If you do that, then people will watch you as a seductress, they will also watch you playing a doting mother. As an actor, I have to decide that this is how I have to build my career... I can't keep feeding cliches.
But then, people will have to offer you those roles. Whether that happens or not is another discussion altogether, but if you are being offered those roles and you don't do it because you don't want to project a certain image and age on screen, then it's stupidity. I did a film called Anubrata Bhalo Acho? with Ritwick Chakraborty where I played a 60-something character... I know that I was the fourth choice for that role, people who were around 45-50 didn't want to do that role. I want people to say 'no' to every aged character, every mother character, so that I can play them! (Laughs) I don't give a shit to these cliches that actresses are supposed to be boxed in. Also, I don't think any actress in a Bengali film has crossed the level of intimacy that I did in Shaheb Bibi Golaam... the climax scene is a big, big line to cross. It had 'LOC' written everywhere, a line that other Bengali actresses don't want to cross. But people are still watching it on OTT platforms.  

Having done two films with him, what are your abiding memories of Sushant?
The moment you see the film, memories get tapped in. That he was sitting there, he was doing this when this scene happened. People are really loving the film, they want to be happy, but they can't be happy. Dil Bechara is such a big, big Bollywood film for me... there was a huge response, my phone battery was constantly dying because of the notifications coming in on the day it released. I want to feel very, very ecstatic but I am feeling angry because I can't feel that way. My emotions are just going haywire. I am constantly asking myself that whatever he told me, whatever conversations we had, was there a deeper meaning? Why didn't I get it, why didn't people understand anything? You keep questioning yourself, guilt takes over, it's a very, very strange headspace for those who are associated with the film.
It's a happy space, it's also a weird space... mathar bhetor ta hijibiji hoye gechhe.. I can't put this puzzle together.
As a person, his infectious energy will stay on with me. He was always jumping around... I would ask him to suggest an energy drink that would give me as much energy as him. As an actor, I marvel at his hunger to do not run-of-the-mill work. He took great risks in his career. Detective Byomkesh Bakshy! was only his third film... super risky. He jumped from one roof to another wearing a dhoti for hours.... Then doing a film like Sonchiriya, it was a super risk for a Bollywood mainstream hero. Learning a new language, looking uncomplimentary on screen. I have seen co-stars doing heartbreaking scenes and yet putting on lip gloss! What he did, the risks he took, the career he built... you really have to applaud him.

What kind of roles should Swastika pick in Bolly? Tell t2@abp.in