Story of science and web series
Film-maker Abhirup Ghosh tells how scientific innovation have been used to depict the practical execution of some seemingly impossible crimes in #RRS3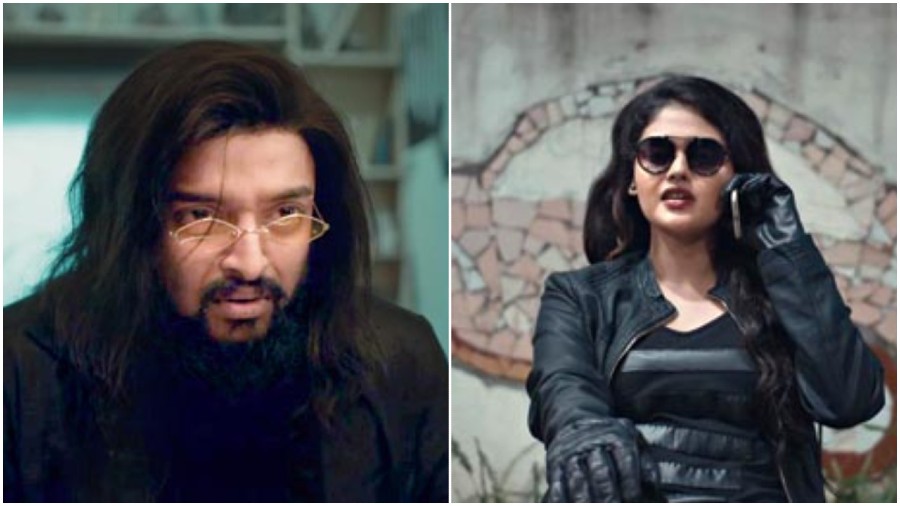 ---
---
The feedback for Rahasya Romancha Series 3 (RRS3) has been "overwhelmingly positive" and there is almost universal acclaim for the second and third stories. "The immense love audiences have shown to RRS3 and its characters, particularly Mora, is extremely motivating and humbling. We are pleasantly surprised by the fact that RRS3 has become a pop culture phenomena. We are seeing countless memes, tribute videos and audience feedback posts all across social media. It is unbelievable that the love of the audiences has turned a low-budget, independent film into a cinematic universe. There are huge demands for RRS4 and we can sense that expectations are high sky," smiles director Abhirup Ghosh. A post-mortem with Abhirup...
The interesting thing about your scripts is that you apply methods of science to your plot points. What is your science background? And how do you feel the scientific methods add value to the script?
My academic background is Electronics and Communications Engineering. I have been told that some of my plot points are like science classes. However, in case of RRS, the use of science and innovation mostly stems from detailed research on different forms of criminal activities and pulp literature. For example, in season 2, multiple options of dead body disposal were shown. I found out about these methods while researching about the American Mafia. Even the use of a cigar bomb by Kalo Nekre to kill one of her targets is inspired by an assassination attempt made on Fidel Castro in the 1960s.
In RRS3 as well, science and innovation have been used to depict the practical execution of some seemingly impossible crimes. I have used a science class-like approach and shown each detail visually so as to avoid any confusion.
The last two stories of RRS3 are actually quite complicated. Yet, people have loved them and not a single audience member has had any problem understanding the different processes involved in the crimes.
To what extent will you take the theories of science in your stories?
I don't use theories of science in a planned manner. It all happens organically. I am an avid reader and read almost anything I can lay my hands on. This opens up a huge universe of information. I often accidentally come across really interesting theories and facts which I end up using in one of my scripts. For example, I recently came to know of a very interesting research related to perfumes. I am already thinking about using this theory somewhere. However, whatever concept I use, I prefer to explain everything clearly so that laymen can enjoy the narrative. In RRS3, though the processes of the impossible crimes are quite complicated, if you think about them, you will realise that they comprise really simple elements that we see around us in day-to-day life. This is what makes the processes relatable and enjoyable.
In RRS3 you show a device with a bullet that dates back to 1908. Tell us about it and how did you come across it?
This is a joke that refers to a traditional Indian weapon called Gupti. A Gupti used to have a dagger or swordstick completely hidden inside a wooden case. It resembles a harmless wooden cane or walking stick. The device used in this scene is a modern Gupti, which involves a timer-based bullet-firing mechanism hidden inside a cigarette case. Guptis used to be quite popular once upon a time, but have lost relevance today. That is why Mora (Saurav Das) feels proud that he has witnessed a rare case of a death caused by a Gupti.
How important is research work to your script-writing process?
Research is of tremendous importance to any writer's script-writing process I feel. As an audience I am in awe of the terrific research and hard work some of my contemporaries are putting into their work. In case of the kind of stories I am trying to tell, finding research material itself is a tremendous task. I am a huge fan of pulp literature and impossible crimes. However, books of these genres are extremely rare and difficult to find.
How did you get the idea of a rat sending out information from a jail?
This idea came from a cult classic pulp story The Problem of Cell 13, written by the American mystery writer Jacques Futrelle. I have taken inspiration from this story and added other elements of my own to make it more contemporary and practical.
How did you shoot the scenes?
We had no idea how to shoot with a rat. Doing VFX was too expensive and impossible. Working with an actual wild rat was not an option of course. We contacted numerous pet stores all across the city and came to know of a domesticated animal called Gerbil, which looks very similar to rats. We arranged for gerbils. But, unfortunately, the day before the shoot we realised that the supplier caught Covid and could not provide the animals. We panicked and even planned to use a toy mouse. However, luckily, at the last moment we came to know that one of our colleagues, Sentu, had quite a few pet rats. He saved the day and brought us a couple of extremely tame, well-mannered pet rats, who were a breeze to shoot with. We took all safety precautions to ensure that the rats were safe and unharmed. There was a vet present on set as well.
Without giving away spoilers, how does a candle fire a bullet?
Well, each cartridge has a small charge (made of gunpowder) at its back portion. When you pull the trigger of a gun, a spring mechanism hammers a metal firing pin into the back end of the cartridge, generating heat which ignites the small explosive charge, in turn, firing the bullet. Now, this mechanism can be activated by heating the back end of the cartridge using a candle or any heat source. This will not be instantaneous and will take time. But, eventually, the heat will cause the charge to explode, igniting the propellant and firing the bullet. In case of a short distance, in an enclosed space with no significant air resistance, the bullet will indeed travel in an almost straight line and hit a desired target if placed properly. I got the idea while researching impossible crimes and studying the mechanism of firing bullets.
In episode 4 of RRS3, we have given tribute to the sub-genre 'locked room murder' and have shown four different ways of committing the perfect murder.