Spectacular locales where 'Avijatrik' was shot
'Apart from many other exotic vintage locations in Varanasi, we also shot on those very places where Aparajito and Joy Baba Felunath were filmed'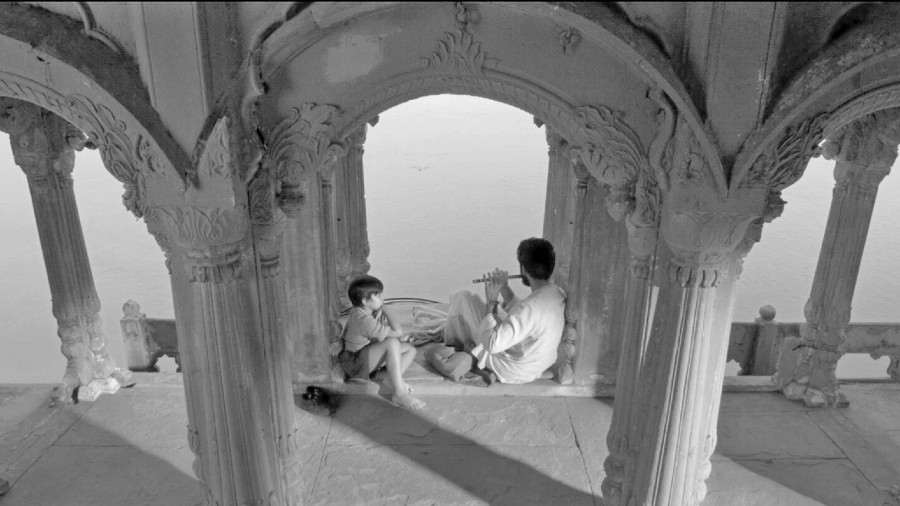 Arjun Chakrabarty and Ayushman in Avijatrik
---
Published 07.05.21, 03:42 AM
|
---
The film Avijatrik is the concluding part of the epic novel Aparajito by Bibhutibhushan Bandyopadhyay and sequel to the great Apu Trilogy by Satyajit Ray. So I did not take any chance and resort to any compromise in terms of production value and film aesthetics. My senior team members were also up to this monumental task, so that we can pay a perfect homage to those masters. Visually, I wanted this film to be as exotic and as breathtaking as it can be, to portray the real India, to portray the wanderlust of Apu. The visual journey is equally complemented by the diverse authentic soundscape design by Tirthankar Majumdar and a brilliant original score by Bickram Ghosh, so that audio visually the entire experience becomes rich with emotions.
My days with Apu
Avijatrik (the wanderlust of Apu) was a huge technical and production design challenge for me and my team. We had to recreate India of the '40s  authentically. Everything has changed in the last 80 years, so we had to plan everything from the recce stage itself. We shot in 68 different locations, broadly divided into seven schedules — Varanasi, Taki, Bolpur, Gorubathan/Chalsa, Calcutta outdoors and indoors and studio sets. This film was planned and shot in black-and-white, so the production designing team comprising the cinematographer, art director, visual effects designer and I had to back calculate the colour, rather grey scales of each and every locations and props from the recce stage itself. It was a three-stage process for each and every location. Scouting and recce, technical recce and shooting.
Every aspect of the film, be it cinematography, art direction, costume design, VFX design, soundscape design and music required detailed research of that bygone era and me and my team made sure we put in months and months of dedicated in-depth research time during pre-production, before going for actual shooting and post-production. I love to work that way as that's how a period piece should be made to portray authenticity.
Shooting in Varanasi
In Avijatrik (presented by Bhandarkar Entertainment, produced by Gaurang Films, with NCKS Explorations as associate producer), the location Varanasi itself is an important and pivotal character in the film. My cinematographer Supratim Bhol and VFX designer Krishnendu Ghosh were very familiar with the locations of Varanasi because of their previous shooting and personal experiences. I was also moderately familiar, as I have shot one documentary there previously. During the scripting stage I had a fairly good idea about the look and feel of the locations I would like to portray in the scenes. During the scouting and recce stage we zeroed in on such locations with the help of our local coordinator. But the challenge lied elsewhere. The ghats, river banks, narrow alleys, all are now modern.
With electric poles and lines, modern building and structures, renovations, condition of the road, everything has changed. When we were shooting we had to cordon off large parts of the adjoining areas so that onlookers and bystanders with modern clothes could not enter the zone and the frames. During post-production, all modern elements were painstakingly deleted from every frame and periodic structures and prop elements were incorporated through visual effects. I had done all the research work and procured the visual references for the team, which took me seven/eight months during the pre-production stage. The varying degree of water level of Ganges was a concern. During our recce and tech recce stages, the water level was normal, so we planned our shots on the ghats accordingly.
But during the shooting we found out the water levels were extremely high because of the sudden outpour in the upper Himalayan region. So I had to adjust my framing and compositions on the spot, without hampering the essence and aesthetics, and convey that to my cinematographer. Apart from many other exotic vintage locations in Varanasi, we also shot on those very places where Aparajito and Joy Baba Felunath were shot as was Chokher Bali.
Recreating Nishchindipur
I had decided to recreate Nishchindipur by merging two different locations — Taki and Bolpur — as I could not get all my requirements in one place. Apart from recreating a part of Apu's ancestral village, we have used Taki to recreate the excavation site of Sarnath also. It was logistically much easier to build such a huge set somewhere nearer to Calcutta rather than the actual location in Uttar Pradesh. We found a brickyard beside the river during our tech recce, which is geographically and flora-wise similar to the actual Sarnath excavation site, and my art director Gautam Basu built an awe- inspiring set there with the help of real stills, footages and expert advice from Indian Museum. Bolpur was mainly used for the Nishchindipur outdoors for its scenic beauty, authentic '40s era village in Bengal. Taki was used for old houses and structures that we see in the Nishchindipur episode. We shot in actor Biswanath Basu's ancestral zamindar thakurbari; incidentally, he himself was one of the main protagonists of those scenes along with singer Ujjaini Mukherjee, who is making a special appearance in the film as Kirtania. She sang for herself.
The wanderlust in North Bengal
To recreate Khasi Hills, I decided to shoot in Gorubathan, Chalsa belt in North Bengal because of the same topography and vegetation in more logistic-friendly location. Shooting in Gorubathan was physically challenging. They had to carry all the equipment and trek to reach the locations. We even had a horse in the scenes who was carried to the locations in a special truck.
During the shooting of one of the scenes on the river bank, we encountered a flash flood. We had to take little Ayushman, who plays Kajol, to safety immediately. We then resumed the shoot when the water level was not alarming enough and back to the continuity of the master shot. Shooting in the jungles were challenging to the team because of the leeches... and local coordinators were constantly on the vigil to watch out for any wild animals, specifically elephants, leopards, bisons, bears and snakes. Those jungles are full of king cobras and pythons. I chose different locations in the jungles and valleys with distinctly different vegetation, so that it portrays a prolonged journey.
Since I am extremely familiar with those terrains because of my earlier documentaries and films, I was almost leading the scouting team rather than the local coordinators. The main problem with these locations are the ever-changing water levels of hilly streams and vegetation growths. So we made sure our local coordinator send us updated location pictures at least once in a fortnight, during recce to shooting gap.
Among many scenes which we shot there, one was a Tagore song sequence Akashbhora surjotara on Apu's lips. In the novel we find Apu is a very good exponent of Tagore songs. This sequence and song is my personal tribute to another master film-maker, Ritwik Ghatak, and a legendary singer, Debabrata Biswas, where they collaborated for this very song for the film Komal Gandhar. Shaheb Chattopadhyay has sang beautifully as Apu's voice for Avijatrik.
The Calcutta Schedules
We had three schedules in Calcutta. These schedules were more or less smooth other than the occasional thunderstorms, which made the production and camera and lighting team panic at times. The most difficult part was to shoot a showdown scene between the British Police and Indian freedom fighters, which comprises many junior artistes, vintage vehicles, police dogs, live vintage ammunition, and to shoot that in the streets of modern-day Bagbazar.
As usual during post-production all the modern elements were eliminated painstakingly from each frame.
Overall this was a journey of a lifetime for me. And I have cherished every bit of it.
The author is the director of the film Avijatrik