Sapna Moti Bhavnani goes back to her roots with her directorial debut Sindhustan
'I've almost become the face for Sindhis worldwide. It's so bizarre!'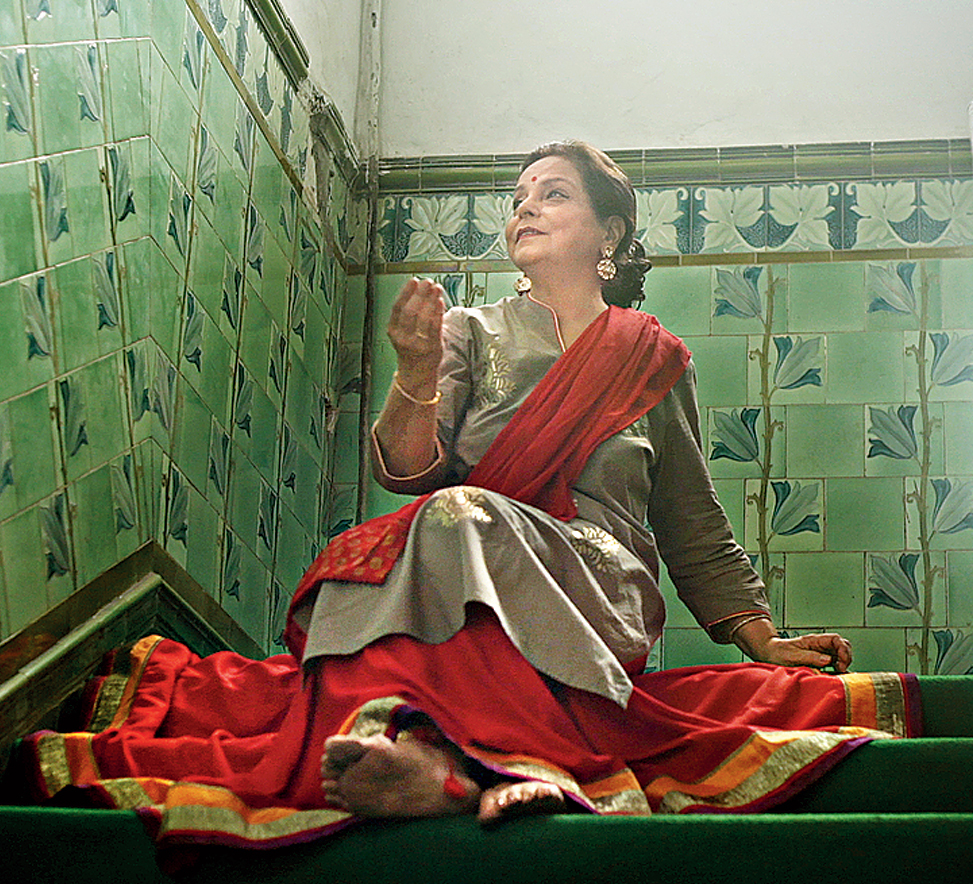 ---
---
Hairstylist Sapna Moti Bhavnani — whose celebrity client list includes the likes of Mahendra Singh Dhoni, Virat Kohli and John Abraham — makes her directorial debut with Sindhustan, an intriguing film in which Sapna traces her roots back to Sindh in Pakistan using tattoos as a narrative tool. Sindhustan was screened at the recently concluded Jio MAMI Mumbai Film Festival with STAR 2019, where we caught up with Sapna (you may remember her as a contestant in Season 6 of Bigg Boss).
Sindhustan has been shown to an international audience. What was it like screening the film at MAMI?
I said at the opening of my film (at MAMI) that you can go around the world and enter in all the prestigious festivals, but the truth only lies at home. When you come home, yahan sab maloom padhta hain ki tumne kya banaya hain.
What's the best thing anyone has told you about the film?
There is no one best thing. But the point now is that I've almost become the face for Sindhis worldwide. It's so bizarre! There are so many producers and actors in Bollywood, but no one ever really even thought to make something like this and then here I am… the most unexpected individual to make a film on Sindh. So, in a way, I have come to be the bearer of stories. And people are appreciating this and not wondering what this is all about.
What was the genesis of the film and how does it define you and your roots?
I don't really believe in limiting anything to definitions. You know, at one level, you go looking for roots, but on the other level, you're like, 'I don't want to be like that one tree that's planted in one place'. So, I've just cut off my roots so that I can just flow like water. But I also feel like an oxymoron in myself. The whole film is an oxymoron too. It's like I'm trying to find my roots, but the point is that I've also been denied access to find my roots. I can't go to Sindh (in Pakistan)… I can't go to see where my father grew up and that is extremely sad and disheartening. It's my birthright to find this out but then in the end, I'm just settling for this understanding that maybe where I am right now is only home. But, if you ask me, I still want to go to the other side, see and feel my roots.
Was the idea always to tell the story through tattoos or did you arrive at it after experimenting with other narrative forms?
When I decided I wanted to make this film, I already knew that I didn't want to give anyone a history lesson because that's available for everyone on Google. But then, I didn't know how to go about making the film. I remembered a conversation I once had with my grandmother about narrating a story with the help of tattoos. It was a eureka moment and ideating took about two years. Tattoos are such a huge part of me that this movie just became a part of me.
What is the industry? A handful of five people. I'm still in the industry, I have a voice now. I'm not depending on the five people to fund my films. I don't need to be validated by the clan because I'm not part of the clan and if I'm part of the clan, then shame on me. Then I'm sold out
- Sapna Moti Bhavnani
What were the biggest challenges of making this film?
Everything! (Laughs) Every single thing has been a challenge. If you ask me one good thing, I can only tell you that I can make anything now. My tattoo process was the most important of them all. I knew that. So, I went to a production house here in Mumbai and asked them to produce it for me because I knew I was going to be under a lot of stress. It was despairing, as this production house charged a lot of money but didn't deliver. Amid the madness of getting inked, I was worried about production, food, camera angles… and it completely killed the process for me.
The minute that the inking was over, they left me in Goa in a house by myself without anyone, without food and they packed up, left for Mumbai. For a month-and-a-half, I couldn't even walk. I was in this house in Goa, I couldn't walk and there was no network in the house, so I didn't eat food for three days till someone came to check on me! This is the kind of thing that I've learned in the process.
However, I'm glad that I made it to the other side, and I think that just producing and directing it by myself, doing everything from art to my hair, has been the most incredible journey. I wouldn't trade it for the world.
Has this experience spurred you on to tell more stories, which may not necessarily be about you or your roots?
Of course, I would. Just in a week from now I shoot my short film. It's fiction and I just found a producer and so, I'm on my way.
A lot has been said about how arts should be risky and should transcend everything. Don't you think that's becoming increasingly difficult in this country?
Risky is very relative. I mean what's risky to me might not be risky to you. What I feel is that art should not conform to anything because then you're not really making art. Art is also such a hoity-toity word that it can be intimidating. So, whatever the climate may be, I believe that if you really have a statement to make, no one can stop you, really. I will do what I want to do, whatever the consequences may be. But, even in my film, there's no perspective that comes from angst or anger. It's, in fact, a very gentle narrative. I feel the problem today is that we're just really angry, as social media is throwing so much negativity our way. I even started my journey of this film with a lot of anger. But then I started talking to these people who have lost everything and found out that they are not angry… my angst had no bearing because I haven't lost anything. So, what is my anger for? Letting go of that anger really liberated me. That cleared my head, not only with regard to the film, but also with life.
You are known for your outspokenness. Has that been responsible in any way for alienating you in an industry where frankness and honesty is hardly appreciated?
I don't think anyone is alienating me. Do you think you can alienate me if I have a voice? I've never depended on the industry. What is the industry? A handful of five people. If I'm bothered about what they think of me, I won't be able to work or live. But now with Sindhustan, I'm still in the industry, I have a voice now. I'm not depending on the five people to fund my films. I don't need to be validated by the clan because I'm not part of the clan and if I'm part of the clan, then shame on me. Then I'm sold out.