Rituparna Sengupta on Maayakumari: 'She resorted to exile; I will never do that'
Directed by Arindam Sil, Maayakumari is a tribute to 100 years of Bengali cinema and stars Abir Chatterjee as Kanan Kumar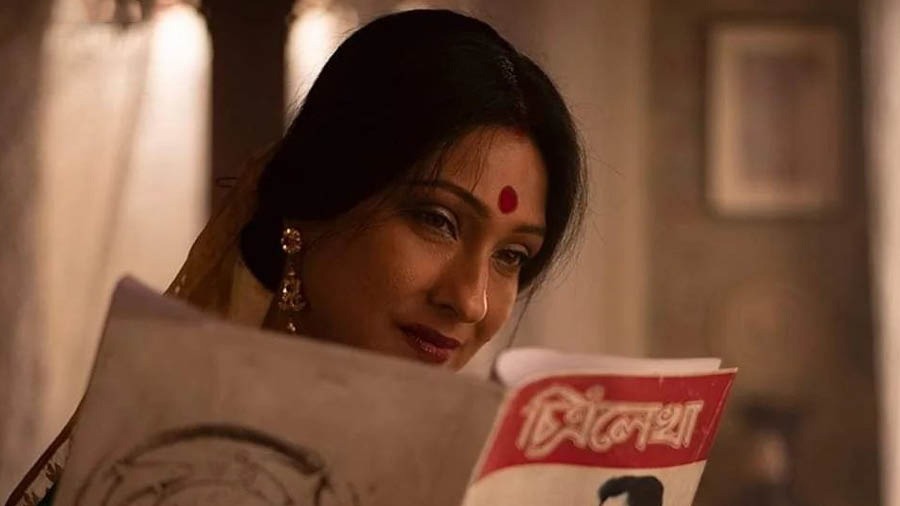 ---
Calcutta
|
Published 14.01.23, 04:29 PM
|
---
She plays a cine star from the 1940s who left the world of glamour and glitz one fine day. And though there are a lot of similarities in the challenges that came their way, Rituparna Sengupta couldn't be more different than Maayakumari. Rituparna shares with us what about Maayakumari resonates with her and her three-decade-long journey in Tollywood. 
Arindam Sil's Maayakumari, where you play the title role, is a musical tribute to 100 years of Bengali cinema. Tell us about it…
Rituparna: It is about an actress from the 1940s. Cinema produced at that time was different. The environment for the actors was also completely different from today's time. In the film, Maayakumari and Kanan Kumar are a hot couple from the 1940s. They are a sensational onscreen pair. Things start to happen between them off-screen. Later, she gets married. At some point, she disappears from the industry and from the public eye, without leaving a trace. There are a lot of stories swirling around her.
Maayakumari is an enigmatic character. In the film, we try to find out what had happened to her. Much later, when people wanted to watch Maayakumari on screen again, and her life was dug up is when her whole story is revealed. In this format, we trace the hundred years of cinema. This is a tribute to Bangla cinema. It is a musical. Songs played a very important part in films in the 1940s.  A song used to determine how successful the film was going to be. 
The film revolves around an actress's life. What was your first reaction when you heard the story?
Rituparna: I always wait for the right script to reach me. Arindam and I are long-time friends but this is the first time we worked together. When Arindam came to me with Maayakumari, I was totally overwhelmed. You actually feel very passionate when you're playing an actor, especially when she's from a different era. Her demeanour, body language and acting style are completely different. I had to portray a completely different me in the film. 
I feel very attached to the subject because I'm an actress too. I feel very deeply about what has happened in her life. When an actor is active and performing, it is fine. Once you leave, you will be remembered but there will be a lot of speculation about you. If you are not present in the arena, people can say anything about you. This is something which everyone will agree with. Even back then, the situation was the same.  
What was the biggest challenge in becoming Mayakumari? Did you have to prepare for the role?
Rituparna: The role had a lot of challenges. From the body language and accent and look to the prosthetics make-up. I had to change my intonation, dialogue delivery, attire and behaviour patterns. I enjoyed the whole process but at the same time you have to be conscious about exactly what is expected of you. I didn't want to look artificial with anything, be it my prosthetics or natural look. 
I did not have much preparation because my director doesn't believe in workshops. He explained the whole concept and the kind of portrayal he wanted. I just went by his narration. I always follow what my director says. 
I feel the director sees his characters much better than we do. 
What was it like to work with Arindam Sil?
Rituparna: Arindam and I have worked in many, many films as co-actors. He is a completely cool-headed guy. When he came with the first script, it was like a book called Maayakumari. It was designed by him. I will keep it with me. It delighted me to see that a director is so dedicated to his work. Arindam has written and directed so many thrillers and suspense stories. This is a completely different story and he has done a fabulous job. 
In what ways did the character of Maayakumari resonate with you? Were her struggles or dilemmas relatable?
Rituparna: I felt a very strong connection with her. What resonated with me the most is that she was very emotional about everything. She was very dedicated as an actor and her emotions ran deep. I also have that tendency of keeping everything inside me. A lot of people ask me why I am so emotional. 
The struggles and dilemmas are pretty much the same even now, just that the forms have changed. You have to work things out within yourself to keep yourself calm. It was the same back then too. I think the challenges are high and for a female actor, the challenges are even greater —  you have to keep working towards your accomplishments. You have to recondition your body and put on a smile and make yourself understand that nothing can stop you. 
In what ways are you different from Maayakumari? Would you have taken different decisions if you were in her place? 
Rituparna: Well, there are a lot of differences. She actually got threatened and ran away. She resorted to exile. I will never do that. I know I have to fight the battle. I don't want to be somebody who doesn't fight and just goes away. I would rather be a martyr. The challenges will be there and I will have to overcome them. I feel life is like a chapter. One chapter is closed and then you open a new chapter. The new chapter will always be very intriguing and will bring you new things. 
I also don't disagree with Maayakumari because that time was different. Maybe she didn't have that courage and strength. If she was an actress today, she would have decided differently. And if I were in the 1940s, I don't know what I would have done. If the pressure had been too high, maybe I would have taken a similar decision too. That time the environment was different and not very congenial. Being an actor was a big issue. Now being an actress is very normal. 
After so many years, what has changed about how a woman actor is perceived and the challenges she faces?    
Rituparna: I think female actors have proved their point very clearly — 'don't mess with us; we are on a par or maybe better'. 
I was very clear to myself that whatever I wanted, I would achieve it. I have my skill sets and determination and I have created my own path. This is my territory and my domain. You can't question my integrity, and so nothing can bring me down — neither marriage, relationships, family nor my decisions. 
Even now films are written keeping me in mind. I'm sure it is the same for other actresses too. I have never compromised on my work. I have never cheated my audience. I feel they have made me what I am today and that's why there was never a question of going back. It is always about moving forward. If my audience feels that I must add more substance to my work, I will definitely struggle and do my bit. I will never shy away. 
Looking back at your 31-year acting career, can you share a few milestones that give you a deep sense of satisfaction and conviction? 
Rituparna: This whole journey has been deeply satisfying for me. I don't know if it would have been possible without my determination and passion to achieve it. I am grateful to everyone who has made this journey possible for me. I am very grateful to the universe. 
There will be a few disappointments. But that has not made me feel any less about what I have achieved. I have that quest and hunger for more exploration, to do something that I haven't yet done. This exploration part is very important to me. 
What are some of the challenges you have experienced working in the industry as an actor early on in your career, or when you started a family?
Rituparna: When I did my first film, although it was a superhit, a lot of people said that my voice was shrill, I had light eyes, I was too westernised and I didn't look like a Bengali. I face a lot of comments like this even today. Whenever I do something, people are like, how can she do this? Why am I wearing this kind of a dress? There are too many unnecessary controversies around me. I don't care about all these things. Whatever I have done, I did it sincerely. 
I have always looked after my family and my parents. My husband is from a completely different profession. It was a long-distance marriage. There have been difficulties. I had to travel from Singapore to Kolkata to Mumbai. I was giving time to my kids, maintaining a balance, and then coming back to work. It is very hectic. You know if you want to do something from your heart, the universe makes the way for you. I feel very strongly about my family and kids and friends I'm attached to. I am also passionate about my career. I will never give up on this. I will have to strike a balance. I am a balancing queen!
Which films have challenged the actor in you? Which performance would you rate your personal favourite?
Rituparna: First of all, Rajkahini. It was very challenging because my character had no reference point. Rituparno Ghosh's Dahan is another film. I was doing mostly commercial films and with Dahan, I was thrown into a completely dark zone. I had no idea about marriage back then. And it was Rituparno Ghosh! On top of that, I was acting with senior actors. I was like I have to do well. I still remember there was this picture taken during the look test where Rituda asked me to just express the pain through my eyes. That picture became the poster. Paromitar Ek Din, Alikh Sukh, Muktodhara, Praktan, Mahisashur Mardini, Parcel, Drishtikon are other films that challenged me a lot. Raja Sen's Atmiyosajan and Buddhadeb Dasgupta's Mando Meyer Upakhyan were also challenging.    
My personal favourite will be Tarun Majumdar's Alo. People connect with the film a lot. A lot of people ask me if there can be another film like Alo. 
You also have a production company Bhavna Aaj O Kal. What new projects are you doing? 
Rituparna: I've started a website where I am collaborating with people from therapy, art and music on one platform. It enables a person to enhance, express and discover themselves.