In her digital foray, Guneet Monga has produced Zindagi in Short, an anthology of seven short films for Flipkart Video. The slice-of-life shorts by Gautam Govind Sharma, Tahira Kashyap Khurrana, Punarvasu Naik, Vinay Chhawal, Vijayeta Kumar, Samrutika Panigrahi and Rakesh Sain star popular faces like Neena Gupta, Divya Dutta, Sanjay Kapoor and Deepak Dobriyal. Guneet, who has been associated with films like Masaan, The Lunchbox and the Oscar-winning documentary Period: End of a Sentence, spoke to The Telegraph about working with first-time filmmakers and the importance of inclusivity.
What is it about the short film format that speaks to you?
I love it. You get to tell a story quickly, it's easy to consume. I feel very happy about 15-minute
storytelling... I feel that's also a sweet spot for me. Even the seven- minute British Airways commercial that won at Cannes... I just feel like I've always been at a place where I've loved this format, I don't know how else to describe it. I love that there are mobile phones to consume it and there are 4k mobiles to shoot it, so why not? I remember being new in Bombay, and I had always been a huge Yash Chopra fan... I attended a lecture by him where he said people in the future would watch films on their mobile phones. And I wanted to be the person that made films for mobile phones. That has stayed with me and I always wanted to be up-to-date. Two of these films are shot on iPhones, which makes sense because these will also be consumed on phones.
For Flipkart Video's Zindagi in Short, why did you decide to work with first-time filmmakers?
What is really exciting about this relationship is that Flipkart empowered me to make this with new directors and new voices. They didn't insist on going to the biggest or the same five people that every OTT (platform) coming into town goes to. How would this industry ever expand? Taking this opportunity to the biggest filmmakers wasn't exciting for me. For me, it was really exciting to work with newer directors and make this an incubator of sorts, which really went down well with Flipkart. They're from Bangalore, they have a fresh lens into content and they love the concept of incubation and giving newer people a chance. I love working with new directors because they're fearless, hungry and driven... it's so pure.
Is there a thread to these stories?
A couple of things. First, with every piece of content I do, there will surely be a lens of how women are represented. I don't want to state it, but it will always be subliminal. This one, in particular, is a journey from childhood to old age, and that's why it's Zindagi in Short. Hopefully, the audience will feel a range of emotions in 10-15 minutes.
Three of your seven directors were women. Was inclusivity important for you?
It was a priority and we need to do this. One of the films, Sunny Side Upar, has an all-women crew. So, it is very important and we don't realise and we don't amplify it enough because we think everything's fine, but we need to talk about equality. There was a conscious effort of following up and calling more women directors and saying, 'We have this opportunity, do you have a story?'
Last year, Period: End of Sentence that you worked on won an Oscar. Has that made any tangible difference to your professional life?
It's definitely opened doors, people now know what I do. It's shortened the process of me giving my introductions for sure and people understand I don't fit into a box or any prototype. I don't come from money, I raise money and I love what I like. People keep telling me something is my kind of cinema but I keep surprising myself. I just made a huge film with Suriya in Tamil. It's the story of a farmer who makes India's first low-cost airlines. The stories that you like, you should tell. And those that need budgets need it. It's the same thing as long as you're sincere to the story that you're telling. I feel very spiritual about the way that stories find us. I feel we give ourselves too much importance, that we made it. It's actually the other way round... the stories make us do it. There's a reason we're being chosen to tell these stories and we should do justice to it and take it to the best platform, push it a bit more, have a premiere, do a press conference. Short films just go live in a second without anyone knowing anything about them, that's wrong. Let's push it, let's do something more.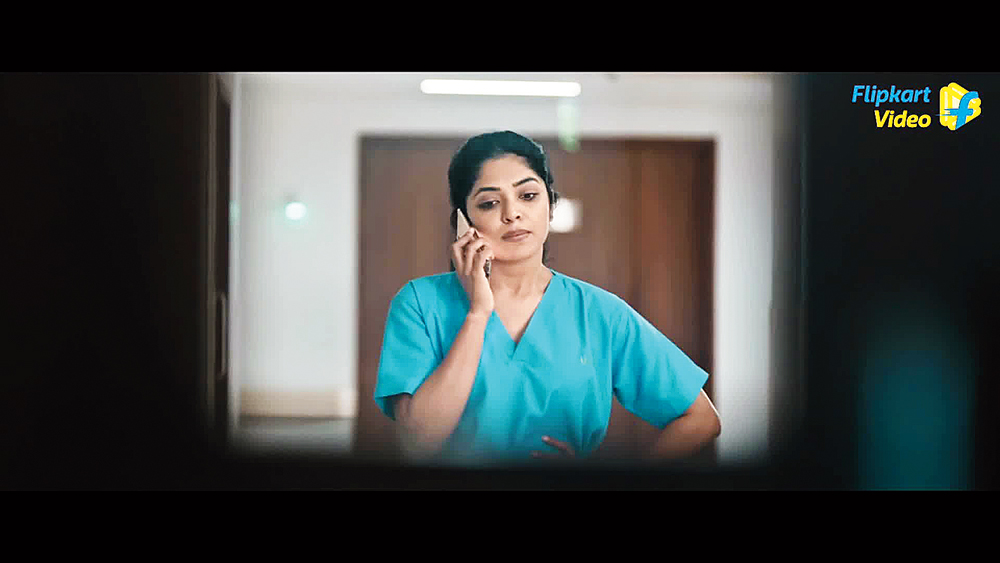 Rima Kallingal in Sunny Side Upar, streaming on Flipkart Video Sourced by the Telegraph
Here Come the Women!
Vijayeta Kumar's short Sunny Side Upar stars the very talented Malayalam actor Rima Kallingal and television heartthrob Nakuul Mehta. The story revolves around oncologist Kavya who is completely consumed with the long and unending hours she spends in the hospital. "The film talks about how all of us take life for granted and get so caught up with reaching a goal that we have in mind. You could be getting late for a meeting and if your mother's calling, you're too busy to answer. These little things accumulate and five or 10 years later, you might achieve your goal but at what cost," explains the filmmaker.
Not only is Sunny Side Upar deftly directed, what makes it special is that Vijayeta, who in the past has directed ads and short films like Blouse, worked with an almost all-female crew. "My A-crew was all women, except for the editor Soham (Hazra) and Ranjan (Singh) who was one of the producers," says Vijayeta.
It all started when she asked fellow filmmakers for recommendations for Director of Photography (DoP) and everyone sent her long lists with eight-10 names, but only of men. "That's when I realised that women don't even figure in these lists, forget about being hired or not hired. These were detailed lists with order of preference, availability or budgets, but no women. That's what got me thinking, 'Why not?' And that's when I decided that my A-crew should be all women," adds Vijayeta.
On a film set, it's common to find women as stylists, make-up artists and now writers and directors, but there are so jobs that are just considered as 'men only'. "A lot of people told me I wouldn't find a female sound recordist, for example. And there are actually just five-six of them, but we found one. All that was needed was for someone to make the effort to find women for these jobs. It wasn't a difficult thing because women are out there doing technical jobs in films and they should just be hired more and more. When you watch the credits on most film trailers, the only women's names that you see are usually writers or actresses. It's even rare to see women writers. That representation is really sad," she says.