My Horrible Boss to The Wolf Princess: Hindi-dubbed Korean and Chinese shows streaming on MX Player in February
From Korean romantic dramas to Chinese sports dramas, a host of popular shows will arrive on MX Player this month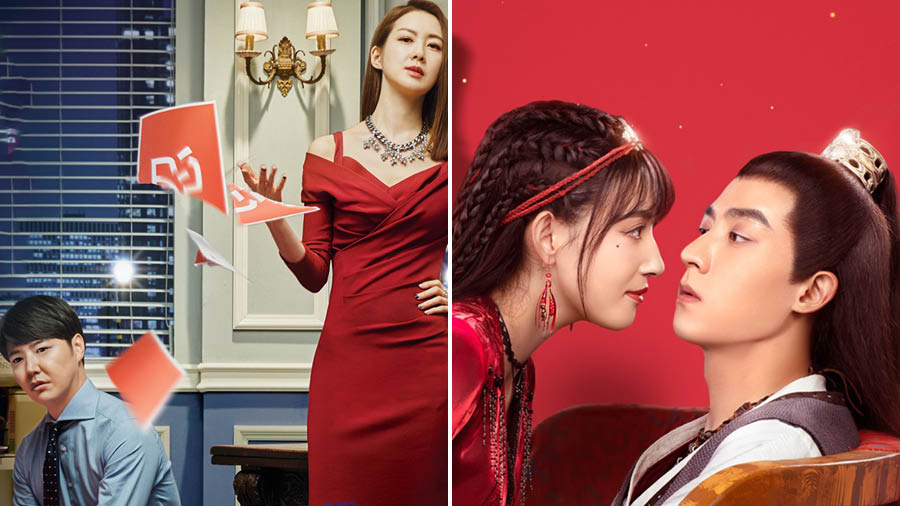 Posters of My Horrible Boss and The Wolf Princess.
---
Calcutta
|
Published 01.02.23, 02:59 PM
|
---
MX Player on Wednesday released a list of Hindi-dubbed Chinese and Korean shows that will be available to stream on the platform in February. These shows, to stream under the streamer's MX VDesi category, will cover genres like romance, drama, fantasy and thriller. Here's a look at the Hindi-dubbed shows you can watch this month on the streaming platform.
My Horrible Boss
Popular Korean drama (K-Drama) My Horrible Boss highlights a relationship between two opposites —Nam Jung Gi (played by Yoon Sang Hyun), a marketing manager at a cosmetics company and Ok Da Jung (played by Lee Yo Won), a young short-tempered team leader in the firm. While Nam Jung Gi is dubbed as the 'Father Theresa' and the 'Walking UNICEF,' Da Jung is so ill-mannered that her co-workers have nicknamed her 'Fire Da Jung'. These two cannot stand each other and often get involved in unpleasant conversations. However, tables turn as they get to know each other better.
All episodes of My Horrible Boss will be streaming in Hindi from February 1. 
Love is Sweet
Love is Sweet is a Chinese Drama (C-Drama) series, loosely adapted from Qizi's novel of the same name. The 36-episode romcom follows the lives of two childhood friends, Jiang Jun and Ma Yuanshuai, who meet each other after years at a workplace, but this time as rivals. Jiang Jun, an independent woman with a double degree in economics and psychology, leaves her dream job at an NGO and joins a top investment company to fulfil her dying father's last wish. Here, she meets Ma Yuanshuai only to realise that he's now a fierce competitor. 
Love is Sweet will stream in Hindi from February 4 with new episodes dropping every week. 
Chasing Ball
Chinese sports drama Chasing Ball revolves around Yan Xiaoxi, the daughter of a professional table tennis player. Yan Xiaoxi juggles multiple jobs and table tennis competitions to eke out a living. In the middle of her busy life, she grabs the attention of Qi Jing Hao, the leader of Tengyuan Ping Pong club, who invites her to join Tengyuan College's table tennis team. The young group soon forms a bond, and together they work towards their goal of winning the National Academy Cup championship. 
Chasing Ball will be streaming in Hindi starting February 8 with new episodes releasing every week. 
Mirror: A Tale of Twin Cities
Romantic fantasy C-Drama series Mirror: A Tale of Twin Cities is directed by Patrick Yau. It revolves around Su Mo (played by Li Yifeng), a prince of Sea Gods, and Bai Ying (played by Chen Yuqi), a princess and descendant of a mighty sword deity. The Yifeng and Ying meet and are immediately attracted to one another. But with their brewing romance, they cross enemy lines and flare up animosity between the two warring factions, leading to unexpected consequences. 
Mirror: A Tale of Twin Cities streams in Hindi on February 11 with new episodes dropping every week. 
ID: Gangnam Beauty
Based on a popular Korean webtoon, ID: Gangnam Beauty is a romantic comedy with a strong message of self-love. The narrative follows the life of a young girl Kang Mi-rae (played by I'm Soo-Hyang) who decides to go under the knife after being bullied for her looks. While, at first, her cosmetic surgery seems successful, things go for a toss when she is ridiculed by her peers at the university. Dubbed as 'Gangnam plastic surgery monster,' Mi-rae struggles to build her self-esteem and draw the attention of her classmate Do Kyung-Seok (played by Cha Eun-woo). 
ID: Gangnam Beauty will drop on February 15. 
The Wolf Princess 
A historical Chinese drama, The Wolf Princess is adapted from Sky Wing Media's famous novel Exquisite Wolf Heart. The story circles around the life of princess Ling Long (played by Connie Kang), who gets bitten by a wolf while searching for her missing father. She lives as a woman with two lives as she switches between a gentle human being and a savage wolf. She encounters an arrogant young aristocrat Yan Qing (played by Gu Jia Cheng), who mistakes her for a thief, leading to interesting twists in the story. 
The Wolf Princess arrives on the streaming platform on  February 18. 
My Dear Brothers
My Dear Brothers is a fantasy romance C-drama adapted from You Qian's novel Jia Xiong You Zai Zuo Si. The story revolves around a young girl Shi Xia (played by Wu Qianying) and her loving brother Shi Dong (played by Dai Yunfan). After their parents' demise, the siblings get dependent on each other. But things take a drastic turn when Shi Dong mysteriously disappears without leaving a trace, and Shi Xia goes on a hunt to search for him. In her search, Shi Xia gets teleported to a strange world, where she meets the immortal Hou Chi, who adopts her as his little sister. However, Shi Dong —who is now the leader of a demon sector— reappears and fights to protect his sister. 
My Dear Brothers starts streaming in Hindi on February 25 with new episodes dropping every week.