Mukul Chadda on playing the obnoxious yet lovable Jagdeep in The Office
'You just have to make all your roles believable'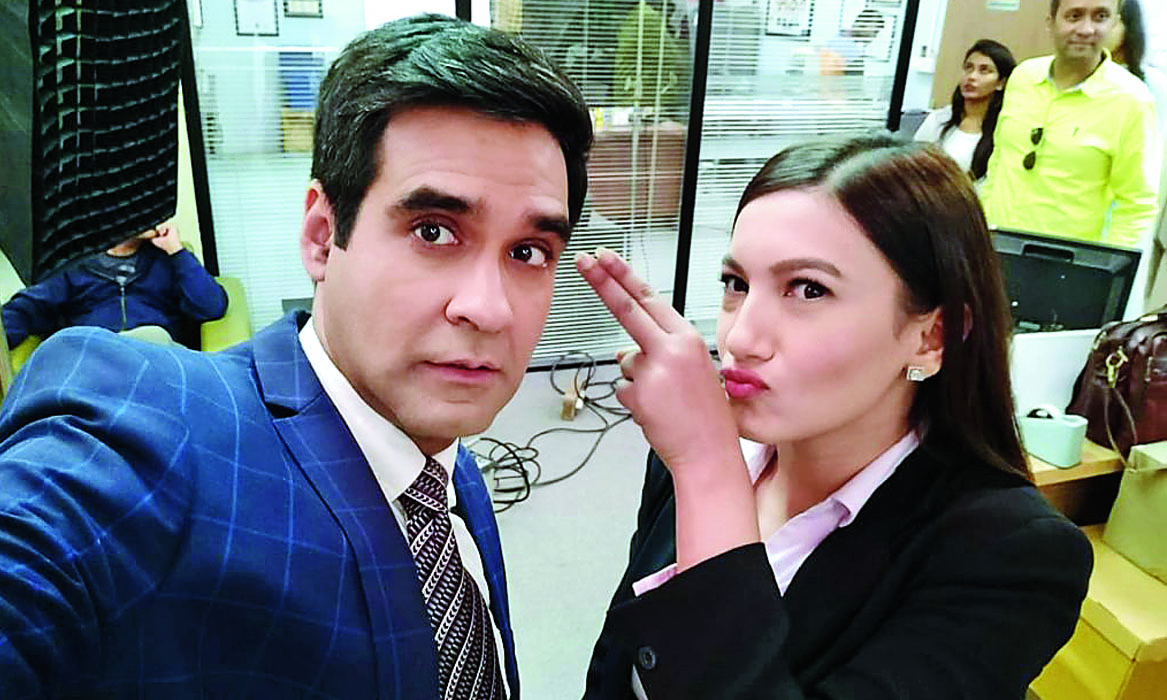 Mukul Chadda with Gauahar Khan on the sets of The Office, now streaming on Hotstar
(Still from the show)
---
Published 11.07.19, 02:33 PM
|
---
An IIM (A) graduate, who worked at Lehman Brothers in New York, Mukul Chadda gave up on corporate life when he moved back to India in 2004. Since then, the actor has been a regular part of Mumbai's improvised comedy scene and has done small roles in films like Ek Main Aur Ekk Tu, I, Me Aur Main and Gurgaon. The Indian adaption of the cult comedy show The Office on Hotstar could be Chadda's breakout show. The actor plays Jagdeep Chadda, the overbearing branch manager of a small paper company in Haryana's Faridabad. This role was played by comedy heavyweights Ricky Gervais and Steve Carell in the British and American versions of The Office respectively. t2 spoke with the actor about playing an obnoxious but lovable character and the international show that he'd like to adapt for India.
Were you a fan of The Office before this came your way?
I was not... I hadn't even seen the show. I'd heard of it, of course, and knew of the UK and US versions. I didn't know there were other versions as well. I only saw it when I was told to come for the auditions. 
And what did you think of the show?
I was looking at it from the perspective of trying to understand it because I was going for an audition. In fact, I started watching from Season 2 because there's an apparent change of tone from Season 1 to Season 2. The casting people were very clear and told me if I hadn't watched it, to start from the second season. I watched a bunch of episodes from that season and went in. It was more of figuring out the tone of the show because it was a very different kind of show in terms of how it's shot and the kind of comedy it is. I was looking for that, trying to understand the character and it certainly caught my attention. While watching it, I felt that if I got this part, I certainly wanted to do it.
Ricky Gervais and Steve Carell... you have big shoes to fill. Nervous?
(Laughs) No, actually not. Funnily, the greatest reminder is that these comparisons are even being made. I've never seen these kinds of reactions on Twitter ever since the trailer dropped a couple of weeks back. Prior to that, one didn't even think about it. It was just about doing the show and getting it done. Given I hadn't seen the show, I didn't realise how big a franchise it was or the kind of fandom it had.
Now, I keep getting reminders because people keep messaging me on Twitter and most of them haven't been very polite. They've ranged from the funny and clever ones, which you have to appreciate, to the ones that are randomly abusive for no reason. I guess I just have to get used to the fact that there will be comparisons. Ideally, you wish things weren't compared because it's hard to compare anyway. But if Steve Carell got compared to Ricky Gervais, who am I to say anything? At one level, if I'm being discussed in the same sentence as Steve Carell and Ricky Gervais, it's great... what do I have to lose?
This character is really obnoxious, says and does all the wrong things. And yet the audience loves him to bits. You feel sorry for him, and more than that, you're invested in what happens next with his life, which I'm guessing as a performer is a tightrope walk. What was your approach to Jagdeep Chadda?
I certainly felt that way when I watched the US version, which is the only one I watched at the time. You certainly felt the character was lovable and you cared about him. At the same time, he did all these things that you should not like and don't like at all.
What also struck me about Steve Carell's performance was that he was very believable in what he did and that impressed me. That's true for all roles you do; you just have to make it believable. It's a little harder in this case because you're doing such zany and crazy things. So, my focus was to try and keep it believable for myself... that this character has to believe that what he's doing makes sense to him. I didn't try and focus on being lovable. For me, there were the lines, there was the plot, everything was given to me. My job was to create a character and do it in a way that this felt real and made sense for the character to do. I hope I managed to do that and the audiences find that I've done that. Then I think that that's the bulk of the job done.
The Office in the US played years ago. I don't know how Michael Scott would have survived in the post #MeToo, politically-correct era that we live in. Was that a conversation on the sets, in terms of navigating the weird stuff he says while staying true to who he is?
That's something that we did discuss, and things have changed. Even if they haven't changed, I didn't grow up watching The Office (US). This is the here and now and this is what we're doing. First of all, I have no problem playing a character whose politics and behaviour is very different from mine... it's a joy to sink your teeth into a character like that. I don't think there's a problem in seeing a show which has that, but the politics of the show has to be clear. You can't come across as saying that this behaviour is acceptable or good.
We certainly don't want people to look at what Jagdeep Chadda does and say, 'Hey I'm going to behave like that'. That is tricky because he's also a lovable character. Had he been an entirely despicable character, it would've been a different story. How lovable or likable he ends up being is something that is in the hands of the director. We discussed it, of course, in terms of where to draw the line. How much of your behaviour is considered to be unacceptable, hurtful or insensitive is a function of how other people react to you and how that's depicted in the show. You can still have somebody like that and you should have characters with different politics and attitudes and where they come from perhaps, as well as show that this is not something we're justifying or condoning in any way.
Do you have favourites apart from your own character?
Yeah. The other character I really like is P.P. Mishra, which is based on Dwight Schrute. It's a great character. If I wasn't playing this, I'd be dying to play that character. 
Applause Entertainment, the producers of The Office, have pretty much covered everything in terms of adapting international shows. Do you have a personal favourite that you'd like to see a desi version of?
There are so many shows. Breaking Bad, why not? It's so doable. There are others as well like Game of Thrones, but it's very hard. GoT is not rooted in any one country, it's a fantasy world. So, remaking it in a different country or language is possible. But Breaking Bad... I'd like to put it out into the universe that anyone remaking Breaking Bad, please, please consider me for that lead role. I'd give my right arm for it. 
You've been acting for a while. Do you see this as a breakthrough moment in your career?
I can't say right now, but I would hope so. By itself, it's been a wonderful experience to have had but yeah, I would hope that people like what I've done and I get a lot more work. I'm greedy for more and different work.