Madhuri Dixit and Sriram Nene produce Marathi film 15 August, now streaming on Netflix
Directed by Swapnaneel Jaykar, the light-hearted Marathi film follows the life of the residents of a chawl in Mumbai on Independence Day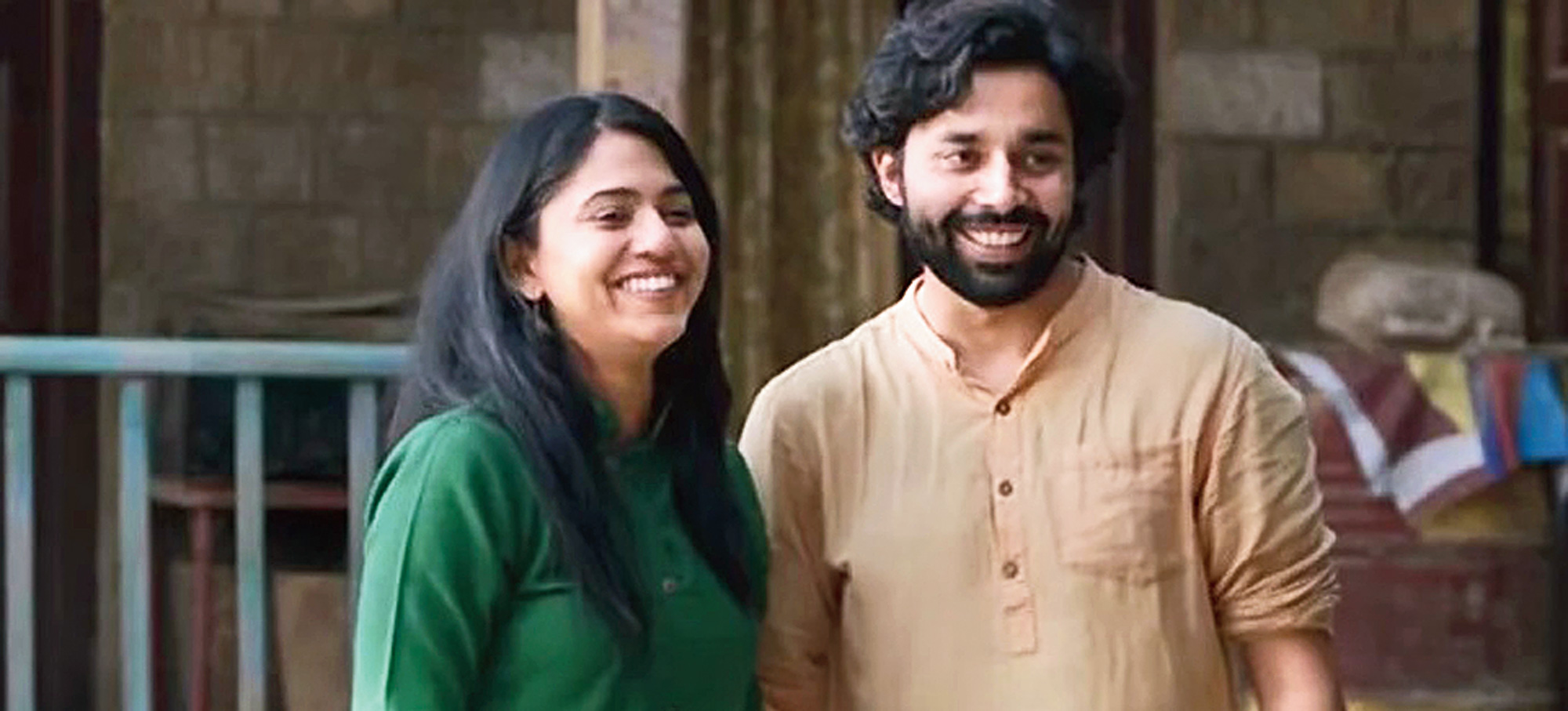 ---
---
In October 1999, Madhuri Dixit married cardiovascular surgeon Dr Sriram Nene. At the peak of her career, the actress decided to quit acting and move to Denver in the US. Almost 20 years later, Sriram is making his film debut as a producer of the Netflix Original film 15 August under the couple's banner RnM Moving Pictures. Directed by Swapnaneel Jaykar, the light-hearted Marathi film follows the residents of a chawl in Mumbai on Independence Day. The film's ensemble cast includes Rahul Pethe, Mrunmayee Deshpande and Adinath Kothare.
While 15 August, that's currently streaming on Netflix, is the first film Madhuri and Sriram have produced together, the couple joined forces on the work front a few years ago. At RnM, the duo have created online content that plays to their individual strengths. t2 recently sat down with Madhuri and Sriram in Mumbai to chat about 15 August, what it's like to work with a spouse and the things Nene has learnt about the world of movies.
What made you want to put your might behind 15 August?
Madhuri Dixit: A lot of things. First of all, it was the idea of people living as a community, together in unity. They might fight with each other and curse each other behind closed doors, but if there's something good happening or someone has any misfortune, they all come together and help each other. Secondly, we're talking about different kinds of freedom in this movie because it's 15th August and they're going to hoist the flag. There's the freedom we owe our children but we put them in a bind with school, homework and the pressure of what they should do with their lives. There's freedom of choice... to choose who to love, to choose when you can die, and the freedom to choose what you want to do with your life and what profession to take up. It's about all these freedoms, it's everything.
Sriram Nene: It's just hilarious. We must have looked at a hundred scripts but kept coming back to this one saying this one needs to be made because it talks about our culture. It's like home-cooked food for us, because we're both Maharashtrian and it's like coming back home. I would come from the US every summer to stay with my grandmother in Dadar, and a lot of my relatives did live in chawls. You might think that items and things make you well off but that's not it. It's people and the socialisation which you get. There are studies to suggest that people who live longest are the ones who have the best friends, and the ones who have the best neighbours and the best relationships.
On a broader plateau, it shows off India. For 4,000 years, we've lived in peace mostly and we've had tolerance. The bottomline is that's a lesson we can push to the world and show the beauty of Indian culture in that way. So, there were a lot of reasons but most of all, doing our first project, we wanted something that we understood and that resonated with us, and this one did.
Madhuri: When I heard the script, it wasn't just a comedy but was so layered and beautiful. Also, I'm from a Maharashtrian background and have so many relatives who've lived in chawls. I've lived with them, I've stayed and visited, so it's a subject that's very close to my heart because I felt like I knew every person there. I could identify with these characters and it was very relatable for me. The script was also very well written, so we decided to go for it.
Madhuri, at the time you started your career and for a large part of it, actors who did Hindi films didn't really look at regional cinema. That's changed in a big way!
Madhuri: Yeah, it felt relatable, in terms of the language and the culture. I felt like I knew these people.
Sriram: Regional cinema is taking off, and Marathi films in particular. It's a very compelling argument with the type of thinking and scriptwriting that you see in Marathi and Bengali films in particular. It's finally come to a point where audiences are appreciating that and on a platform like Netflix where we can take it to 190 countries. I'm a Netflix user and we appreciate how much we can sample. This versus 20 years ago when we didn't have access to films and shows in different languages and not everything was subtitled. The whole world has changed, even with people doing major projects on Netflix. Big actors who you would never see doing television are doing it all of a sudden. I think we're moving towards the future where access and how you access your content is changing. The beauty of this is when you're sitting in that bus in traffic, you can still appreciate content and language is not a barrier.
You've been working together for a while, but this is cinema, which is really Madhuri's domain. Was there anything that you understood about the business that surprised you?
Sriram: It's been an education that's been going on for the last eight years. Our company RnM is a platform-agnostic digital content producer. We've been producing content for Dance With Madhuri that's available on all the major DTH platforms, plus we have our own apps. So, we were well-versed in that.
I won't ever mistake that she's spent 35 years in front of the camera and knows every nuance. So, we each have our skill sets. I'm a trained problem solver, a good financial analyst and a really good team builder. She's an amazing creative person, I'm creative too and together we form a team which is unheard of... nobody's really done this before. But every day is a school day for all of us, and the beauty of this project, like all of the other ventures we've taken on, is that you get to learn new stuff. For me, it has been an education. It's changing, very dynamic and not just in this field but in everything in India and the world.
If you had to pick one thing you've learnt about this business, what would it be?
Madhuri: That no two days are alike! (Laughs) One day everything will go smoothly and the next, it'll be too cloudy and the unit would be in disarray because they couldn't shoot.
Sriram: Yeah. The one thing you learn is that it helps if you have a solid foundation in the liberal arts. I grew up in the US, I went to a four-year undergrad for med school and my parents would ask why one needs so long to become a doctor. And to that I said the liberal arts part of me makes me more human to some degree.
Fast forward, in 10 or 20 years, when AI (artificial intelligence) wipes out a lot of the potential professions, that ability to think and problem solve and to use all of your brain will be vital. That's what will differentiate us from machines. To this problem, every single day, there was something new and the thing that made it work was the foundational skills that I had learnt on building teams, on trusting people, on visualising. And also the pursuit of perfection. In heart surgery, millimetres and milliseconds make the difference between life and death, it's the same with this. It has to be perfect, otherwise don't do it. And it'll never be perfect, it's like counting to infinity but near perfect is the best you can hope for.
Would you recommend working with your spouse?
Madhuri: (Laughs) Yeah absolutely. It depends on what your equation with your spouse is, of course. Even when we were working, we had demarcated what we would do. I'm the creative person while he's the financial, tech and behind-the-scenes person. Even if we had differences of opinion, we usually left it in the office. And when you're home, you're home. And I've always done that in my life. When I was on set, the star was on set but when I come home, I'm just a mother or a daughter... I'd always behave that way.
Sriram: One of my mentors once told me that the key to staying married is choosing your battles (laughs). You don't want to be in the doghouse for a stupid thing. If you had a disagreement, it has to be about something substantial. But I would say that with us, there's a great deal of respect. I can't understate or overstate the amount of time she's spent in the industry. She could tell most directors and producers what they should be doing, but she doesn't. And that's respect. It's the same with us — there are some things she's good at, there are some things I'm good at, and we let each other do it. Unless we feel strongly about it, we don't get in each other's way.
Now that you've taken the first steps into film production, what are the kinds of stories that you want to tell?
Madhuri: Well, I basically want to tell stories that are entertaining and then give you a thought to take home. Those are the kinds of films we'd be looking at. It could be comedies, tragedies, anything but they have to entertain and ring true with the audience.
Sriram: I grew up in the US watching plot-based thrillers, and am not very conversant with musicals. But I think art is art, and art imitates life and life imitates art. At the end of it, what is it all about? It's about showing everyone what it means to live, how to enjoy yourself and in the spirit of that, the lessons you can glean from it without being preachy. Because I think you can entertain and educate very effectively, and at the same time, sometimes you need to just cut loose and you need to do timepass. At other times, you need an action thriller. So, I don't think there is any one genre that we want to focus on. What we'll be good at is innovating the process and finding the stories we want to tell and bringing them to whatever screen the viewer wants.