The London Indian Film Festival (LIFF) is back for its UK-wide 12th edition (June 17 to July 4). The largest festival of South Asian films outside India, LIFF has fast earned the reputation of showcasing the best selection of new work. This year the hybrid nature of the festival allows audiences to visit big screen theatres and also watch from the comfort of their homes. The post-screen conversations will also be accessible online.
As programme adviser to LIFF, every year it's an added pleasure to recommend films from Bengal. This year, it's Satyajit Ray's birth centenary and to mark that Bengal legacy, LIFF showcases three Bengal-related films by important voices in the industry.
Parambrata Chattopadhyay's Abhijaan is an ambitious and affecting biopic on the late Soumitra Chatterjee, the last intellectual icon of Bengal and a legend of Indian cinema. Soumitra tells his own story in his own words through extended conversations with Parambrata as a film-maker exploring the duality of an artiste who effortlessly worked in commercial cinema while his heart lay in meaningful theatre and cinema. The film boasts of a delightful recreation of signature scenes from Soumitra's filmography (many of them iconic Ray films) with a bundle of talent playing out yesteryear stars, including Prosenjit Chatterjee's Uttam Kumar, Paoli Dam's electrifying Suchitra Sen and director Q's Satyajit Ray!
In the post-screening Q&A that I recorded with him for LIFF, Parambrata said: "I would like to hold on to these memories of working with him (Soumitra Chatterjee) in what turned out to be his last film. I read the complete script to him at the outset but I wish he could have seen the complete film and agree that I did my best to portray him as honestly as I could." Parambrata, who now has one foot firmly in the Mumbai film industry and has also turned producer with Roadshow Films, feels hopeful about the future of Bengali cinema as audiences grow at home as well as amongst the large Bengali diaspora. Roadshow Films-produced documentary Swimming Through the Darkness, by Supriyo Sen, is in the festival too.
Diaspora film-maker Suman Ghosh's Searching for Happiness follows four-year-old Shahida chasing her red balloon called 'happiness' through the crowded streets of Calcutta. She meets other people who are all searching for happiness in their lives. The story idea came from the director's young daughter who is also glimpsed in the film. Ghosh, who combines an academic career at Florida Atlantic University with film-making and whose first Hindi film (Aadhaar) is now awaited, talked about diverse content in his career. "Looking back at the last 10 years, I have done star-based films like Nobel Chor, Basu Poribaar, Kadambari, but I have also worked with experimental narratives like Peace Haven and now Searching for Happiness." Suman Ghosh's experimentals have travelled to film festivals and are available on OTT platforms.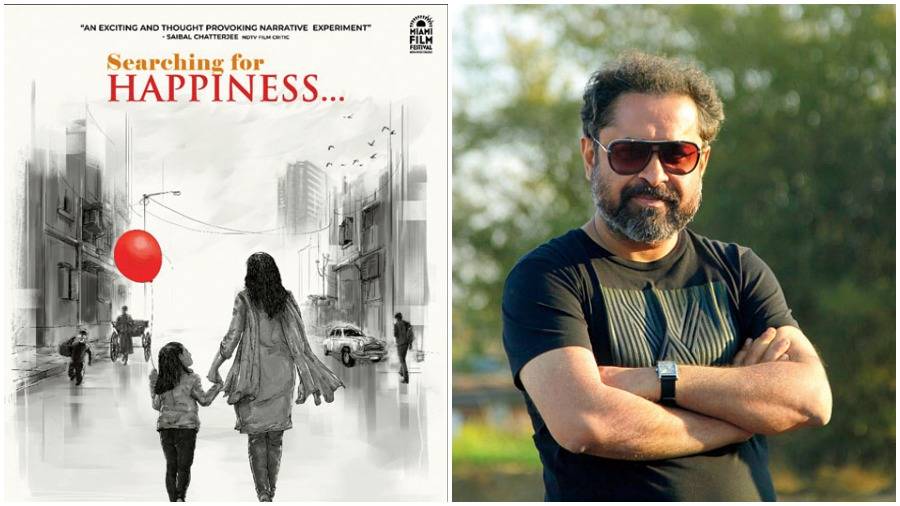 (L-R) The poster of Searching for Happiness directed by Suman Ghosh
Stage and film director Suman Mukhopadhyay's Nazarband is his first Hindi film. Based on a short story by Ashapurna Devi, Suman describes it as 'a love story between two marginal people in the underbelly of the big city'. He said: "I kind of explored this marginality of characters, this otherness in the context of the megacity."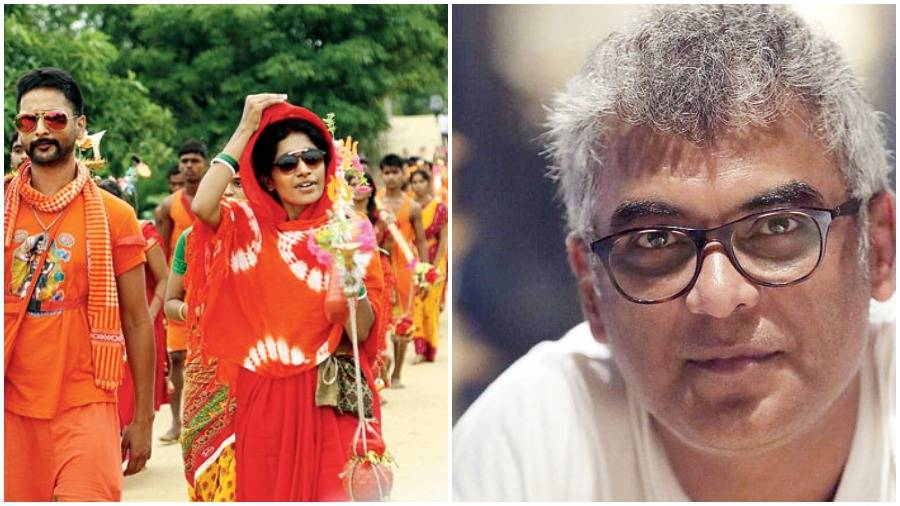 (L-R) A scene from Nazarband, directed by Suman Mukhopadhyay Sourced by the correspondent
For this, he brings his cast and crew to the familiar city of Calcutta. Indira Tiwari plays a woman out of jail who teams up with Tanmay Dhanania's ex-con Chandu, struggling through the city in search of her family. The film captures a migrant's journey back home to her village in Jharkhand and includes a cinematic journey through a religious procession as the two unlikely characters develop a reluctant bond. Suman talks about the limited budget and shooting Cinema Verité style. "My DoP Kate McDonough and I would wait for the moment to happen. I wanted my actors to be part of the city and we waited for the right moment. Most of the time I would just let them go, they would merge into the crowd and we would wait for the moment to emerge."
The three influential voices from the industry spoke on OTT platforms and Bengali cinema in the course of a pre-fest webinar hosted by Bengal Heritage Foundation partnered by LIFF and my cultural organisation Baithak. Commenting on Bengali content on prime OTT platforms' curation being steered by a sense of caution and the numbers game, Suman Mukhopadhyay felt that auteur films should be encouraged. With his producer's hat on, Parambrata observed, "I think the Bengalis living abroad have been cynical about watching films in the big theatres. So we still have to depend on the loyal audience in Bengal and Bangladesh. So the OTT platform is now indispensable for our audience. We need to cultivate a universal language of cinema if we wish to have more Bengali content on platforms like Netflix and Amazon Prime."
Co-produced by Spike Lee's production house comes the visually extravagant Nonajoler Kabbo (The Salt in our Waters) by Bangladeshi film-maker Rezwan Shahriar Sumit. Filmed lavishly on the stunning Bangladesh coastline of Cox's Bazar, it is about a young artist Rudro who settles in a remote beach village after losing his father. He is welcomed and then rejected by the villagers.
LIFF offers further Bengal-referenced films including the classic Brick Lane by Sarah Gavron. I was the associate director in this film adapted from Monica Ali's novel. Tannishtha Chatterjee plays a young Bangladeshi woman in a loveless marriage who falls in love with a younger man, all set against the turbulence of growing Islamisation in the UK. Having sparked protests amongst the Bangladeshi community, it holds a significant place in the history of British Asian cultural representation in cinema.
Ramesh Sharma's Ahimsa — Gandhi: The Power of the Powerless is also on the list, which explores the global impact of Gandhi's message of non-violence and peaceful resistance. Featuring interviews with world-class scholars, activists and rare archival footage, it references the Bengal partition and Gandhi's role at that juncture.
Of the many films which are being shown online (www.loveliffathome) I will strongly recommend the documentary Gamak Ghar in which young director Achal Mishra rebuilds the history of three generations connected to the grandparents' house. An intimate epic and an astonishingly resonant debut film exploring the ebb and flow of life in an ever-changing world. I first saw this marvellous film while on the jury of the Chicago South Asian Film Festival in 2020. I also enjoyed the post-screening Q&A recorded with Madhulika Jalali whose film Ghar ka Pata is a search for her lost home in Kashmir. As Kashmiri Pandits, her family was forced to flee Rainawari during the time of the separatist insurgency. After her father's death, she travels back with her sister to find their home and discovers the trauma of displacement with brilliant archival images which help her reconstruct the past.
LIFF opened with the inspiring Women of my Billion, in which woman activist Srishti Bakshi walks the length of India trying to understand experiences of other women in its billion-plus population. With the pandemic on, there is no overseas talent this year so the focus rightly turns on the important strand of great British Asian film-makers.
LIFF will honour people such as Hanif Kureishi (My Beautiful Laundrette) Asif Kapadia (The Warrior, Senna, Amy, Diego Maradona) feminist film-maker Pratibha Parmar's series on culture and creativity and Gurinder Chadha (Bend It Like Beckham). The festival will close with the rarely-seen British Asian all-star film Flight.
You can log in to https://londonindianfilmfestival.co.uk/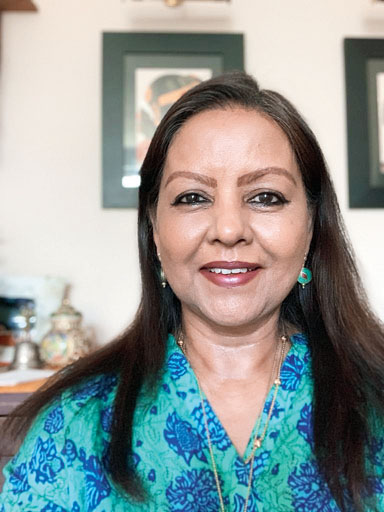 The author is a writer, film-maker, musician and cultural commentator. She is also an adviser to the London Indian Film Festival and London International Film Festival