KK's son and daughter will celebrate him with a concert on his birthday
On late singer KK's 54th birthday, his son and daughter talk about their foodie dad and key life lessons from him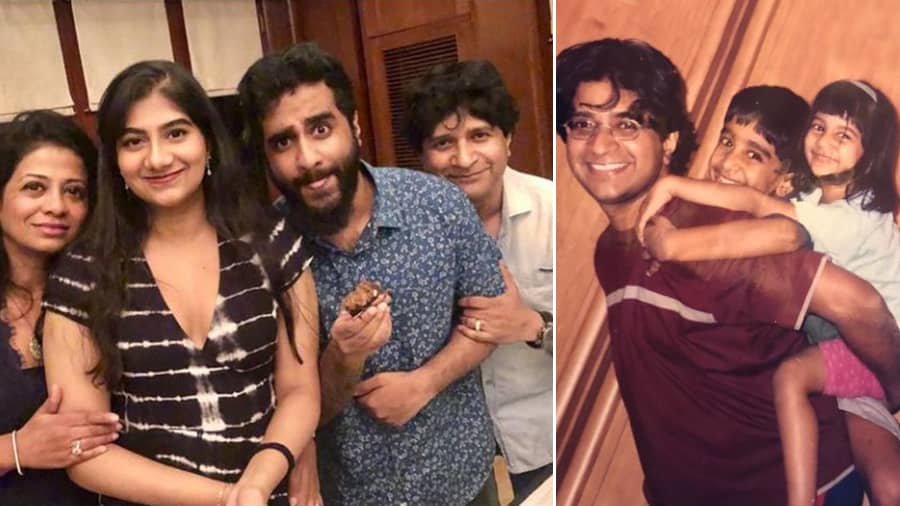 KK with wife Jyothy, son Nakul, and daughter Taamara
Instagram
---
Calcutta
|
Published 23.08.22, 10:36 AM
|
---
He was a funny man at home and a firecracker on stage. That's how KK's children — 28-year-old Nakul and 23-year-old Taamara – like to remember their "best friend" who was also their dad. KK fans miss him singing, while his children miss him talking.
KK fans across the world mourned when he breathed his last in Kolkata on May 31 but for his wife and children, the loss has been unfathomable. Well, KK has taught his children what they can help rather than what they can't. On his birthday, Nakul and Taamara want to celebrate him at the KK Forever Concert at Phoenix Marketcity Kurla, Mumbai, 7.30pm onwards.  
TT Online spoke to Nakul and Taamara about their fondest memories of their foodie father, his band that travelled with him everywhere, him being a phenomenon among millennials, his contentment with anonymity, and a lot more. 
How would KK's birthday be celebrated? 
Taamara: We would wake up, cut the cake, and eat all day. (Laughs)
Nakul: His day was planned around meals. If we were home, family and friends would drop by, and we would order food, so it used to be a very simple one.  
This year, you would be performing at the KK Forever Concert to celebrate him.
Taamara: Yes, that's the idea. The response is good. 
Nakul: It's better than we expected. Each of us will have a section to sing dad's songs and at the end, we will do Yaaron, the latest version. Besides us, there would be Shaan uncle, Lesli (Lewis) uncle, Benny Dayal, Papon, Dhvani Bhanushali, Pritam, and dad's band.   
What is your birthday wish, this year?
Taamara: We hope he can hear us. We never sang in Hindi, so we have that regret. So, hopefully, he will listen to us.
Nakul: We wish he doesn't worry about us.
Taamara: Hope he comes back. (Smiles)
How are you and your mom holding up?
Taamara: We are doing better. Mom (Jyothy Krishna) is also doing better. We are managing.
Nakul: We are more occupied. Of course, those idle moments of not being with dad or talking to him get harder.
The closure isn't an easy road, right?
Taamara: Closure comes and goes. Some days, we accept but there are some days, we can't accept what happened.
Nakul: Things that we won't be able to have, like family holidays and hearing him speak, make it difficult. The other day, a close family friend got his girlfriend home and we felt hurt that dad couldn't see that part of his life. Those things make it harder. Mind ends up going there.
Taamara: If we are busy, we don't think.
Nakul: It's easy to let the grief sink in and take over. I feel dad taught us well what we can help rather than what we can't.
KK must be a very cool father.
Taamara: He was our best friend.
Nakul: When I heard about my friends' or someone else's relationships with their dads, it was very odd to me, as my relationship was so different.
Taamara: Dad was just a cute, funny and energetic person.
Nakul: We used to talk about everything, every day.
How did he manage time between shows, travels and recordings?
Nakul: After getting his job done, he would come home. He had a busy schedule, but he has spent a lot of time with us.
Taamara: Every day, from morning till afternoon, he used to sit with us and talk.
Nakul: Considering his work was performing, most of his shows would be over the weekends. Unless he had a recording, he was pretty much free for us. We have spent a lot of time with him.
It's very hard to pick, but what are some of your fondest memories of KK?
Nakul: There are so many! For my 18th birthday, we were in Switzerland. Taamara, dad and I went skydiving and then, we went out and ate a lot. It was a unique memory.
Taamara: Once dad and I went on a date. We both love Indian food. We went out, we had daal makhani and naan and did some shopping. Most of the memories with dad are of eating. (Laughs)
Nakul: You know, I had done a song with him when I was 12. He wanted me to get that experience.
Taamara: Masti (from KK's second album Humsafar).
Nakul: I flew down to Kerala. It was my first solo flight. After we were done, we ate pizza and had a good time.
Taamara: And, as a toddler, whenever dad used to come on TV, I would point at it. Dad, at home, was energetic, but at the shows, he was a completely different person.
Nakul: Whenever we went to his shows, we saw him exploding on stage like a firecracker. We used to tell him that he looks different on stage and there is something about him that changes. He used to say, 'Yeah, I get into the zone.' From the stage, he would look at us and say something and it made mom self-conscious sometimes. (Laughs)
Did he want you to be musicians?
Nakul: Since the time I was born, I have been hearing Pal. That's the first impact that music had on me.
Taamara: Yeah, same. He told us to be whatever we wanted, but we also loved music.
Nakul: We have been surrounded by music so much. As kids, we have seen him perform on stage and I have gone to a couple of studios with him.
Taamara: Mom is a painter and dad is a musician, so both of us are creatively inclined.
Nakul: He used to support us with whatever we wanted to do. With an open mind, we discussed things. He wanted to know our point of view. We learnt music from online courses and other places, with his support, but we never learnt from dad. I also learnt other aspects such as production and composition. He has heard me sing at BlueFrog (a live music venue in Mumbai). The three of us wanted to work together. We kept postponing it, so that longing will stay.
Nakul: The only time I did something with him was for his second album (Masti from Humsafar) and during the lockdown, I was working with dad on the rearrangement of his second album. It's my version and he was about to record it. He told me in May that when he would get a free patch of time in June, he would do it. That would always be a thing for us that we never got the opportunity, as things kept on coming. Though, I have one experience and I am very thankful for it.
Taamara: I don't have any such experience.
Are you prepared to brace the comparison with KK?
Nakul: Even the ones who aren't related to dad are compared to him, like his contemporary vocalists.
Taamara: That's part of it. Everyone positively encourages us.
Nakul: We know, eventually, a comparison will come in but it's okay.
What are his qualities that you want to imbibe?
Taamara: His genuineness.
Nakul: His general energy for life and his ability to love unconditionally. He was very humble and very content with anonymity. During the pandemic, he was happy to wear the mask. (Laughs)
Taamara: We used to go to places like malls. He was happy as no one could recognise him. (Laughs)
Nakul: He liked his space, peace of mind, and his family time. I like to learn from him.
Nakul: He never let that side of his career…
Taamara: … reach us.
Nakul: Or, brought any imbalance in our lives.
For millennials, KK songs are all about childhood, school, college and university memories.
(Cuts in) Taamara: Absolutely. A lot of people have college memories with Yaaron and Pal.
Nakul: Yeah, people have connections to each of the songs. People have told us that they have heard Pal when they left home for the first time or broke up with a girlfriend. Many have told us that they sang Ankhon mein teri (Om Shanti Om) to their girlfriends and later to their wives and what Pal, the album, means to them.
Do you feel more connected to performing with KK's band as it's a part of him?
Nakul: It's comfortable to meet the band and rehearse. We feel connected to dad because he has been with them for so long.
Taamara: The band members have seen us growing up, like Kalyan uncle and Rinku uncle.
Nakul: When we heard the news and on our way, we were worried about what would be their space of mind, as they were right there to see it. I remember telling mom after the last rites that I look forward to meeting the band to feel connected.
During that trying period, when KK's band was brutally trolled, you put up an Instagram post calling out the online hatred. It mustn't have been easy at all, with so much going on...
Nakul: You know, in today's day and age, it's very easy to put up hateful messages and abuse anybody. Nothing can be done to prevent it, so I decided to stand by the band people and that such hate shouldn't be tolerated by others. On the day of the funeral, when our friends were trying to cheer us up and were hugging us, rotten things were said about us, but you can count the negative comments.
Taamara: We have been getting a crazy amount of love from dad's fans. Hitesh uncle (KK's manager since 2003) and Shubham (Bhatt, another manager) were trolled because they were taking care of him at that moment.
Nakul: People blamed without any knowledge of the situation. It was pure speculation.
Taamara: Dad trusted Hitesh uncle. He was like a father to dad.
Nakul: In the industry, there was a joke that Hitesh uncle was (Lord) Hanuman to dad's Ram. We were sad, thinking about what dad would have felt hearing it. They are like family to us.
Kolkata loves KK. Would you be interested in performing in the city?
Nakul: Yes, we know how fans love him and we know we will be welcomed very nicely. Many people from Kolkata ask about us and blame themselves. I try to make them understand that's not how these things work. It's not your fault directly, so don't blame yourselves. When it's somebody's time, you can't help it.
Taamara: There's no point blaming anyone for death.
Nakul: When it's something like this, in hindsight, everybody seems to figure out that little things went wrong but when you are in the moment, nobody knows anything. We saw CCTV footage where dad was walking to the elevator in the hotel lobby, and he looked normal. There were moments on the stage where he looked tired, but you know there were 8,000 people in the hall, and he had performed the previous night as well. Probably, he was thinking that he will go to the room, take a shower and go to bed. And dad had performed at Nazrul Manch (Kolkata) many times.
This is perhaps the most difficult thing but tell us your favourite KK song.
Taamara: Oh, that's hard. Tujhe sochta hoon (Jannat 2). There is an old song, Haule haule (Dil Pe Mat Le Yaar). I like it, as dad used to sing it to me, to put me to sleep.
Nakul: It's very difficult but Pal, Yaaron, Alvida (Life In A Metro). I like Kal ki hi baat hai (Chhichhore) because he told me that he thought of me when he sang it, so every time I hear it, I feel he is singing it to me.
What's next?
Taamara: I have recently put out a cover of my version of Tadap tadap.
Nakul: There is nothing we can confirm yet. Probably, there will be a couple of more shows soon. There have been a lot of requests to go to different cities, so maybe, it will happen over time, gradually.