Kiara shares how she shed shades in Netflix's Guilty
The whodunit thriller explores who's the real culprit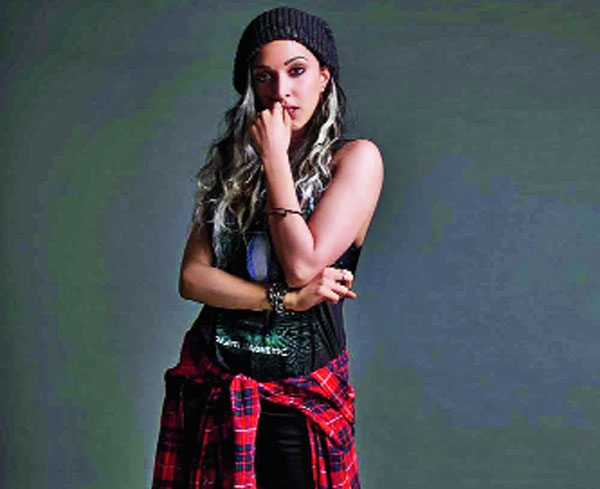 ---
---
Produced by Karan Johar through his banner Dharmatic, the digital arm of Dharma Productions, and directed by Ruchi Narain, a new Netflix original, Guilty, drops today.
Kiara Advani plays Nanki, a tomboy songwriter-girlfriend looking for the truth after her college heartthrob boyfriend VJ (Gurfateh Singh Pirzada) is accused of rape by a less popular small-town student Tanu (Akansha Ranjan Kapur).
This whodunit thriller explores who's the real culprit and who's really guilty. The Telegraph caught up with Kiara right before the film's release.
Tell us about your character Nanki.
She's constantly fighting the girl image, you'll never see Nanki wear anything provocative or anything that has the slightest girliness in it because she wants to be taken seriously. So, she's constantly wearing this mask, it's like her armour. All the tattoos, baggy clothes, piercings - it's her armour to protect herself. There's a deeper reason behind why she projects herself that way, when you watch it you'll know why.
That's a stark contrast from your character Preeti in Kabir Singh who was such a demure, soft-spoken college student. How's it for you as an actor to explore such polarising characters back-to-back?
I think it's liberating honestly to play characters that are different, to not get typecast, to get these parts. To be versatile is a dream for any actor. I feel like I'm lucky that people have not put me in a bracket. They believe that I can bring a lot more to the table with different roles. Right after Kabir Singh it was Good Newwz, where I had all the colours of the rainbow on me, this loud, Punjabi, excited colourful girl. Then I am this rebellious college student like Nanki, each character has been unique and different. It has allowed me to showcase a different side of mine.
How did you prepare yourself to look and behave like this young, rebellious college kid?
Right from the look, it's very different from anything I've ever done before or even the person that I am. There's a reason behind that look, it's not there for just effect. It's because of who Nanki is as a person, she's constantly trying to showcase and project a side of her... outside, she seems to be this badass, rebellious girl but she is constantly wearing, she's trying to hide certain things. You'd discover that as you watch the film. But there was a lot of homework behind every single tattoo on her body, there are 18 tattoos on her body and Ruchi had thought where each tattoo on her body and when she put those tattoos on her. There was so much backstory and that is really exciting as an actor to go through all that and get into this whole character. Ruchi wanted me to wear the septum ring and there was a lot of reasoning behind it. It all comes through her character as we unleash the story. It was also challenging for me because a lot of the experiences that Nanki has had are very different from the ones that I've had in life. The only way for me to really understand her core was to do a lot of research and prep for it. We workshopped for over a month on the characterisation. I met a lot of rape survivors who have been through these incidents, gone through the psychological and emotional trauma that one deals with. I had to completely understand and empathise with the story and what the film eventually speaks to you about.
Meeting real-life rape survivors in order to prepare for your role must've been an emotionally difficult thing to do?
I really needed to. While I was workshopping for the film, I was fortunate enough to have my workshop coach Atul Mongia introduce me to someone whom he knew in order to dig deeper and understand the first-hand experience. I'm someone who fortunately or unfortunately have led a very sheltered life. I don't think I've been in a situation where I've had to deal with something like eve-teasing. You see it happen all the time, you hear about it but most girls have had a first hand experience. We have someone brushing past you, say when you travel by trains everyday. But the intensity to which it happens to many people. I haven't had that. I really needed to hear it from somebody who has been through it to understand it for myself. When I met someone who has been through an incident like this, the #MeToo movement was here. I asked her about it and she said, 'It made me feel like I wasn't alone'. It takes a lot of courage for someone to talk about the fact that it has happened in their life. On one hand I give kudos to someone who has had the courage to come out and talk about it, it's really difficult considering she said: 'The minute you come out and say it, it becomes so real. Once you acknowledge it, you cannot erase the fact that it has happened to you... even if you get justice. It's always there and that's the worst part.' It's something that they deal with on a daily basis and it's there as an experience in their lives and it's just heartbreaking.
I'm intrigued to know why does your character have a broken safety pin tattooed on her face?
The real answer is that Ruchi thought I was looking too pretty and we needed something to shake it up. She said: 'You're too radiant' (laughs)! She wanted Nanki to have that safety pin and she wanted it on my face.
What appealed to you about the script of Guilty?
I liked the narrative, the angle that Ruchi wanted the story to take. You see it from the point-of-view of the girlfriend of the guy who's been accused of rape. A story like this essentially has the whodunit angle, who's right and who's wrong. But it's been done in a very humane perspective because nobody is black or white. Everyone has a grey shade. Especially when you talk about sensitive subjects, there are a lot of question marks in our head. Like, who do you believe? Is he right or is she right? From Nanki's point-of-view, she's completely conflicted. On one hand, as a girl she understands the gravitas of a situation like this. On the other hand, she knows the boy better than anyone else considering she's his girlfriend and knows him in a different light. Is someone taking advantage of the situation? Who do I believe and how do I believe this? Nanki and Tanu are so different - Nanki comes across this extremely strong-headed, powerful girl in her appearance and Tanu comes across as this girl who's trying hard to be like these guys. She's aspirational, confident and wants to be an actress. She'd probably say things that Nanki would never say. As powerful as Nanki is in her appearance, internally she's that fragile. She's got those many complexities and insecurities and as an actor that's interesting to tap into that and understand how a human mind would work.
Apparently Guilty was shot in a month in Delhi. Any anecdotes from the set?
We had a blast shooting for the film, we shot mostly during nights. We had to keep each other awake. There are a lot of college students who are a part of the film. Since we are a band in the film, most of them are actually musicians. So we would all jam at night even though some of us are not trained musicians at all! But we would just sing along and have fun and make the energy lively on set. Everyday was exciting but it was a very intense story. So I was always on my toes. It's one of those films that's been so enriching and liberating for me as an actor.
You've a bunch of other films lined up. What's happening with Laxxmi Bomb, Indoo Ki Jawani and Bhool Bhulaiyaa 2?
We finished shooting for Laxxmi Bomb, Indoo Ki Jawani and Shershaah and they'll all release this year. We've just started shooting Bhool Bhulaiyaa 2 and just finished our Jaipur schedule. We will start our Lucknow schedule now, in fact I've just come back now for the Guilty promotions. We are trying to get it ready in time for its release. The shoot is going really well, we just shot a beautiful song for the film and will now start shooting for the rest. We have an insane cast, actors I really look up to and a lot from the original cast as well. It's a stellar cast and there's a lot to learn from them, I hope to bring a lot of magic to the screen as well.
What are you binging on across digital platform now?
I'm so happy F.R.I.E.N.D.S came back on Netflix and it's my feel-good, happy time. I'm fully binging on it now and it makes me happy. The writing, the comic timing, every single person on the show is insane and brilliant, so I've gone back to school with F.R.I.E.N.D.S. I can't wait for their reunion show!
Finally, has life for you changed after Kabir Singh?
Of course it has, in many ways, be it career wise or personally. I guess I'll always be the Preeti in their hearts. Everywhere I go, I'm still referred to as Preeti and every picture I post, there are always memes and comments mentioning me as Preeti. It's become iconic and it'll now be with me forever. Life has changed for the better.