Tusshar Kapoor turns producer with Akshay Kumar biggie
'Laxmmi Bomb is the ideal rollercoaster ride for the audience to come back to after a seven-month sabbatical from good entertainment'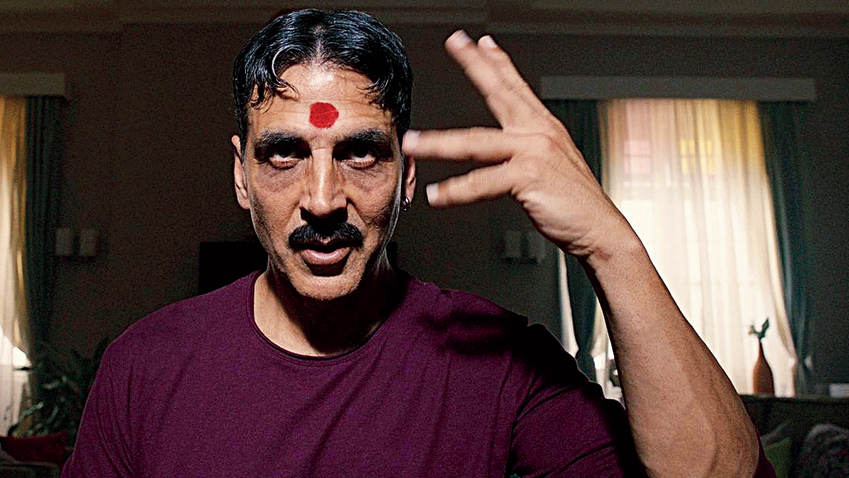 ---
Published 28.10.20, 12:04 AM
|
---
Twenty years in the acting business later, Tusshar Kapoor turns producer with Laxmmi Bomb. The horror-comedy, frontlined by Akshay Kumar and co-starring Kiara Advani, streams on Disney+Hotstar from November 9 and is the big Diwali release of the year. We caught up with Tusshar on his first film as producer, working with Akshay and the road ahead for him as actor.

Laxmmi Bomb is your first film as producer. As we approach release date, what are the emotions like?
I just saw Mr Aamir Khan's tweet (praising the film's trailer). That's reassuring, coming from such a senior and respected person in the industry. It's an out-and-out commercial film, an entertaining film. In the trailer, I see people accepting the newness of the character played by Akshay Kumar sir. I think that's half the battle won.
We are, of course, dealing with extraordinary circumstances because of which the film is releasing differently. I am quite excited to see how it pans out. I hope people show their love for this film sitting at home, on Disney+Hotstar, during the festival of Diwali. The battle is now to get the audience to their laptops and TV screens on November 9.
Isn't it disappointing to not have your first film as producer open on the big screen? Laxmmi Bomb is undoubtedly the biggest Bollywood film, so far, to take the streaming route...
Not really, considering that at the beginning of the lockdown, we were grappling with issues that are far more globally significant in nature, whether it was the rising cases or the migrant crisis. It's been a frightening couple of months for everyone.
Laxmmi Bomb was initially supposed to release in theatres in May, and that, of course, didn't happen. But honestly, it's been a relief that it's now releasing online on a platform that is very popular. We have kind of adjusted ourselves to that reality and we are happy because Disney+Hotstar is quite massy... it appeals to the IPL audience and to those who watch a lot of entertaining commercial content. It was a mental adjustment for sure, but it wasn't really disappointing because everyone has now come on board this new normal. It's all worked out practically and to the benefit of the movie. The fact that the film will release on Diwali makes it an even more reassuring step. I think it's the ideal rollercoaster ride for the audience to come back to after a seven-month sabbatical from good entertainment.

What is it about the premise that made you want to put your money on it? I believe you had bought the rights to the Tamil film Kanchana, on which Laxmmi Bomb is based, way back in 2013?
It's a dream project for me, for sure. When I saw the original in 2012, I was very kicked about either making it in Hindi or just being a part of it in some way. When I got the opportunity to
co-produce it with a friend, we bought the rights and I was over the moon. It's taken a while, the journey has been tough because everything had to fall into place... we had to get the right team on board, to rewrite it according to the sensibilities of the Hindi audience, to get the same director (Raghava Lawrence) as the original. We have the best in the business... we have Akshay sir at a time when he is right at the top of his entertainment game and it's a genre that's pretty hot right now.
As a first production, I didn't really have a benchmark or mapping in my head that I wanted to make a certain kind of film. I just stumbled onto this script and decided to become a producer. It was very spontaneous. I have another film ready, which will be announced after Laxmmi Bomb releases. It's a very different film from Laxmmi Bomb.
I think it's very brave of Akshay sir to take up a role like this, his look in the film tells you everything. He has a very strong image as a hero in the minds of the audience and he's really broken out of the box with this role. I think this portrayal will encourage a lot more actors to rise to the challenge and do roles that are far more edgy and at the same time entertaining. One can be entertaining and yet break the mould and I think Akshay sir, in Laxmmi Bomb, will set some benchmarks as far as that is concerned. The trailer is, in all senses, just the trailer. You have to watch the film to see how he's completely outdone himself.

Everyone who's worked with Akshay has a story about watching him at work. You've worked with him both as producer and as a co-star (in Khakee). What's your Akshay Kumar story?
I really think he's one of the most inspiring actors around. It would be a cliche for me to say how he's making such good films based on social issues... everyone knows that. The man's attitude towards his work is unparalleled. He just wants to work... a film releases, and he's ready to start another one, irrespective of the box-office performance. The amount of work he does... the output he generates every year is unbelievable. That just comes from single-minded focus and the fact that he's just so convinced about what he's doing. And his conviction, more often than not, is proved right. If he feels that four films a year from him is what the audience will accept, he goes right ahead and does it. So really a lot in him to look up to and admire.
What were the biggest challenges of making this film?
It was an enthralling and exciting experience, for sure. Becoming a producer is a totally different ball game, there are so many variables involved. I had a great time, and the challenges we've had have only made the film bigger. It's been in the news right from the day it was announced, though it's only now that I have started talking about the film. I feel grateful to have Akshay sir as my hero and co-producer because his presence has always kept the film in the news. I don't really want to look back at the challenges any more, because every curveball, every obstacle came with a bright side and was a learning experience. I could actually write a book! (Laughs)

Like a few other films that have released in the last few months, Laxmmi Bomb has come under the boycott cloud, with #BoycottLaxmiBomb trending on social media. How demoralising is it as a first-time producer?
I think the trailer speaks a lot for the film, no matter what's said or written about it. The reaction to the trailer has been quite exhilarating. I am not being diplomatic but the reactions I have got tell me that people want to watch the film. The industry has also been positive... everyone is calling.
I feel this is not only a lockdown phenomenon. Even when films have released before, there has been both positive and negative chatter around them. That's part of life. One just needs to take it positively and keep working.
It's been exactly two decades for you in the acting business. How are you looking at your career now?
The films that have been offered to me in the recent past have been more in the comic genre. I have been a part of the Golmaal franchise, which is very successful, and I don't want to do anything that's lesser than that. You won't see me in many comedy films in the near future. I have just produced and acted in a film which is a thriller. It's taken me out of my comfort zone. I am now willing to do things that are not tried and tested. Because of the new wave that our cinema finds itself in, some interesting roles have come my way. I will, of course, get back on board to doing another Golmaal, whenever it's made. That's something that's now part of my life (laughs).