Raging it like Richa
The actress talks about acts of kindness that move her, why she doesn't believe in the concept of being apolitical, and much more in a freewheeling chat with Priyanka Roy on t2 Instagram Live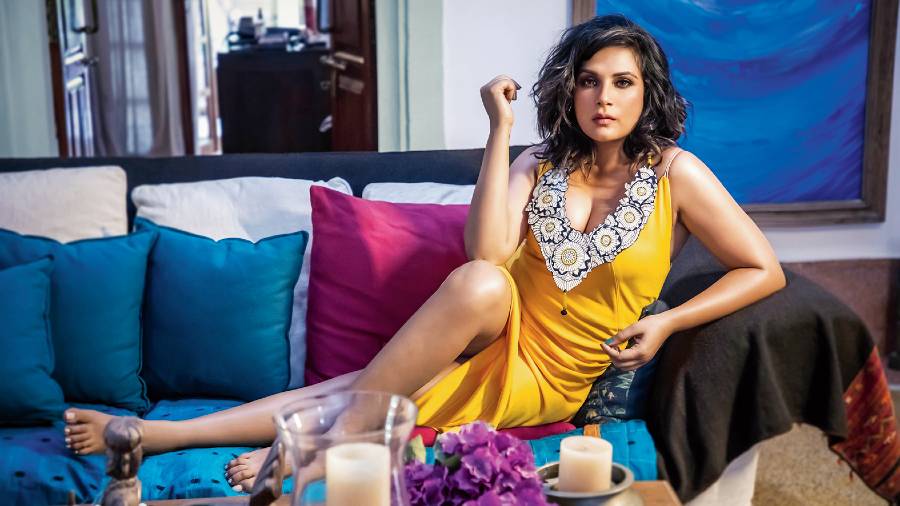 Sourced by the correspondent
---
Published 11.07.21, 02:21 AM
|
---
Straightforward, well-informed, no-nonsense yet polite. Richa Chadha is always a pleasure to chat with. A fact reinforced by a 50-minute Insta Live with the actor on the t2 Instagram handle where Richa joined us from Delhi to talk about her new social initiative called KINDry — which amplifies and celebrates random acts of kindness in the times of Covid-19 — and then organically went into territories as diverse as politics and cooking, marriage and travel. Excerpts from the chat, which Richa being Richa made it all the more fun with some cool disco lights on a FriYay evening! 
Tell us about KINDry and what spurred the initiative?
My co-founder Krishan (Jagota) and I knew each other since we were kids, but we hadn't connected for a long time. During the pandemic, I wanted his feedback on starting something from a charity point of view. He introduced me to his friend, a copywriter, and he came up with the name KINDry. The pandemic has been a horrible time in every which way, even now I'm in white clothes... I have just come back from a condolence meet. The environment was becoming very toxic and the news was making people very anxious.
But what's been wonderful is how people have come together. Strangers, absolute strangers, working hard, trying to find blood for somebody, medicine for somebody, neighbours helping each other.... I thought why not amplify stories that talk about real acts of kindness? Which is why we started this. I think it was in May where this news report showed that there was this thief who had stolen a bag of vaccines in Delhi, but in a short while he returned them saying, 'I am so sorry, mujhe pata nahin tha ki yeh Covid-19 ki vaccines thi'. It was really remarkable. The thief had more of a spine than several of our political leaders. So that made me want to start something. I'm really happy with the kind of traction and the support we have got. Yeah, we are trying to do things every day, trying to alleviate a little of the sadness....
What are the recent random acts of kindness that have really moved you?
There are several such stories. The first story that we started with seemed like it was straight out of a Manmohan Desai script from the '70s. It was about a new mother who decided to donate her breast milk to a newborn who had lost its mother to Covid. It was so beautiful, you know. Or this couple from Bombay who started distributing Covid-19 medicines in rural areas. There are these two sisters in Chennai who have been running a virtual helpline since they lost their grandparents to Covid. Or this autorickshaw guy from Bhopal who converted his auto into a mini oxygen ambulance.... So many stories....
There's a beautiful story from Calcutta which we didn't share because it doesn't exactly come under the category of kindness. It's about two people — Shweta and Shounak — who, in their quest for oxygen, found each other and fell in love! I keep an eye on these optimistic, hopeful stories and we just want to put a smile on someone's face.
In your life and in the career that you have had so far, were there any acts of kindness that really touched you?
I am where I am because of the kindness of absolute strangers. Whether it was somebody who saw my audition and spoke to the director to take me over a star kid... I owe my career to those strangers, you know. People who really had no reason to help me. I think everybody has hidden angels....
How has life and mindset changed for you in a world which has changed so much?
I have realised, especially this year, that I don't want to hold grudges. Whether somebody wronged or cheated me... I just don't want to hold grudges. That doesn't mean that I will let people walk over me, but I just think I should be kind and understanding of why people behave the way they do. I have also realised if there's someone who needs me, I will try and accommodate that request. Only in the last month I have lost two friends, you know. I met them recently, we were on a WhatsApp group discussing Covid relief and then you get the news that they are no more. And I was shocked to the core. Like they say, be the change you want to see in the world. I'm really trying.... So just reach out, connect to people, don't hold grudges, live by your beliefs.
You have been at the forefront of a movement where more and more women have started working in areas of the film industry that were previously dominated by men. Domains like cinematography, writing, and so on. Would you say that this phase has been liberating as an actor? Or do you think a lot more needs to be done?
I definitely think that a lot more needs to be done. The power structure still prevails, I have nothing against men. And yes, you can't replace a very toxic man with a very toxic woman. It actually comes from a place where we understand that each department has value in film-making. Everybody deserves respect, not just the star system and not just the big studios. So I think that we are a long way from there, but I definitely think there are more women. I'm very excited when I see names like Zoya Akhtar, Alankrita (Shrivastava), when I see their work... Konkona (Sensharma)! The language they bring forth. I am very excited, you know, that they create some fantastic films. 
You don't have to do massive blockbusters, but then if you remember the new-age boys of today, none of them started by making massive blockbusters. Whether it's Dibakar (Banerjee) or Anurag (Kashyap) or anybody.... So yes, I am very excited for the new breed of film-makers.
You have always been vocal about ageism, sexism, gender bias, pay parity in the Hindi film industry. Are things better now than they were when you first came in?
The thing is, when I started with Gangs of Wasseypur nine years ago, I didn't get much scope to talk about pay parity, but I can speak for myself today. The industry values box office. If you can put bums on seats, you are a great actor, you are going to get your pay. It doesn't have anything to do with gender, but obviously what happens is if there's a male superstar who is 50... just hypothetically speaking (smiles) and an actress who is 30. They are paired opposite each other. Then what happens is that the guy, who's been around much longer, puts that many more bums on seats.
I am a member of the Women in Film and Television, India chapter. And I hope to be able to build more teeth there, you know, to actually effect change.
Gangs of Wasseypur turned nine recently. You have been vocal about how that film pigeonholed you into being offered only older parts subsequently...
Yes, absolutely true! I'm almost glad that it's been so long because I have had the chance to build my career anew. When that film released, no one could believe that I'm a college-educated, English-speaking person from Delhi who is in her early 20s. That's what was scary and I was like, 'Yeah, it's a great compliment, but it's not going to make me happy! It's not going to give me an everlasting career'. And that's actually what happened for a few years and then I managed to slowly pull myself out of that.
But yes, it was a great part and I am forever grateful to a film-maker like Anurag Kashyap who thought of me when he could have found big stars. I was a rank newcomer who was doing theatre and TV commercials. So, to give me such a big responsibility... I'm very grateful for that opportunity. That's part of the reason why I am here and why we are doing this interview. It was like a blessing, it gave me exposure. It gave me a career. But for the longest time it was like... how do I say it? It was like driving with the handbrake on. You are getting ahead but there's a handbrake. So you are driving slowly!
What would you say was the turning point? Would it be a film like Fukrey, which presented you in a completely crazy avatar and broke and built a new image for you?
I really don't know. At that time, agar mujhe koi award function mein bulaata, then I was consciously making the choice to dress very glamorous to let people know that look I'm not a lady in my 40s or 50s! I'm just a theatre grad who is doing this for fun! I think 50-60 of those appearances were a turning point for me, much more than any film! As actors, we tend to look at our lives through a screenplay... I'm sure you do too... ki meri life aise thi, phir next turning point mein aisa hua.... There are little turning points that guide you and push you in different directions. Things happen on their own also sometimes....
How important is it for you to have a life beyond acting?
Very important. In the first three months of the (first) lockdown, and even now, a lot of times I forget that I'm an actor. I am learning a new martial art form, I'm learning a belly dance form.... I am a creative person and I need to keep myself creatively engaged, otherwise I get super bored very easily. I love acting, it's my first love. Rather I would say performing arts is my first love.
In the middle of the Insta live, Richa decides to take a few questions from the hundreds of t2 followers who had logged in
A fan has just requested, 'Shaadi mat karo, bura lagta hain!'
Richa: Oh bhai! Ab toh late ho gaya. Maine zabaan de di hain (to actor-fiance Ali Fazal)! Too late!
What are you working on right now?
There's Season 3 of Inside Edge. Then there's a film where I have really hammed... I am playing this really loud character. In life, I am this soft-spoken girl and this character talks at this level (raises her hand). This a film called Abhi Toh Party Shuru Hui Hai with Anubhav Sinha. Then there's Candy, which is a thriller set in the hills of north India which I'm really looking forward to. Another show called Six Suspects, which is with Tigmanshu Dhulia, who I wanted to work with ever since I saw Haasil and Paan Singh Tomar. Fukrey 3... there's a lot of work coming up. So yeah, it's a good phase!
Do you enjoy playing Zareena in Inside Edge? Especially Season 2 because she's really badass in that!
I don't really enjoy being so nasty to people! I think vengeance is very lazy. Even in life, I probably just confront them and karma really helps me in that sense. I don't really enjoy being Zareena, because Zareena can be very ambitious and I am not like that. I am God's child and I'm happy with that. Whatever I deserve will come to me.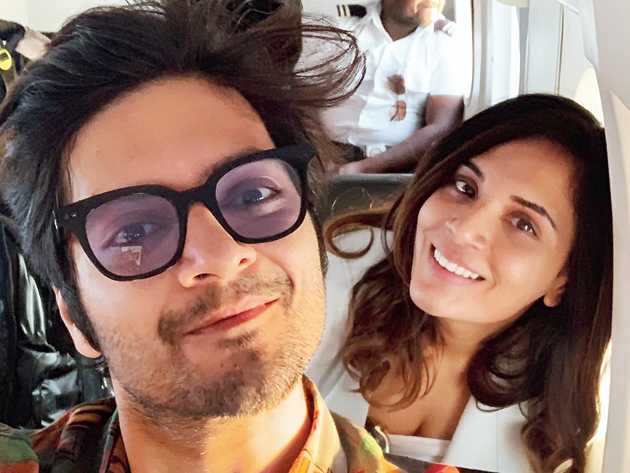 The chat has an exciting interruption in the form of Ali Fazal, who joins in for a while. Richa spots him and says, 'Oh, Ali has joined! Why are you sending me white hearts? Ali, send me red hearts!'
You received a lot of praise for your performance in Madam Chief Minister, which had a theatrical release earlier this year. What was the experience of working on that film?
I worked very hard for that film. I learnt how to ride a bike, worked on my diction, my body language... I am also very happy that it's getting so much love on OTT. I am quite happy with the reception since the politics of the film was so close to my heart.
Which brings me to my next question. Is being apolitical not a choice for you any more? Or should it not be a choice any more for anyone in this country?
I don't think it's a 'should' or 'would' question. I think people, without realising, are always political. Suppose you are a new mother and you have a six-month-old child at home and you need to breastfeed that child and you can't go and get a job. Suppose your husband lost his job because he was working in the fabric industry which has been affected badly due to demonetisation. So that is a political impact on a person. Without realising, a lot of stuff which you and I experience on a daily basis has to do with politics.
So I don't believe if anyone says that they are apolitical. You are not apolitical, you just don't know how political you are! I feel like you know being apolitical is a lot about something like, 'I will not tweet about something'. But how much of India is on the Internet?! Talk to the people and check out the ground reality. It's a very different scenario. So it's not a situation where anyone can say 'I'm apolitical'. The clean air that you need to breathe, what happens to Delhi in autumn is a political issue now, because between Delhi and Punjab and Uttar Pradesh and all the neighbouring states... aapko oxygen nahin chahiye kya?
And when I say 'oxygen' now, it reminds me of the Covid nightmare. Now that's also political. So everything is political... we just don't know the extent. We think, 'Hum iske baare mein nahin bolenge... humein farak nahin padta hain'. Aapke life ko bahut farak padta hain. Aap Calcutta mein ho, agar mustard oil ka price badhta hain, toh aapke life ko farak padta hain na? It's all very political, we just don't know it.
A fan is asking whether there's a possibility of 'Masaan 2' happening since a lot was left unsaid in the climax...
Speak to Neeraj (Ghaywan, the film's director). Figure out where Deepak (played by Vicky Kaushal) and Devi (Richa's character) are going on that boat ride. I am sure there's the possibility of a sequel there. It's a very special film for me.
How has going vegan helped your fitness and general well-being?
My staple diet is dal chawal, sabzi and dahi. But being vegan has helped my skin a lot. I don't want to evangelise because being vegan is also about living and working and working on it. I also do it for environmental reasons.
You also grow some of your own food I believe...
Some of it. Not all of it. Lemons and garlic, little things.
What's the best thing about Ali and what's that habit of his that really annoys you?
Ali is a good partner. I never have to worry about things like I will be expected to do more than my share or work more. I don't have that problem with him at all. What annoys me is that... I think I will just text him, or he will fight with me! (Laughs)
Cricketer Monty Panesar has just logged in to the live and he's asking if you are a sports fan...
Hi Monty! Oh, yeah. Absolutely. I have recently started watching football... it's amazing.
Your favourite team in Euro 2020?
Portugal. I mean, (Cristiano) Ronaldo! He's such a good celebrity. He really stands up for meaningful things. He's also so lovable.  I saw this video clip where a fan was trying to take a picture with him and he patiently waited. We need good male role models and he is a great role model. It takes a special level of commitment to be so fit and so determined and ambitious, to be playing international football and be so good at it.
Are you also patient with your fans?
It depends. Sometimes I want to hide. I remember I had to take a flight from Andaman and Nicobar Islands to Delhi. My grandmother had passed away. It's a long journey. I was feeling really low and somebody had come for a photo and I felt like it was so cruel. I had to tell them, 'Dekho maine safed kapde pehne hain, please'. These kind of fans are not welcome in my life.
But I would love if someone comes to me for a selfie and I can tell them, 'Can I give you a hug?' That will be far more meaningful to me. Having a little conversation... finding out what their dreams are... their aspirations.... That will be far more meaningful to me than taking a selfie. You know, there is a gang of people in Bombay who crash celebrity events in good clothes just to take pictures. Now I recognise them....
A fan is saying, 'I love Guddu bhaiya' (Ali Fazal's character in Mirzapur)...
I also love Guddu bhaiya! But bhaiya honge tumhare! (Makes a face and laughs)
So Richa, when is the wedding happening?
It was supposed to be in April last year but then the world went to shreds. Right now, I don't know how to plan it because I don't want to create this event. Our families want to ensure that no more mutants are travelling and the vaccine is still working and so on. So, I don't know...
A follower wants to know what are you watching on OTT these days...
I am a sucker for comedies! I may seem like a very serious actress, but sometimes I just watch the reruns of Parks and Recreation and The Office. I recently came across two very good shows. One is I Love Dick, it has Kathryn Hahn in the lead role. And there's another show which I think all men must watch... it's called Hung. Such great comedy, such fantastic writing....
Any suggestions for reading?
I wish I was reading as much as I was reading in my school and college days. Right now, the only time I get to read is when I read scripts. I am reading a spiritual book in Hindi called Chitshakti Vilas. I started reading Salman Rushdie's book... it has a lot of numbers in the title (Two Years Eight Months and Twenty-Eight Nights)... he's my favourite author.
What do you cook best?
I don't enjoy cooking, but I am good at it because I like to eat! (Laughs) Dal, rajma, chhole.... I absolutely love coconut-based curries, they go well with my vegan salad also. Chinese... I love south Indian food. Day before yesterday, I made Bangla food... I made chholar dal and begun bhaja... I would love to make more Bangla food because kya hota hain aap apne hi ghar mein khana kha kha ke, you get little bored. I don't want to eat from outside.
Does Ali cook?
Yeah, he cooks quite well. He enjoys it. He makes a really nice pasta. He's actually really like a Renaissance man. He can even bake his own bread!
What are the things that you guys like doing together?
We watch a lot of stuff together. We have common interests in music and theatre. We end up watching a lot of movies together.
It's not happening right now, but I know you guys love to travel together...
We love to travel together. Even right now, we are travelling... from Bandra to Juhu! (Laughs)
Someone just asked what is your favourite place for a vacation?
If people like to travel, they will love anywhere. They will love going to a remote village in UP where we often go to shoot. Kazakhstan, Bhutan, New York... for Broadway plays and restaurants.... One can go to Venice or Amsterdam to enjoy the lakes, canals, the boating, the art. But I've never been to Kashmir. I want to go to Kashmir and I want to actually go to the Sundarbans.
A follower is asking what would you do if you were the real 'Madam Chief Minister?'
Oh, I wish this country was so lucky! Itna padha-likha koi unko mil jaata kitna achha kaam hota, charitable chheezein ho jaaye, achha healthcare, achha education system.... I have no wish to be in politics though, and I am happy to be doing what I am. I would love to do pro-democracy stuff towards a more egalitarian society where everyone's equal.
Richa's TOP TURNS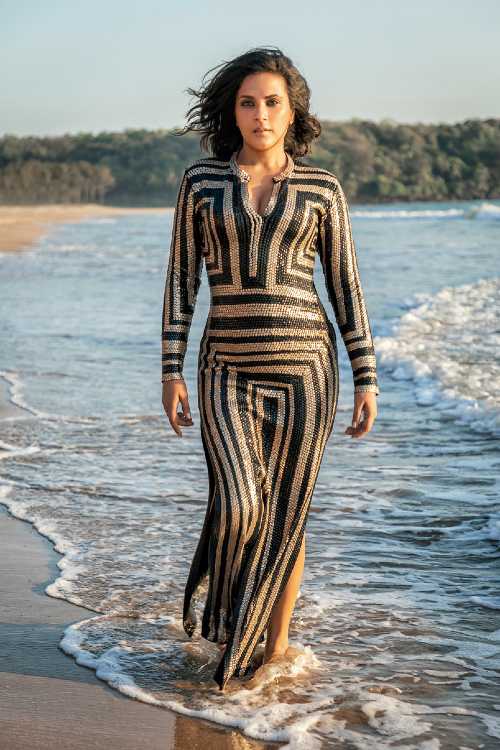 Gangs of Wasseypur
Richa Chadha found instant recognition in Anurag Kashyap's Tarantino-esque treatment of gangsters in the Indian hinterland. Even as a rank newcomer, she had no apprehensions about playing a deglamourised and much older woman, holding her own opposite the seasoned Manoj Bajpayee.
Fukrey
Smashing to bits the 'older woman' stereotype that she was pigeonholed into after Gangs of Wasseypur, Richa was a riot in this hit comedy, which has since had a sequel and is looking at a third film. The line that best summed up her foul-mouthed, no-nonsense Bholi Punjaban: "Bholi Punjaban chidiya nahi cheel hain... coffin mein aakhri keel hain!"
Ram-Leela
All eyes may have been on Ranveer Singh and Deepika Padukone sensuously going Lahoo munh lag gaya, but Richa proved that she could shine even in a relatively smaller role, standing out as the spunky Rasila in this Sanjay Leela Bhansali film.
Masaan
This much-feted layered film on caste and corruption, directed by Neeraj Ghaywan on debut, thrust Richa — playing a woman down and out but refusing to cow down — into the spotlight and landed her on the Cannes red carpet.
Sarbjit
Randeep Hooda may have been the real scene-stealer in the title role, but Richa once again left a mark in her short screen time, her silences as Sarbjit's wife speaking much more than Aishwarya Rai Bachchan's over-the-top theatrics as Sarbjit's sister.
Panga
Increasingly making a name for stealing the spotlight in limited screen time, Richa was a delight as a determined and no-nonsense kabaddi player who constantly breaks the gender ceiling in this Ashwiny Iyer Tiwary directorial headlined by Kangana Ranaut.
Inside Edge
Richa is the beating heart of the ensemble cast in this smash-hit Amazon Prime Video series built around the murky underbelly of cricket that has seen her metamorphose from a greenhorn team owner in Season 1 to a shrewd player calling the shots and manipulating matters in Season 2.
Madam Chief Minister
Earlier this year, Richa came in for considerable praise for her turn as a woman who rises through the ranks to become the most powerful person in her state. The film may have been flawed and cliche-ridden, Richa's act anything but.
Additional reporting by Santanu Das (t2 intern).