I live a simple life on my own simple terms — Ritabhari Chakraborty
Tollywood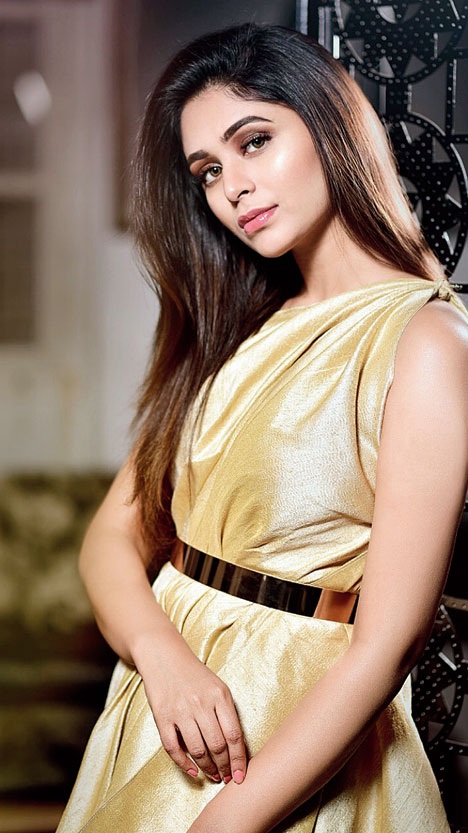 ---
Published 15.06.18, 12:00 AM
|
---
A "misfit" who is "hopeful". A "thinking woman" who is "still a kid". Ritabhari Chakraborty is a happy set of contradictions. She likes to keep it simple by waking up to things that make her happy and not fall prey to the "baggage of whys".
The Pari actor fills t2 in on her next project, a short film with Rajat Kapoor that she has penned.
Tell us about the new short film that you have written.
I have always looked forward to creating things. I am so glad that I am being able to create more content. It is a short film of 20-25 minutes, which we will shoot in Calcutta in July.
The film is a love story between a professor and a student. Rajat Kapoor plays the professor and I the student. I have written the film and my mother (Satarupa Sanyal) will direct it. The working title till now is Kiss Her Goodbye… it is in Hinglish.
The student is going through an existential crisis and this professor comes to her rescue and it is about how they develop a bond. It is being produced by Firdausul Hasan of Friends Communication. I wrote Naked (a short film featuring Kalki Koechlin) too, but I did not take complete credit for it, because to be honest, I did not have the nerve to go ahead with it alone, so I took inputs from a lot of people. It was my first attempt at writing a motion picture and I wasn't sure how people would perceive it. But after Naked's success, when people said how much they appreciated those lines written by me, I kind of got my confidence.
I wrote the script for Kiss Her Goodbye and narrated it to Rajat Kapoor and he loved it. I was so glad because I could just imagine him while writing it. I used to call him Rajat sir (during Pari)... so from calling him Rajat sir to Rajat, there has been a journey. We are all Rajat Kapoor fans. I also wanted my mother to direct Naked, but she had no time for me. (Laughs) I think she said yes this time because of Rajat Kapoor.
This is based on a real incident, though it is not a similar context. I have never gone out with any of my professors. There was a different equation, a different situation... but the pain I felt was real. I have tried to put that across different situations and in different people's lives.
When I was going through a lot of pain because of the man, I wrote it down because I wanted to channelise my pain through writing. My therapist suggested that I write journals.
Do you feel a lot better now?
No, I think after making it and sending it to him, I will feel a lot better!
So, he doesn't know?
No, the plan is to make it and then send it to him! (Laughs out loud) He doesn't stay in Calcutta and I think his reaction will make for another short film! (Laughs)
How much of a mother is Satarupa Sanyal on the sets? You have worked with her on several occasions including Onyo Opala.
It is not mother-daughter at all. Ma khub ekta boka boki korena. She is one of those calm people on the floor. I get very hyper, especially if it is my production, but I also think I have calmed down a lot in the last one year.
How has life changed after Pari?
I got cast for Pari because of Naked. The digital boom has changed my life. I think my network has got bigger. For example, right now me being able to pitch a Hindi short to Rajat sir which I have written... it has a lot to do with Pari. Anushka Sharma was very humble. She really helped me, especially through the climax, which was a piece of cake only because she helped me out... she didn't really beat me up! (Laughs) I was bruised but that was my own doing, because I hadn't done an action sequence before.
Also, I have enjoyed the flavour of working nationally because you cater to a larger audience. Different opinions and tastes.... Life has been really kind and good.
I have been feeling full of energy to go ahead. I am not sitting and waiting for things to come to me. Ever since I started producing, I stopped waiting. Ever since Ore Mon (Ayushmann Khurrana's music video where she played his girlfriend) happened....
That was a game changer for you?
Producing (Ritabhari was a line producer for Ore Mon) changed it all for me. I am learning and growing with everything I am making as a producer. I want to get to that point where I feel confident enough to create a film. With every project that is happening to me, I am recognising myself a little more and I am hoping that I am becoming a better version of me.
When I started my career with (mega serial) Ogo Bodhu Sundori, I was 15, and I would say that someday I would do Hindi films and I was laughed upon. Neither did I understand the sarcasm that day nor why was it impossible. I have equal respect for everything. I have suffered a lot after Ogo Bodhu Sundori. I really tried to understand the place and the industry... I still don't.
Did you feel like a misfit?
(Laughs out loud) I am the biggest misfit possible here.
Who do you want to work with next?
Rajkummar Rao. I really want to work with Alia Bhatt someday; she is beyond words. I also want to work with Imtiaz Ali.
You were saying earlier how much you love Kalki Koechlin...
I am a fan of the person Kalki Koechlin. She is kick-ass. If I can be anything like her, I'll feel like a winner.
Finally, all the boys want to know whether Ritabhari is happily single or is it complicated?
(Laughs) It was never complicated! I live a simple life on my own simple terms and morals. I am always happy. Engaged. Single. Committed. Not committed. With a heartbreak. I take life as it comes. I hold no grudges. I personally believe that people are doing the best they can.
But, are you seeing someone now?
Do I really have to answer that?! (Laughs) No, I am not.