Ever since his debut as the antagonist in No One Killed Jessica almost a decade ago, Mohammed Zeeshan Ayyub has featured in roles that have effectively showcased his mettle as an actor, Shahid to Raanjhanaa, Tanu Weds Manu Returns to Article 15. The 37-year-old actor has also held his own in big Bolly, whether it's Raees or Tubelight, Zero or Thugs of Hindostan. He's also been one of the rare voices from the film industry who has repeatedly taken to the streets in protest against the Citizenship Amendement Act and more, and continues to voice his political views with abandon.
After a winning act in Chhalaang earlier this month, Zeeshan — as he's popularly called — plays the central character in the thriller series A Simple Murder, now streaming on Sony LIV. The Telegraph caught up with the articulate actor on the upswing in his career and the actor vs activist in him.
How would you describe A Simple Murder?
It's a show that's a fusion of many genres. Our generation, per se, has grown up on a fusion of genres, whether it's in movies or in music. A Simple Murder is kind of set in the Coen Brothers zone... the way it's been shot. It will give you a feel of Fargo, there's also a certain (Quentin) Tarantino-ish darkness. There is humour, but we can't exactly call it a dark comedy. I sometimes find it very tough to describe the show. I have been a fan of all these film-makers and after reading the script of A Simple Murder, I was like, 'Yaar, yeh toh pucca karna hain'.
You shot this show during the lockdown. What was that like?
It was, of course, very different from anything I had shot before. We shot the first schedule for 37-38 days in July in Hyderabad, in Ramoji (Rao Film City). The most surreal bit was that the whole of Ramoji was closed, and we were the only unit there. Solah sau acre ke property mein sirf hum kuch log thhe... it was quite bizarre (laughs). Honestly, after a few days, we kind of got comfortable... we were in quarantine, in a kind of bio bubble, aur baahar ki duniya ke saath hamara koi lena dena nahin tha. The whole thing of sanitising was pretty novel at first, but now that's become a part of our lives... masks have become a part of our bodies now (laughs). There were some instances where the camera would start rolling and an actor would still have his mask on! We adapted quite quickly.
In August, we went to Amritsar for about three-four days, but it was tough to shoot there. We had a sequence at a bus terminal, but by that time the lockdown had lifted and it got so crowded there, that we had to stop our shoot and come back to Mumbai. In September, we went to Delhi for a week to shoot.
What's happened in the post-Covid world is that shooting has not only become strenuous, but also lengthy. You have to keep taking breaks, sanitise and re-sanitise, and make sure all the protocols are adhered to.
In a year that's been on pause for most, you have had A Simple Murder releasing within a week of your film Chhalaang. Even otherwise, the last few years have been busy with roles of impact. Would you count this as the best time in your career?
It definitely is one of the most exciting phases in my career. But there are so many moments and so many turns in an actor's career. I can never take away from that time when Raanjhanaa and Shahid had released in the same year, or when my first film (No One Killed Jessica) released. Raanjhanaa, Tanu Weds Manu Returns and Raees have been very important films for me. Or for that matter the two massive flops I was part of within a month of each other, that is Zero and Thugs (of Hindostan)… even those were important moments in my career.
As you just mentioned, I have had two releases in two weeks now, and I have another coming up in January... it's a big series on Amazon Prime Video. But for a year before this, there was no release. It was a conscious break because I wanted to change my career graph. I played the antagonist in Chhalaang and I am getting a great response for that. It's really overwhelming. In A Simple Murder, I am the protagonist. I always used to crave for author-backed characters and what I got most of the time were weak characters that I had to develop on my own. My part in A Simple Murder is author backed and the world of the show has been built around my character. These are good times now and I hope they get even better (smiles).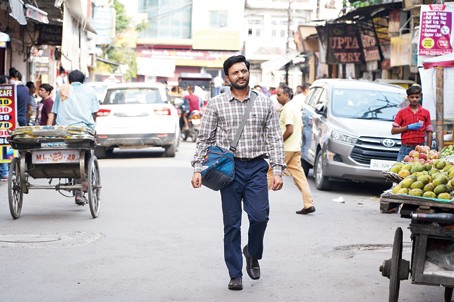 Mohammed Zeeshan Ayyub in A Simple Murder, streaming on Sony LIV Sourced by the correspondent
Do you think the audience no longer thinks of the protagonist as the 'hero' and everyone else as 'character actors' as was the case for decades, or does that still exist?
It is changing but we still have a long way to go. I always say that the Indian audience, for the large part, doesn't appreciate the actor or his acting... they only look at the character you play. Nawaz bhai (Nawazuddin Siddiqui) was very good in Sarfarosh and Munna Bhai MBBS, but he was only noticed with Kahaani and Gangs of Wasseypur. Jaideep (Ahlawat), who is a good friend, has been doing some great work for years, but he's only been noticed on a large scale with Paatal Lok. What's happening with Pratik (Gandhi) with Scam 1992 is similar.
The big change that the web has brought about is that, unlike in films, there can be six or seven primary characters in a show. More actors are getting exposure and you no longer need a star to push a web series. A good performance can now create a new star far more easily because the web ensures that the content reaches people. We have a long way to go to mature, but we are on the right path, I feel. Hopefully in the next two-three years, we will start appreciating actors and acting much more.
Is the audience able to separate the actor and the activist in you?
I think the audience is still willing to accept. People haven't reached that level of hatred ke bole ki, 'Achha iss show mein yeh so-called activist hain toh hum nahin dekhenge'. I don't think anyone, apart from the IT cell of political parties, says that yet (laughs). Viewers may disagree with me politically, but if my work is good, they will watch it. Even with Chhalaang, I have got texts saying, 'Main aapke politics se bilkul disagree karta hoon, but I must say it was a very good performance' (laughs). Kahin na kahin, conscience abhi bhi jaagi hain audience mein.
Does your outspokenness and political leaning affect work coming your way?
There are some people who are scared. They don't want to keep you during promotions because they feel bina baat ki controversy khadi ho jayegi iss aadmi ke chehre ke saath. But it depends on the people you are working with... some also feel that if they have chosen an actor, it's because of his acting capability and not because of his political views. Jab tak aise log hain kaam chalta rahega.
I always used to speak out, but people now notice more because as your fame as an actor goes up, the fame of your activism also goes up (laughs). But I always knew that there will be a price that I will have to pay for my outspokenness and the fact that I have chosen my conscience over everything else. Kuch kaam definitely chhooth rahein hain, but if there are people who are not giving me work for my activism, it's best that I don't do work like that. I don't want to work with weak people... I want to work with people who can take a stand, or at least support you if you are taking a stand.