Central Park is a bundle of joy
A new animated musical on Apple TV+ — Central Park -- is about a family and how they would do anything to keep things together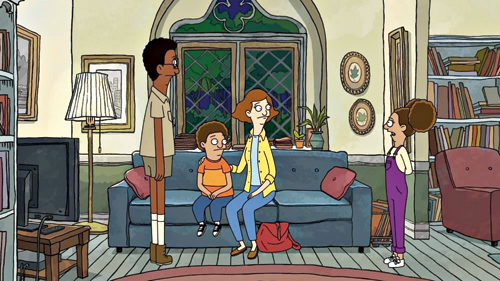 ---
---
With the economy badly hit, many of us — being indoors — have learned to appreciate parks more than ever. Be it the Maidan in our backyard, the Lalbagh Botanical Park in Bangalore, London's Hyde Park or Central Park in New York, they all complement urban jungles. When life begins to bear a semblance of normality, we will once again be there. And sadly, once again we will experience the shadows cast by residential blocks on large swathes of our parks. Skylines around parks will always remain up for grabs and will always be a manifestation of the wealthy one per cent.
The irony is not lost on the new animated musical comedy on Apple TV+, Central Park. It begins as an innocent plot of an emotion-driven boy called Cole (Tituss Burgess) making a connection with a dog (Champagne) belonging to the always-tetchy Bitsy Brandenham (Stanley Tucci), a hotel heiress who feels Central Park would be better off being replaced by condos. Of course, the villainous plan has countless stumbling blocks, including — indirectly — her assistant, Helen (Daveed Diggs).
First there is Paige Tillerman (Kathryn Hahn), an ever-hungry-for-news local journalist looking for another scoop. Putting pen to paper in a different way is her daughter Molly (Kristen Bell), who is constantly drawing superhero comics involving her. Giving the family a few strokes of Charlie Brown goodness is Owen Tillerman (Leslie Odom Jr), the hard-working park manager who never forgets to be a decent human being in a bitter world, which obviously means saving the park ranks as high as looking after the family. The son, Cole, takes after him in many ways. What good is a musical set in the lungs of New York without a busker (also the narrator of the show) — Birdie (Josh Gad), who likes to come across as a troubadour. He keeps tabs on the Tillermans as much as on Bitsy.
At hand we have the age-old story of saving the house or orphanage — think The Goonies and Madeline — but what sets the creation of Loren Bouchard, Nora Smith, and Josh Gad apart are the visuals and pace that many look for after being mesmerised by Bob's Burgers (another of Loren's creations), Family Guy and, of course, The Simpsons.
Keeping the joy machine raving are endless pitch-perfect numbers that up the emotional quotient. Usually in animation, songs end up being jokey to the point of being not taken seriously. It's just the other way around in Central Park. There are several hilarious numbers but all of them are delivered seriously, like in a musical. Equally impressive is the range of genres that get covered — mainstream pop to R&B to rap and much more. Helping the process is the presence of Kristen Bell as Molly's voice. She has done a wonderful job in Frozen and she offers a repeat performance. Just hear her break into Weirdos Make Great Superheroes.
Each of the characters is well etched and though Bitsy is the villain, lending her a lovable streak is Tucci, who is a delight. One can visualise the actor baring his soul in a voice booth as if nobody's watching. Also going against the grain is Tituss Burgess, whom we know for his flamboyant characters, lending his voice to a shy kid.
Though the storyline runs deep, the creators have ensured the central theme is about a family and how they would do anything to keep things together. In fact, the most important character on the show is love, which manifests itself as bonding between family members as well as citizens, who refuse to have their green backyard destroyed. A family that could save Central Park is also a family that would never refuse to aim higher and take on bigger things.
The cultural acuity of Central Park cannot be emphasised enough. It's a dance-y show that will hold you in thrall and see you through the angst-ridden times we are living in. To paraphrase one of the characters on the show, yes, our hearts are "broken like poop that can't be picked up" but watching the show will certainly help flush away some bittersweet memories. Simply put, Central Park is a bundle of joy.
Central Park will be available on Apple TV+ starting May 29